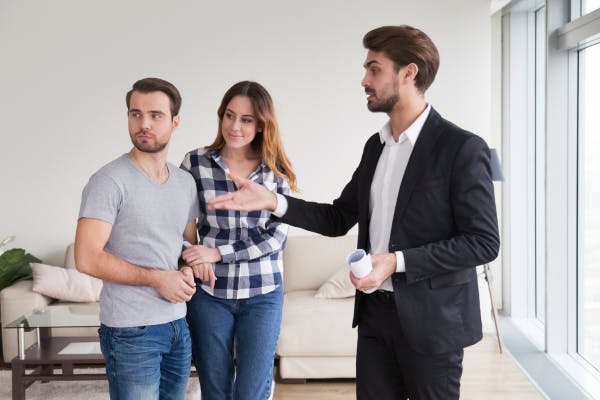 How to get a buy to let mortgage
Last Updated
10 September 2023
If you are thinking about becoming a landlord, you might be wondering how you actually go about getting a buy to let mortgage. We'll run you through exactly how to get a buy to let mortgage, but first thing's first, let's cover how much you could borrow with a buy to let mortgage
How much can I get for a buy to let mortgage?
How much you could get from a lender for a buy to let mortgage depends on two factors. How much you can put down as a deposit, and the rental income you expect to generate from a property. Typically with a buy to let mortgage, lenders will want you to put down at least 25% of the full property price as a down payment. The rental income you will generate from the property also needs to cover 125% of mortgage repayments (this is sometimes called the Interest Coverage Ratio). 
For example, if you only have £50,000 saved up, that means you could be offered up to £150,000 to purchase a £200,000 property. However, in order to qualify for this loan size, you would need a buy to let property to generate between £938-£1,208 per month in rent, depending on whether you took out a repayment or interest-only loan.
In more expensive areas, you might find that rental income isn't enough to cover 125% of your mortgage repayments. In these situations, you might be able to use a top slicing mortgage, which involves supplementing your rental income with your personal one. 
Read more about top slicing in our guide here.
How to get a buy to let mortgage
To get a buy to let mortgage, you need to apply for a buy to let mortgage with a specific lender. However, each lender has their own eligibility requirements and affordability criteria. This can make it hard to know which lenders are likely to accept your application. This is why it is a good idea to get expert advice from a trusted mortgage adviser on the best buy to let mortgages and lenders for you based on your individual affordability before applying. 
An expert mortgage advisor will not only be able to help find you the best buy to let mortgage deal for you, they can also take a lot of the admin off your hands. At Tembo, each of our customers gets their own dedicated advisor, who handles their mortgage application right up to you getting the keys!
Plus, applying for multiple lenders not only can result in multiple rejections, if each lender conducts a full affordability assessment this would mean you will be credit checked multiple times. This will show up on your credit history, and could appear like you're desperate to borrow money. Instead, get a peronalised buy to let mortgage recommendation for free from us by creating a free Tembo plan - there's no credit check involved!
See how much you could be offered without applying
To see how much you could be offered for a buy to let mortgage without applying to a specific lender, create a free Tembo plan. We'll generate a personalised recommendation to show you your max borrowing potential from thousands of mortgage products, plus live interest rates and indicative monthly costs.
Get started
How easy is it to get a buy to let mortgage?
For those with a large deposit saved up, excellent credit score and good affordability, it can be relatively easy to get a buy to let mortgage. But for those who only have a small amount saved up, have adverse credit, other debt commitments or expenses like dependants, it can be harder to be approved for a buy to let mortgage.
How many buy to let mortgages can I get?
Technically, there is no limit to the number of buy to let mortgages you can get - as long as you pass a lender's affordability criteria. This can be tricky however, as buy to let mortgages often require larger down payments than residential mortgages and you will need the rental income to be enough to cover your mortgage repayments and other costs.
Start your journey to becoming a landlord
Create a free Tembo plan today to see what you could be offered for a buy to let mortgage - for free!
Create my plan