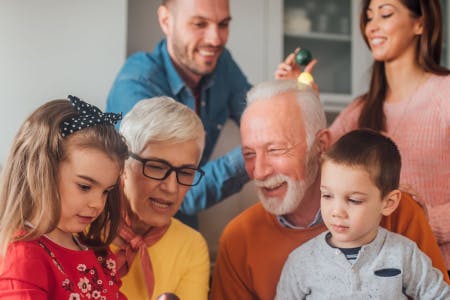 How can I help my child buy their first home?
Last Updated
1 November 2023
It's never been harder to buy a house. Now, the average age of a first time home buyer is 32, and it takes almost 10 years on average to save a deposit. This isn't surprising as we found in our 2021 First Time Buyer's report that the cost of an average house in the UK is 65 times higher than in 1970, while earnings have only gone up 35 times.
For many, the only way to get onto the property ladder is by using the Bank of Mum and Dad. 
Traditionally, parental help came in the form of large cash gifts, but this isn't possible for many families. And with the cost of living on the rise, many parents will be nervous about giving their savings away. 
If you're wondering 'how can I help my child to buy their first home?, you may be glad to hear that lenders are embracing innovative ways to help families buy a home together. After all, they want people to borrow money. It makes sense for them to make it easier.
So if you want to help your child to buy a house, here are just a few of your options:
1. Giving your child a deposit for their first house
Gifting your child a deposit can be one of the most straightforward ways to help them onto the ladder, if you can afford it. Having a larger deposit not only means your child can borrow less to cover the property price, but their mortgage interest rates will be lower. 
Most mortgage lenders are happy for buyers to use gifted deposits for their property purchases, but there may be additional paperwork to complete.
For example, the lender may ask you to confirm:
How much is being gifted
The source of the funds
How you're related to the mortgage applicant
They might also ask you to declare:
That you have no financial interest in the property
That if the money is a loan, it doesn't need to be repaid until the property is sold 
Some lenders have specific forms for this purpose, others may request a signed letter.
Your child may need to provide bank statements showing the money came from your account. This will form part of the bank's money laundering checks.
With our Deposit Boost, our award-winning team of mortgage brokers will help walk you through how you could release a gifted deposit from your own property to help your child buy their first home. Simply get your child to create a plan with us today to see how much they could afford with a boost.
What Is A Deposit Boost & How Does It Work?
2. Using your savings to help your child buy a house
A family springboard mortgage can be particularly useful if your child has a small deposit or they don't have any money saved at all. This type of mortgage lets you use your savings to help your child buy their first home, without waving goodbye to your cash forever. 
Here are a few high street lenders that offer springboard mortgages. Our team of mortgage experts can also help you find the best mortgage option for you and your child.
Barclays Springboard Mortgage
With a Barclays Springboard Mortgage, you'll put 10% of the property price in a Barclays savings account for 5 years. This money will be used as a security in case your child has any difficulties making their mortgage payments. 
If they pay their mortgage every month, you'll get your money back at the end of the 5-year term. You'll earn interest on your savings too, so if everything goes as planned, not only will you have helped your child onto the property ladder, you'll have benefitted too. 
Halifax Family Boost Mortgage
Halifax Family Boost Mortgage lets you put 10% of the property price in a Halifax savings account for 3 years. Your savings will earn interest and you'll get your money back at the end of the 3 year term, as long as your child made all their mortgage payments as agreed. 
Unfortunately, Family Boost Mortgages can't be used to buy a new build or self build property. Your child also won't be eligible if they're using Right to Buy or purchasing a shared ownership property. Interest only mortgages also aren't included.
Lloyds Lend a Hand
Lloyds Lend a Hand is another option if your child has a small or non-existent deposit. You'll put 10% of the purchase price in a 3-year fixed term savings account and this money will be used to offset the mortgage. 
Your child will be the only one named on the mortgage and you won't have any legal rights to the property. Their payments will stay the same for the first 3 years of the mortgage, making it easier to budget during this time. 
When the 3-year term ends, you'll get your savings back with interest, as long as your child's mortgage payments are up to date. 
This list is certainly not exhaustive. There are multiple banks, building societies and alternative mortgage lenders who offer family springboard mortgages. With so much to choose from, it's a good idea to work with a mortgage broker to find the right one for you and your child. Create a plan with Tembo today to get a personalised recommendation for your family, including indicative monthly repayments and interest rates.
Find the best way to boost your child's buying budget
Our smart technology will find the best way to increase your child's buying budget from over 100 lenders. To get started, simply create a Tembo plan together. It's free, takes 10 minutes to complete and there's no credit check involved.
Create a plan
3. Using your own home to help your child buy a house
If you're a homeowner, it may be possible to use your property to help your child buy a house. This can often involve releasing equity and using it to provide a gifted deposit for your son or daughter's first home. If your child is unable to save a big enough deposit and you don't have enough cash savings to help them (or don't wish to use them), unlocking money from your property can be a great way to help them get on the ladder. At Tembo, we call this a Deposit Boost. 
Not only does a Deposit Boost help young adults get on the ladder sooner, with a larger deposit they will also have to pay lower interest rates. A few percentage points might not seem like much, but it can add up to thousands of pounds over the course of a 5-year mortgage. It could also help you reduce your inheritance tax liability down the line. For any questions on tax, it's always best to talk to an expert for professional advice.
Here's how a Deposit Boost works:
Our team of mortgage specialists will assess your eligibility and recommend an option that works for both you and your child. 
We'll remortgage your home to release a portion of the equity.
Once the money has been taken out of your property, you can give it to your child for their house deposit. They'll use this money (along with any savings of their own) to apply for a mortgage. Our mortgage brokers will be by their side every step of the way to make sure they find the right deal for their circumstances.
The monthly payments on a Deposit Boost can start from as little as £50, assuming you're releasing £10,000 from your property and opt for a Retirement Interest Only Mortgage. 
If you wanted to increase your Deposit Boost to £25,000, repayments would increase to £124 a month or more.
If you want your child to return the money you give them for their deposit, or support the monthly repayments, this needs to be a personal agreement. It won't be legally binding and the lender will require monthly repayments to be made by you.
Read more: What are the benefits of an early inheritance?
4. Using your income to help your child buy a house
If you use your income to help your child buy a house, this is usually referred to as a Joint Borrower, Sole Proprietor (JBSP) mortgage, but at Tembo we call this an Income Boost.
An Income Boost lets the borrower add a friend or family member onto the mortgage, without adding them to the property itself. The friend or family member will be a joint borrower, but your child would be the sole proprietor, meaning you won't have ownership of the property and your name won't be on the deeds. However, if your child struggles to make their repayments you'll need to step in and help them.
How Does An Income Boost Work?
The benefit of an Income Boost mortgage is that your child's ability to borrow will be significantly boosted because the affordability calculations will be based on your combined earnings.
With a greater combined income, an Income Boost can improve your child's mortgage affordability and allow them to take out a bigger loan versus applying for a mortgage by themselves. If your child has a deposit but they're struggling to pass lenders' affordability checks due to their income, an Income Boost might be a suitable solution.
An Income Boost can help your child buy the home they really love, rather than one that'll 'do for now'. Buying a home that they're able to live in for many years can be a smart move, especially when you consider how expensive it could be to move to a bigger place or better location in a few years' time, as well as the rise in house prices.
"Being a sole applicant, my income was not enough…With an Income Boost I could get a larger loan size…I couldn't have done it without it."
Grace
Income Boost Customer
Common questions on family mortgages
Are there any tax implications if I gift my child a deposit?
If you pass away within seven years of giving your child a large cash gift, they may need to pay inheritance tax (IHT) on the money. Everyone is allowed to give a gift of up to £3,000 away each financial year without qualifying for IHT. It's also possible to carry over unused allowance from the previous year. So, you could potentially give your child £6,000 in one year without risking IHT later on. Your spouse or partner could potentially do the same, bringing the total gift amount to £12,000 in one year. 
Inheritance tax rules can be complicated, though. There are many other rules and exemptions that we've not talked about above. So it's worth taking independent financial advice before making any large financial gifts. 
Can I lend my child a deposit?
If you have savings but you'd like to get the money back, you could offer your child an informal loan. If you wanted to, you could write up an 'IOU' agreement which sets out how much you're lending them and how much their repayments will be. This can help you avoid disagreements in future as the rules will be written down from the start, but it won't be legally binding.
Keep in mind that lenders treat gifted deposits and loaned deposits very differently. 
As we touched upon earlier, some lenders will ask you to sign a declaration that the loan will only need to be repaid when the property is sold. 
Other lenders will consider the loan to be a financial commitment, regardless of the terms you and your child have drawn up between you. This means the lender will factor in your child's payments to you when carrying out their affordability checks. 
How can I help my child buy a house without sacrificing my own life goals?
There's probably very little you wouldn't do for your child, but overstretching yourself financially to help them get on the property ladder is never a good idea.
It's a good idea to get professional advice before making any potentially life-changing financial decisions. Speak to our team of specialist mortgage brokers to discuss your options. We may think of solutions you'd never thought of and help you access mortgage deals that are rewarding for both you and your child. 
It's worth speaking to an independent financial advisor too. They'll assess your finances as a whole and advise you on the next steps. For example, if you're hoping to retire in the next few years, it's good to know whether helping your child buy a house fits in with your long term plans.
Speak to our specialist mortgage team
Once you've created a Tembo plan, you can book an appointment with one of our expert mortgage advisors. They'll walk through the best option to help your child increase their buying budget. So they can get on the ladder sooner, and for less.
Create a plan