With the average house price in the UK rising to a whopping £265,668* (as of June '21), there are increasingly more options to help prospective homeowners onto the ladder. Alongside Help To Buy (check out our guide here), Shared Ownership has become an increasingly popular choice for those looking to get on the ladder, faster.
Confused about what Shared Ownership is, and how it could potentially help you? We've got you covered.
What is Shared Ownership?
Shared Ownership is a government scheme that aims to make it easier for buyers to get on the property ladder through part owning/part renting. Essentially, the buyer pays a mortgage on the percentage of the property that they own and pays rent on the remaining amount. This means that the deposit they put down tends to be a lot lower than it would be if they were to purchase the entire property outright. This has made Shared Ownership a popular choice for those that are struggling to save large enough house deposit or have been priced out from buying in expensive areas such as London.
Over time, the buyer has the option to increase their ownership stake in the property. This means they could eventually buy the property outright, and not have to pay rent.
Who can use Shared Ownership?
Many believe that purchasing a property under Shared Ownership is only for first-time buyers, but this is not the case. Those looking to move can also buy under Shared Ownership, however, you must be in the process of selling your previous home in order to be eligible for the scheme. There are also some more specific schemes related to Shared Ownership dependent on age etc. For example, if you are over 55, you can purchase via the 'Over 55's Shared Ownership' scheme.
In order to qualify for Shared Ownership, you must:
Be earning less than £80,000 (outside of London)
Be earning less than £90,000 (in London)
Have good credit history 
Be at least 18 years old
Have savings of at least £4000 (remember that you will also need to have a 5-10% deposit of the share you are looking to buy)
Confused by credit history, and why it matters when buying a house? Check out our blog.
How does Shared Ownership work?
Shared Ownership allows you to buy a share of a property. The share you are usually allowed to purchase is between 25-75% (however, there are different rules depending on whether you are buying in England, Scotland, Wales, or Northern Ireland).
As you are buying a share in a property (and not the whole property outright), you have to pay rent on the part you can't afford to a housing association. See it as a 'part rent, part buy' scheme. A quick breakdown of the numbers* can look something like this…
You've bought a 40% share of a £150,000 property (making your share worth £60,000).
You'll pay rent on the 60% (£90,000) that is owned by the housing association totaling £206.25 a month (or £2,465 a year) in rent. 
On top of your rent, you would also make monthly mortgage repayments for the 40% that you own.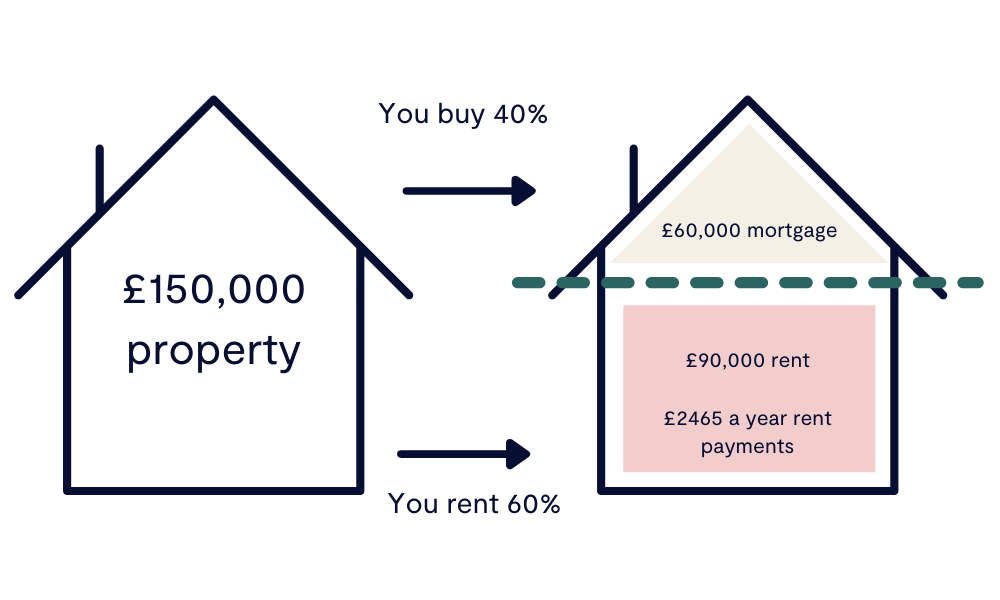 Shared Ownership properties are always leasehold. This means that whilst you own a share of the property, you do not own any of the land on which it was built. Owning a leasehold property is also set for a defined period of time (which can vary from a number of years to centuries depending on your lease). If you want to extend your lease, this can be an added cost.
Pros and cons
Cons
You'll be responsible for all home repairs, even if you don't own all the property
You'll have to pay rent as well as mortgage repayments 
It can be difficult to 'staircase' if the value of the property increases over time
You'll be responsible for the upkeep of the property, despite not owning 100% 
Pros
Can get on the ladder quicker 
Can buy additional shares in the future
It can be cheaper than renting
You can sell at any time, and you could benefit from any increase in the property value
Shared Ownership can be confusing, so don't worry if you're still brimming with questions. See below for our breakdown of FAQs.
FAQs
Will I need a deposit?
You will need a deposit for the share of the property you are wishing to purchase. So, if you're buying 25% of a £200,000 property (buying £50,000 worth of the property), you will need a deposit of between 5-10% (£2500- £5000). 
The ability to buy a property under Shared Ownership with a much lower deposit than usual (if you were to buy the property outright) has made Shared Ownership a great option for those who are struggling to save or looking to buy in places with higher deposits (hi London).
Will I ever own 100% of the home?
Yes, you can buy more shares in your property over time- up to 100%. This is known as 'staircasing'. If you want to increase the amount of the property you own, you can increase your share by as little as 1% a year. This option was introduced in April 2021; it allows you to increase your share by 1% annually over a 15 year period. 
There is also the option to purchase a share worth more than 5%. So if you want to increase your share from 25% to 75%, this is very possible. However, when you buy a share bigger than 1%, you will be charged valuation costs. 
Each housing association is slightly different regarding how many times it will let you 'staircase'. Whilst some will let you 'staircase' as many times as you want, others may only let you 'staircase' for a limited amount of time.
What's the implication of buying a leasehold?
Buying a leasehold property doesn't only mean that you buy the property for a limited amount of time. There are certain leasehold fees that you will be subject to. These include service charges (for the upkeep of communal areas if you live in a block of flats, for example) and ground rent (an annual fee paid to the housing association or whoever owns the property's freehold).
Even though I don't own the entire property, will I be responsible for repairs?
Whilst the service charge will cover the upkeep of any communal areas, you will be responsible for the maintenance of the property- so if you've got plumbing problems, you'll have to pay and sort it out. 
What type of property can I buy?
Shared Ownership properties tend to be on new builds (but you can also buy via Shared Ownership on resales).
Where can I buy with Shared Ownership?
Shared Ownership properties are available up and down the country. 
The regional areas are as follows:
Do I need a regular mortgage?
While you are not buying 100% of the property, you will still need to apply and be accepted for a mortgage for the share that you are purchasing. If you are unsure as to whether you will be accepted for a mortgage, you should consider getting a mortgage in principle. 
Tembo has helped thousands of people get a mortgage in principle. Start one and see how we can help get you on the ladder, faster.
How much cheaper is it than buying outright?
While buying with Shared Ownership can reduce the amount of deposit you would have to pay upfront (compared to buying an entire property outright), the cost of paying monthly rent and mortgage repayments can be expensive. If you increase the share you own, the cost of rent will reduce.
Can I choose which house I want to buy under shared ownership?
You cannot select any house to buy under Shared Ownership. They have to be specific 'Shared Ownership' properties. When you are looking for a home, they will be clearly marked as to whether they can be purchased under Shared Ownership or not. 
Homes sold via Shared Ownership are also typically new builds (so if you've got your heart set on a Victorian terrace, Shared Ownership may not be the best choice for you).
Am I exempt from stamp duty?
While you are not exempt from stamp duty when you buy under Shared Ownership, you do get to select how you would like to pay it. You can either choose to pay the stamp duty on just your share of the property or for the full value of the property. While the first option is initially cheaper, if you choose to 'staircase' and buy more shares later on (and the value of the property has increased) you will have to pay higher stamp duty as well. 
It's important to note that you won't have to pay stamp duty if you staircase below 80% (e.g. move from 25% ownership to 70% ownership). If you own a stake in the property above 80%, you will have to pay stamp duty at the normal rates.
Can I sell a property purchased under Shared Ownership?
It is possible to sell a property purchased under Shared Ownership, however, if you have not purchased 100% of the property outright it can be a bit more complicated. 
If you are selling a share of your home, this will have to be approved by the housing association. They will have the right to try and sell the property first, however, if they are unable to do so, you'll be able to try and sell the property via an estate agent.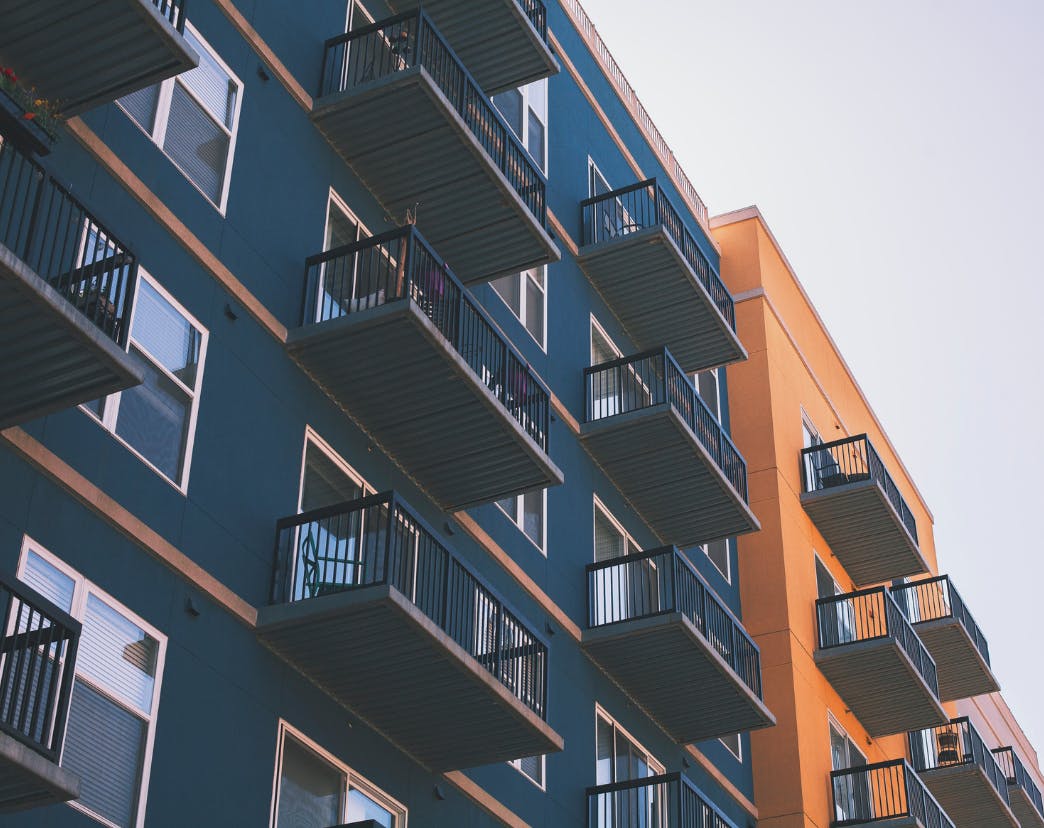 At Tembo, we're on a mission to transform homeownership in the UK. Our teams are well versed in purchases under the Shared Ownership scheme. Start your plan today, and see how we could get you on the ladder, faster.