What is Shared Ownership and how does it work?
Last Updated
16 November 2023
Shared ownership has become a popular choice for those looking to get on the ladder, faster. Read our guide to find out what shared ownership is, how it works and who is eligible.
With house prices on the rise, and pressure on living costs making saving for a house deposit even more difficult, buying a home can feel impossible for many first time buyers and home movers. In the past, the Help To Buy scheme helped first time buyers get on the ladder with an interest-free equity loan from the government, but this scheme has now come to an end.
Luckily, there are increasingly more options to help prospective homeowners onto the ladder, including Help to Buy alternatives - one of these is Shared Ownership.
What is shared ownership?
Shared ownership is a buying scheme that aims to make it easier for buyers to get on the property ladder by part buying, part renting. The buyer pays a mortgage on the percentage of the property that they own, usually between 10-75%, then pays rent on the remaining amount to either a housing association or private landlord.
Because you are only buying a share of a home, this means that the house deposit you need to put down tends to be a lot lower than it would be if you were to purchase the entire property outright. This makes Shared Ownership a popular choice for those that are struggling to save large enough house deposit or have been priced out from buying in expensive areas such as London.
Over time, the buyer has the option to increase their ownership stake in the property. This means they could eventually buy the property outright, and not have to pay rent.
Read more: Where should I buy a home?
You might also like: Who is shared ownership for?
What is shared ownership and how does it work?
Is shared ownership only for first time buyers?
Many believe that purchasing a property under Shared Ownership is only for first-time buyers, but this is not the case. Those looking to move can also buy under Shared Ownership, however you must be in the process of selling your previous home in order to be eligible for the scheme. There are also some more specific criteria related to Shared Ownership dependent on age or income. For example, if you are over 55, you can purchase via the 'Over 55's Shared Ownership' scheme.
To see if you're eligible for shared ownership, create a free Tembo plan.
Confused by credit checks? Read our What Is A Credit Score? guide to understand how your credit score is used when buying a house. 
Read more: How to get a mortgage with adverse credit
How does shared ownership work?
Shared ownership works by purchasing a share of a property, usually between 10-75%. As you are buying a share in the home (and not the whole property outright), you must pay rent on the part you don't own to a housing association or private landlord. This is why shared ownership is often called 'part rent, part buy'. Over time, you'll purchase more of the property, either in monthly increments or in lump sums as and when you can. By doing this, you can 'staircase' up to full ownership. 
Some shared ownership schemes are better described as home purchase plans, because you are gradually purchasing more of the home over time. Because of this, some part buy, part rent schemes are Sharia-law compliant, so can be used by Muslims looking to get a place of their own as a Islamic mortgage alternative to a standard mortgage. These include schemes from StrideUp, Your Home and Wayhome, which have all been Sharia-compliant certified by bodies such as the Islamic Council of Europe.
Here's a quick breakdown of what purchasing with shared ownership could look like…
You've bought a 40% share of a £150,000 property (making your share worth £60,000).
You'll pay rent on the 60% (£90,000) that is owned by a housing association totalling £206.25 a month (or £2,465 a year) in rent. 
On top of your rent, you would also make monthly mortgage repayments for the 40% that you own.
To learn about the pros and cons of Shared Ownership, read our guide here.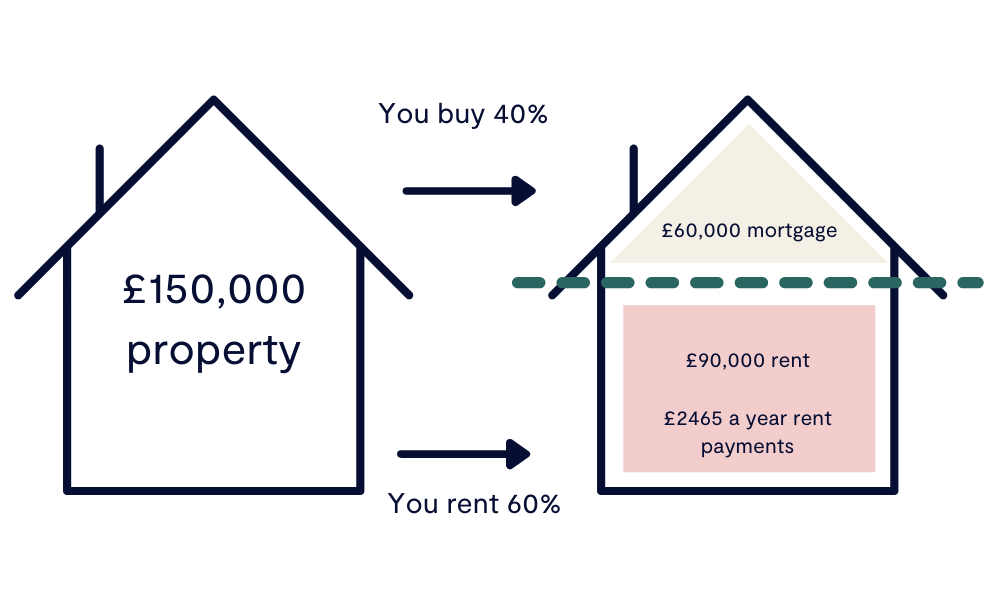 See how Shared Ownership could help you buy sooner
Create a free Tembo plan to see what you could afford with Shared Ownership, as well as the other budget boosting schemes we advise on. It takes 10 minutes to complete and there's no credit check involved.
Create my Tembo plan
Do you need a deposit for shared ownership?
Yes, you normally need a house deposit for the share of the property you are wishing to purchase through shared ownership. Although you can buy your share outright to be mortgage-free, then pay rent on the share you don't own. If you don't buy your share outright and use a mortgage instead, you will need a deposit for the share you are buying, unless you buy though the No Deposit Rent to Own scheme in which case you don't need any deposit.
However, because you are not purchasing the whole property, you need a much lower deposit than if you were to use a traditional mortgage. This makes shared ownership a great option for those who are struggling to save up a house deposit, or are looking to buy in places where properties are more expensive, and therefore require higher deposits, like London. 
Can you fully own a shared ownership property? 
Yes, you can buy more equity in your property over time until you become the sole owner and own 100% of the shared ownership property - this is known as 'staircasing'. Depending on the shared ownership scheme you use, you can increase the amount of the property you own by as little as 1% a year, although it's more common to purchase more of the property in 10% chunks.
Are all shared ownership properties leasehold?
Most shared ownership properties are leasehold. Buying a leasehold property differs from freehold properties in that you buy the property for a set period of time, normally decades or even centuries. This is because you own the property, but not the building it's in or the land it's built on. This is why it's very common for flats and apartments to be leasehold.
When you purchase a leasehold property, you'll also be subject to certain leasehold fees. These include service charges (for the upkeep of communal areas if you live in a block of flats, for example) and ground rent (an annual fee paid to the housing association or whoever owns the property's freehold).
Whilst the service charge will cover the upkeep of any communal areas, you will be responsible for the maintenance of the property- so if you've got plumbing problems, you'll have to pay and sort it out. 
What type of property can you buy with shared ownership?
Shared Ownership properties through the government's scheme tend to be on new builds, but you can also buy via Shared Ownership on resales. Private shared ownership providers have other requirements that the property you want to buy must meet to qualify. For example, some only accept properties within a certain price range, others only accept pre-owned homes, while others have additional requirements. 
Read more: New build vs old house: Which should you pick?
Do I need a regular mortgage with shared ownership?
While you are not buying 100% of the property, you will still need to apply and be accepted for a mortgage for the share that you are purchasing through shared ownership. If you are unsure as to whether you will be accepted for a mortgage, you should consider getting a Mortgage In Principle (MIP)
One of the quickest ways to do this is to create a free Tembo plan on our homebuying platform. It only takes 10 minutes to complete, and at the end you'll get a personalised recommendation of all the specialist buying schemes you could be eligible for, including shared ownership. You can then download a free Mortgage In Principle for any of your eligible schemes.
Do you pay stamp duty on shared ownership?
If you are buying a property through shared ownership, you will still need to pay Stamp Duty. However, you can choose to either pay the stamp duty on just your share of the property or for the full value of the property. While the first option is initially cheaper, if you choose to 'staircase' and buy more shares later on (and the value of the property has increased) you will have to pay higher stamp duty as well. 
It's important to note that you won't have to pay stamp duty if you staircase below 80% (e.g. move from 25% ownership to 70% ownership). If you own a stake in the property above 80%, you will have to pay stamp duty at the normal rates.
Read more: First time buyers guide to stamp duty
How much rent do you pay on shared ownership?
How much rent you pay on a shared ownership property depends on which scheme you use.
With the No deposit Rent to Own scheme, you'll agree to an initial rent period between 3-7 years, during which time your monthly payments are fixed for the duration of the lease, set at 7% of the property price. Each month, up to 25% of your rent payments will go towards building up the amount of equity you have in the home.
With Wayhome, once a year your rent will go up at the rate of inflation, which is set by the government. However, your rent can also go down when you buy more of your home.
While with StrideUp's Home Purchase plan, you'll pay rent on the portion of the property you don't own at an initial rate of between 6.29% - 7.34%. With Your Home, you'll pay 4.89% of the unsold share value as rent each month to begin with. Then it will increase yearly by 0.50%, plus the Retail Price Index (if the RPI is zero or negative your rent will only increase by 0.50%).
To qualify for any of these schemes, you'll need to pass affordability checks to ensure you can afford to pay the rent payments and buy more of the property over time.
Can you sublet shared ownership?
Yes, with some shared ownership properties you can rent out or sublet a room in the house, but you must live there at the same time. You cannot rent out the entire house, unless you are the sole owner of the property (you own 100% of the house), or you have your landlord's permission. It's always best to check with your shared ownership before to see if they allow you to sublet a room in the house.
Is shared ownership better than renting?
With rent prices rising, shared ownership can often be a good way of getting on the ladder sooner, especially if you are able to increase the amount of home you own each year. Plus, schemes like No Deposit Rent to Own, StrideUp's Home Purchase plan, Wayhome and Your Home set your monthly rent payments at a specific amount and only raise it by a small amount each year or sometimes not all. This can be cheaper than traditional rental payments, where it's not uncommon to see monthly rent payments rise by over 10%.
How does shared ownership work when you sell?
You can still sell a property you've purchased using shared ownership. However, if you have not purchased 100% of the property outright, the new buyer needs to be willing to take over the share you own. You may also need approval from the housing association or landlord before selling the home.
Can you make a profit on a shared ownership property?
Yes, you can make a profit on a shared ownership property, like with other property purchases. If the value of the home goes up, then so does the value of your share. With YourHome's part buy part rent scheme, you not only get to keep any profit you make on your share of the home, but you'll also get 50% of the value increase on the share you didn't buy. While Strideup lets you keep any profit from the property price going up, so you'll never pay more for the house than the initial price.
Are shared ownership properties hard to sell?
If you don't own 100% of the property yourself, this can make selling shared ownership properties harder because the new owner would need to be willing to take over your share of the property. However, shared ownership provides the housing market with much-needed affordable housing, which there is a high demand for. This can mean that you will be able to find a buyer happy to take over your share.
How long does the shared ownership process take?
How long it takes to purchase a shared ownership property really depends on how smoothly the process goes - it can take a handful of weeks to a couple of months. For example, if there are delays in supplying documents to the provider or complications with your affordability for example, this can slow things down.
Who offers shared ownership mortgages?
There are a number of lenders who offer shared ownership mortgages, including familiar high-street banks as well as smaller, specialist providers. These include:
Leeds Building Society
Virgin Money
Skipton
KRBS
Newbury Building Society
Barclays
Nationwide
Santander
TSB
An experienced mortgage broker like Tembo will be able to advise you on the best shared ownership provider for you.
Start your journey to homeownership today
At Tembo, we're on a mission to transform homeownership. Our award-winning team are specialists when it comes to alternative ways to get on the ladder. To see how you could get on the ladder sooner with Tembo's help, start your plan today.
Get started