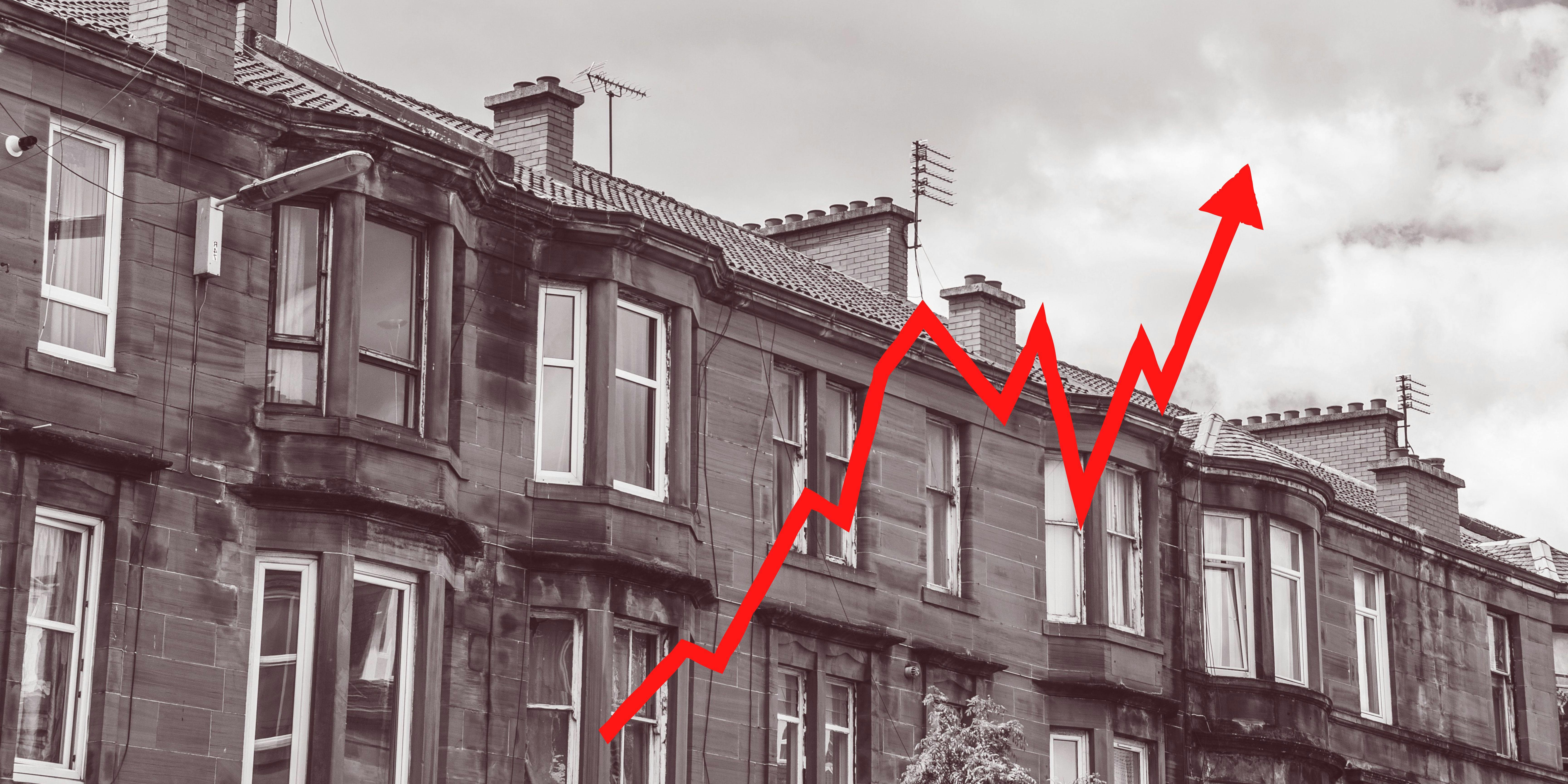 Are house prices still rising?
Last Updated
2 October 2023
If you've been saving a house deposit, you'll know only too well how expensive houses are. In fact, in our 2021 First Time Buyer's report, we found that the cost of an average house in the UK is 65 times higher than in 1970, while earnings have only gone up 35 times. This affordability gap is making it harder and harder for first time buyers to get on the ladder in comparison to previous generations. 
But are house prices still rising? If inflation continues to rise, what happens to house prices? And why do house prices rise when so many people are struggling financially? We'll answer your biggest questions below.
Are house prices still rising?
No, over the last few months house prices have not been rising, at least not in the short term. According to ONS' latest data, the average UK house price has increased by 4.1% in comparison to the previous year, but is down from 5.8% in February 2023. This is reflected in Zoopla latest data which shows that UK house prices have fallen by 1.3% over the last 6 months. This is the knock-on impact of house prices and housing market activity adjusting to higher mortgage rates and the rising cost of living.
Although the housing market has recently showed signs of recovery, it's likely that house prices could remain static for the rest of the year. With the inflation rate staying higher than expected, this increases the change of further interest rate rises, which will impact mortgage rates and demand for homes.
If you're a first time buyer this may sound reassuring, but it's best to keep in mind that there's no guarantee that these drops in property prices will last. When we look at how house prices have changed over the last 50 years, it's likely that prices will continue to rise in the long term.
So if you're hoping to shave a few grand off your first home's asking price, there may only be a very small window of opportunity to take advantage of the lower house prices. If this is you, we can help. Our award-winning team of mortgage experts can help you boost your borrowing power through a range of specialist schemes. So you can get on the ladder sooner, or afford a larger property. To get started, create a plan on our homebuyer platform today. It's free, takes 10 minutes to complete and there's no credit check involved.
Why are house prices rising?
For the last couple of years, house prices in the UK have been rising off the back of pent up demand during the pandemic, low mortgage rates and the stamp duty holiday, which ended in October 2021. Going into 2022, property prices continued to grow even after Covid-restrictions ended, as unemployment remained low and the demand for homes outweighed the supply. However, the recent slowdown in property price growth has been caused by the cost of living crisis and rising mortgage interest rates. Higher mortgage interest rates make it more expensive to borrow money, so fewer home buyers can afford mortgages. While the cost of living going up is making it harder to put enough money aside for a house deposit.
Normally, house prices are determined by a number of factors including:
Supply and demand. The more desirable a location is, the higher its' house prices will be. When home buyers are competing for the same properties, sellers tend to increase their asking prices. 
When a popular location experiences significant house price growth, the surrounding areas often become expensive too. You may have heard the phrase 'up and coming' to describe these nearby towns and villages. They're still relatively affordable, but thanks to rising demand, house prices in these areas are likely to grow in future. 
Changes in the economy. Property prices often fall during a recession because fewer people are able to buy a house or move to a bigger one. When this happens, the government often intervenes by introducing Stamp Duty Land Tax (SDLT) holidays and other initiatives to encourage people to move. This can have the opposite effect, causing prices to rise once again with buyers desperate to move before they miss out on government incentives. 
Mortgage interest rates. When interest rates are low, mortgages are more affordable. This often gives home buyers the confidence to take out larger mortgages and buy the homes they really want. When interest rates rise, borrowing becomes more expensive, meaning buyers often take on smaller loans or avoid moving house completely. 
See today's best mortgage rates
Compare today's best deals on mortgage interest rates from across the market, including familiar high-street banks to specialist lenders, with our Mortgage Rates Comparison tool
Do house prices rise with inflation?
Yes, when inflation rises property prices often rise too. This might sound like a good thing for homeowners, but they may find it harder to move when the price of goods and services is increasing too. If homeowners decide to stay where they are, this can limit the supply of houses and make it even harder for first time buyers to get on the ladder.
However, inflation can also have the opposite effect. If inflation causes a mortgage interest rate increase (like the one we're currently experiencing), many buyers find it harder to get the loans they want because monthly repayments are more expensive. This leads to a decrease in demand for properties and consequently a fall in house prices. 
How much do house prices rise per year?
Although house prices usually follow an upward trend from one year to the next, they don't rise by the same percentage each year. It's normal for property prices to fluctuate. According to the latest data, house prices have risen by 4.1% over the last year, but house price rise per year can be more than this - the highest year-on-year rise was 14.3% in July 2022.
In the graph below, you can see the annual rate of house price change in the UK.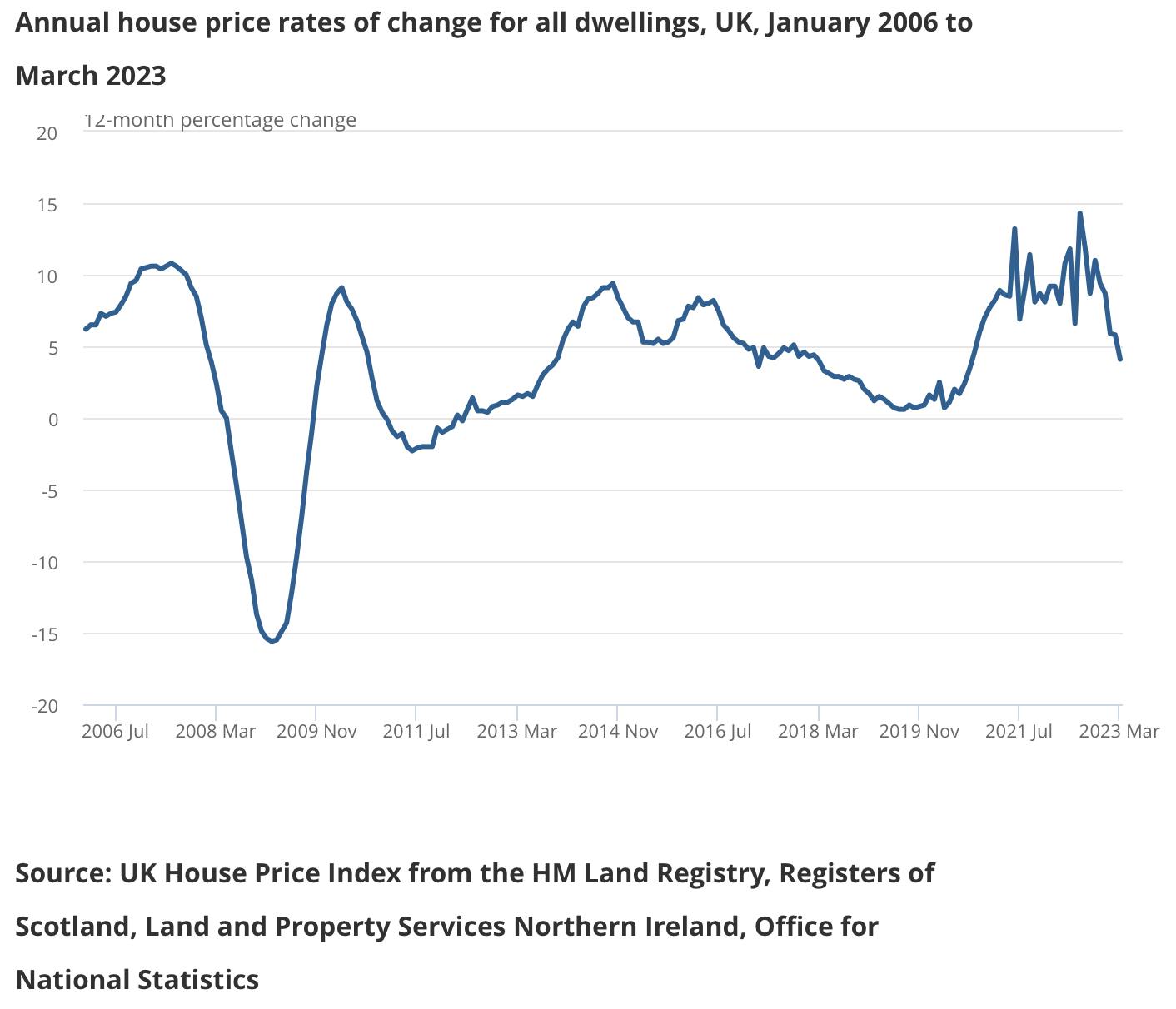 Will house prices fall if interest rates rise?
Often, when interest rates rise this can cause house prices to fall, especially when mortgage rates increase as this makes getting a mortgage mort expensive, which can push down demand. When there is less demand for houses, this can cause house prices to drop. However, there's no guarantee that this will happen. 
Read more: How to get lower mortgage interest rates
Should I buy a house now or wait for prices to fall?
Whether you should buy a house now or wait for prices to fall all depends on you and your own situation. If all this talk of falling house prices is making you want to buy a house as soon as possible, take a deep breath. Getting a house for £5,000 less than it was a few months ago might sound like a bargain, but it won't be worth it if you end up buying a property you don't like.
Your own income, savings and goals are far more important than the ups and downs of the property market, especially when there's so much uncertainty. This'll probably be the biggest purchase you'll ever made so far — it's worth getting it right.
You might like our guides Should I buy a house? and Is now a good time to buy a house?
Thankfully, there are other ways to save money when buying a house and make sure you're getting the best value possible. 
Use a mortgage broker
It all starts with using a mortgage broker. Some first-time buyers get their first mortgage by walking into their local bank and filling in an application form. This might seem like the most straightforward option, but it can cost you in the long run. 
Some mortgage lenders have very strict lending criteria and they'll only offer mortgages to people with a large deposit, high salary and the best credit rating. If your bank happens to be one of these, your mortgage application could be rejected — even if you've held a current account and a savings account with them since you were a toddler! 
Even if your application is accepted and your bank offers you a mortgage, you may be missing out on much better deals elsewhere. There's so much variation in the mortgage market that it makes sense to compare hundreds of loans from lots of different lenders, rather than restricting yourself to your own bank's selection. 
This is where a mortgage broker comes in. They'll use their experience and knowledge to find the right mortgage deal for you. This could save you thousands of pounds over the course of your mortgage term. Their advice might even save you tens of thousands! 
Read more: How to find a good mortgage broker
Negotiate with house sellers
If you're buying in a competitive area where properties get snapped up within days of going up for sale, trying to negotiate may be a waste of time. There's a risk the house seller will just choose a different buyer. 
An exception to this is if you've already had your offer accepted and a survey has brought up some issues with the property. You might have more bargaining power here. To learn more, take a look at our guide to negotiating house prices.
Boost your mortgage affordability
Saving a house deposit isn't the only obstacle standing between first time buyers and their dream home. Passing lenders' affordability checks can be a hurdle too. Even if you've managed to save a good 10% or even 20% of the property's asking price, some mortgage lenders might still reject your application. 
If this is the case, you're in good hands. As specialists in boosting mortgage affordability, we have helped thousands of first-time buyers just like you discover their true buying budget. We do this through our specialist homebuyer platform and award-winning team. Working with over 100 lenders, we can find the specialist home buying scheme or deal to get you on the ladder.
Create a free Tembo plan today to get started
Get a personalised recommendation on how you could boost your buying budget by using a specialist buying scheme. To get started, simply create a free plan.
Get started