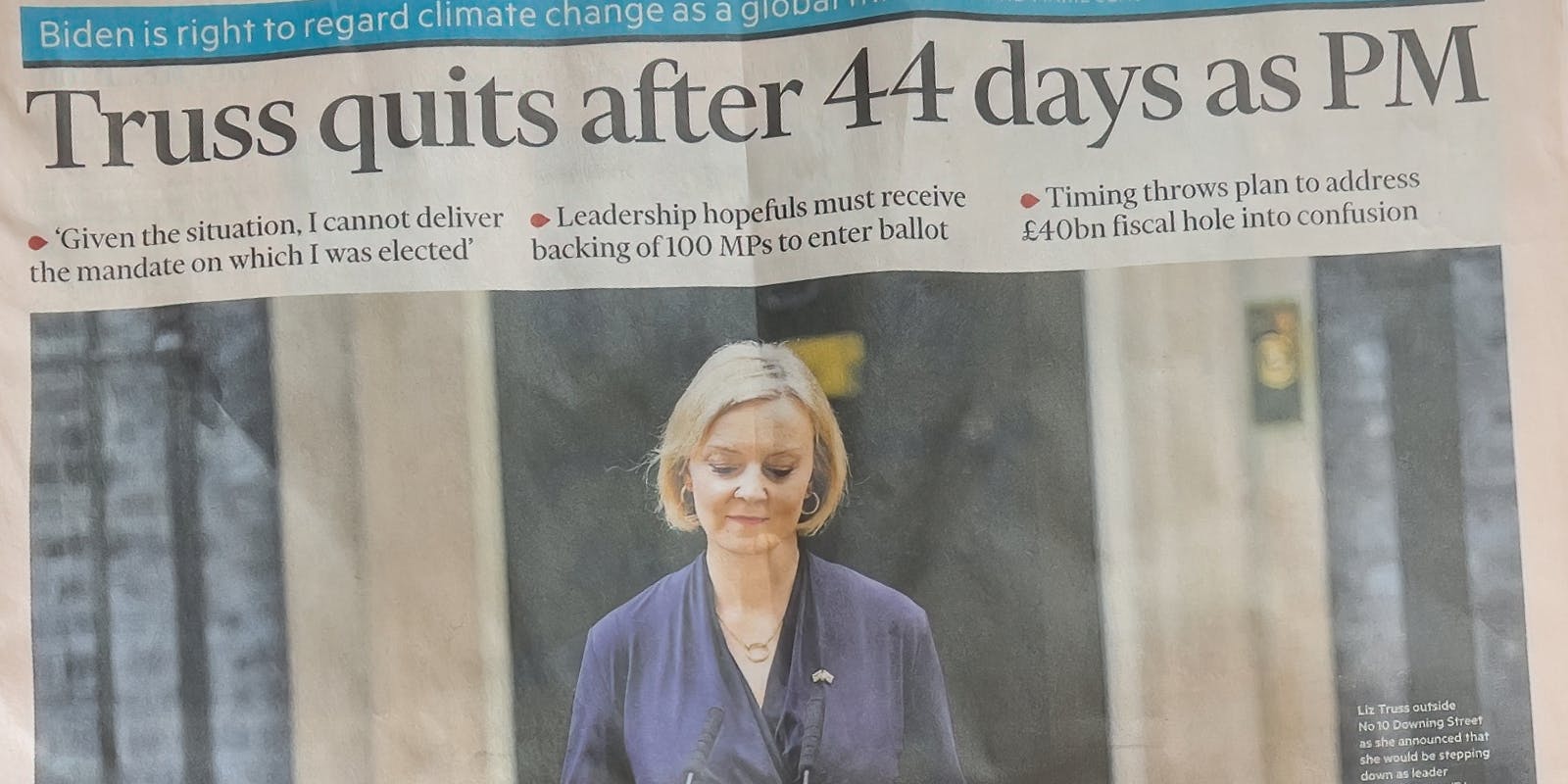 How home buyers can navigate a volatile mortgage market
Last Updated
7 December 2022
The past few months in the UK have been historic. We gained a new monarch, a new prime minister, and saw unprecedented change in the economy. 
These economic changes have had a huge impact on the property market, where interest rates have risen rapidly - unsettling homeowners, landlords and first-time buyers. 
To try and bring some calm to the chaos, here are comprehensive answers to our most commonly asked questions.
I'm a first-time buyer - is now the right time to get on the property ladder?
If we could have a penny for every time we've been asked this in October! Consumer confidence has fallen in recent weeks, and first-time buyers have been hit particularly hard. 
That's because the market went into free fall after the mini-Budget was announced, which led to mortgage interest rates rising above 6% for the first time since 2009. On top of that, lender eligibility became stricter, and some stopped offering low deposit mortgages, which are geared toward helping first-time buyers. 
But if you're feeling conflicted about whether it's the right time to buy a property, knowledge is power. Let's take a deep breath, and dive into it. 
Remember that timing the market is a tricky game
Understandably, buyers often become fixated on trying to buy at the perfect moment, but in practice this is a very difficult strategy to land. 
There's an old adage: 'time in the market trumps timing the market'. Within a property context, this means that time spent on the property ladder is better than trying to time the exact moment to buy or sell a home. 
That's because owning a home is a long-term investment - it requires a long-term mindset. In fact, data shows that the average Brit lives in their home for an average of 12-years. 
Over the past decade, we've seen rises and falls in house prices that at the time felt (and sometimes were) historic. But what's important is that when you take a step back, the long-term trend is undeniably upward. 
A first-time buyer who bought at the peak of the market in 2008, might have initially felt incredibly unlucky due to the crash in house prices that followed.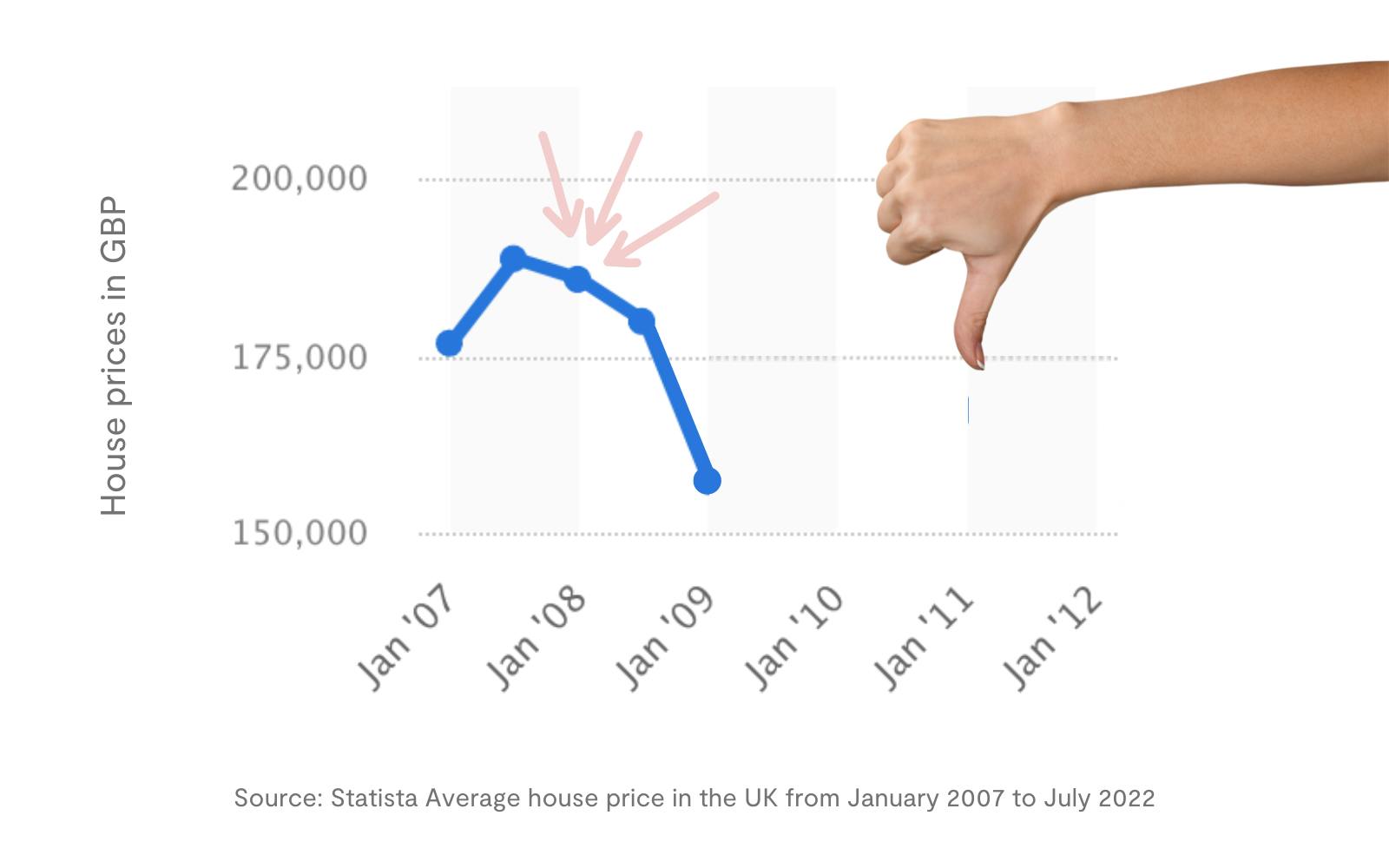 Line chart showing average house prices in the UK from 2007 to 2009. Pink arrows highlight the peak: Jan '08, and show falling house prices afterwards
However, fast forward twelve years, and their property would have increased in value by more than 25% versus when they bought it.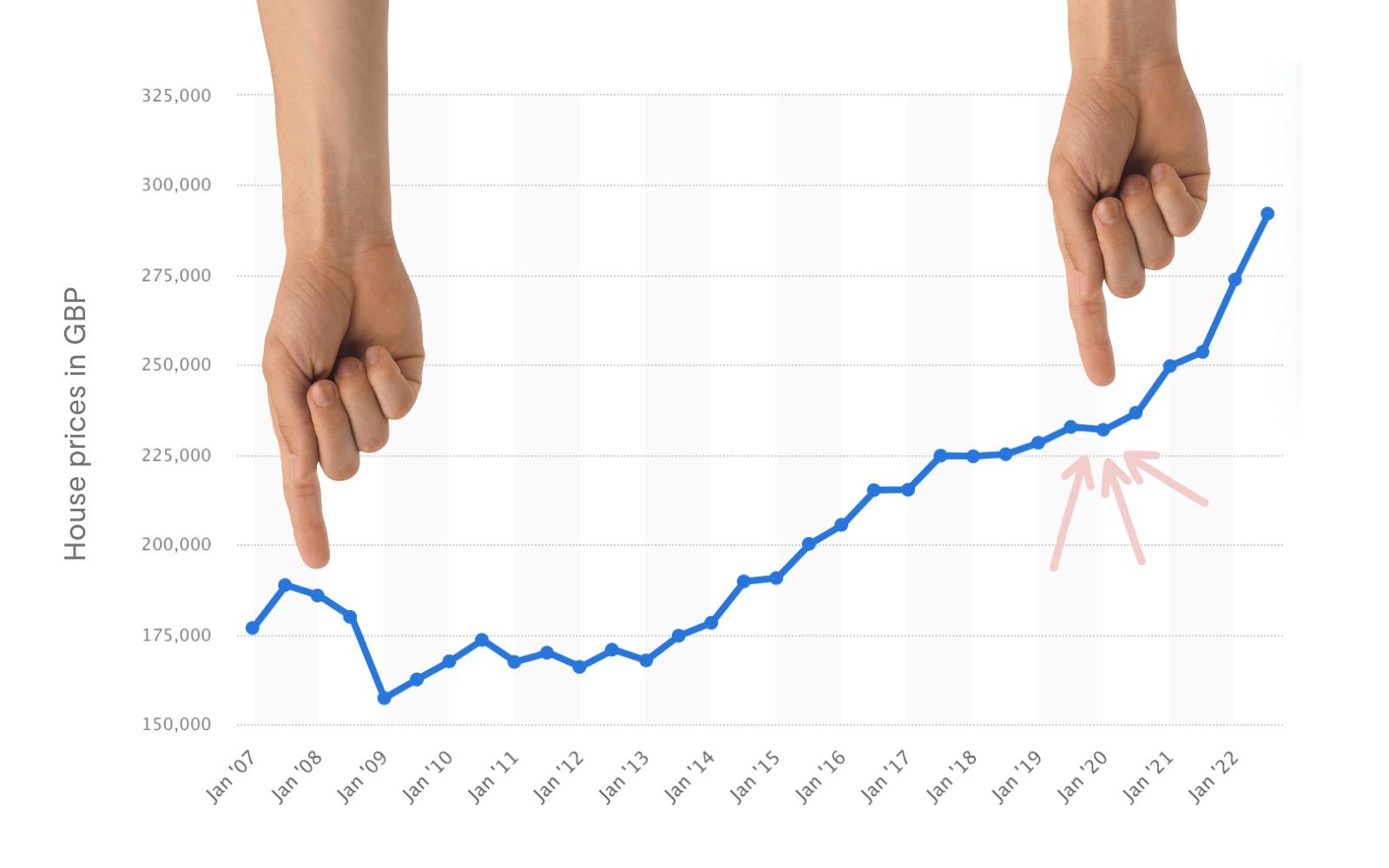 Line chart showing average house prices from 2007 to 2022. Fingers highlight the peak before the financial crash in '08 and then the recovery in prices by 2020.
Now to the current day, where analysts are predicting that property prices will fall by at least 10% in 2023. So far, so scary. 
But take into account that prices have risen by more than 28% since February 2020. 
When you take a step back, over time prices are moving in the right direction. And what some in the media are calling a crash, looks more like a readjustment after a period of phenomenal house price growth.
Compare the financial benefits of owning over renting
If you can afford to buy and maintain a property, owning is usually more financially beneficial than renting over the long-run. 
That's because you're investing rather than spending when you pay your mortgage each month. If you're renting, you're paying into someone else's investment: your rent is a sunk cost, and you won't see returns on it further down the line.
When you own, providing the price of the property you buy stays the same or increases over the long-term, you can think of your home as a savings-pot.
Let's say you're paying £500 each month for your mortgage repayments. £200 of that is interest that goes to the lender, and £300 is a capital repayment that pays off your mortgage. In 5 years, you would have £18,000 stored up, simply by paying your mortgage. 
If you factor potential house price gains in too, it's no wonder our research shows that someone who owns a home versus renting it is £200,000 better off over a 20-year period. 
Note that while interest rates are rising, they have been at historic lows
There's no doubt that interest rates have been dominating headlines recently. As of the 7th October, the average new two-year fixed rate had risen to 6.16% - a very substantial increase from the average 1.76% interest rate two-year fixed on offer back in 2020. 
While this may seem scary, take a minute to consider the wider picture. Firstly, these are not record-breaking rates: buyers in the 80s were faced with average interest rates of 16.63%! 
But more importantly, we should bear in mind that interest rates have been at historic lows since the pandemic, and the sub 2% mortgages we became used to in 2020-2021 are not 'normal'.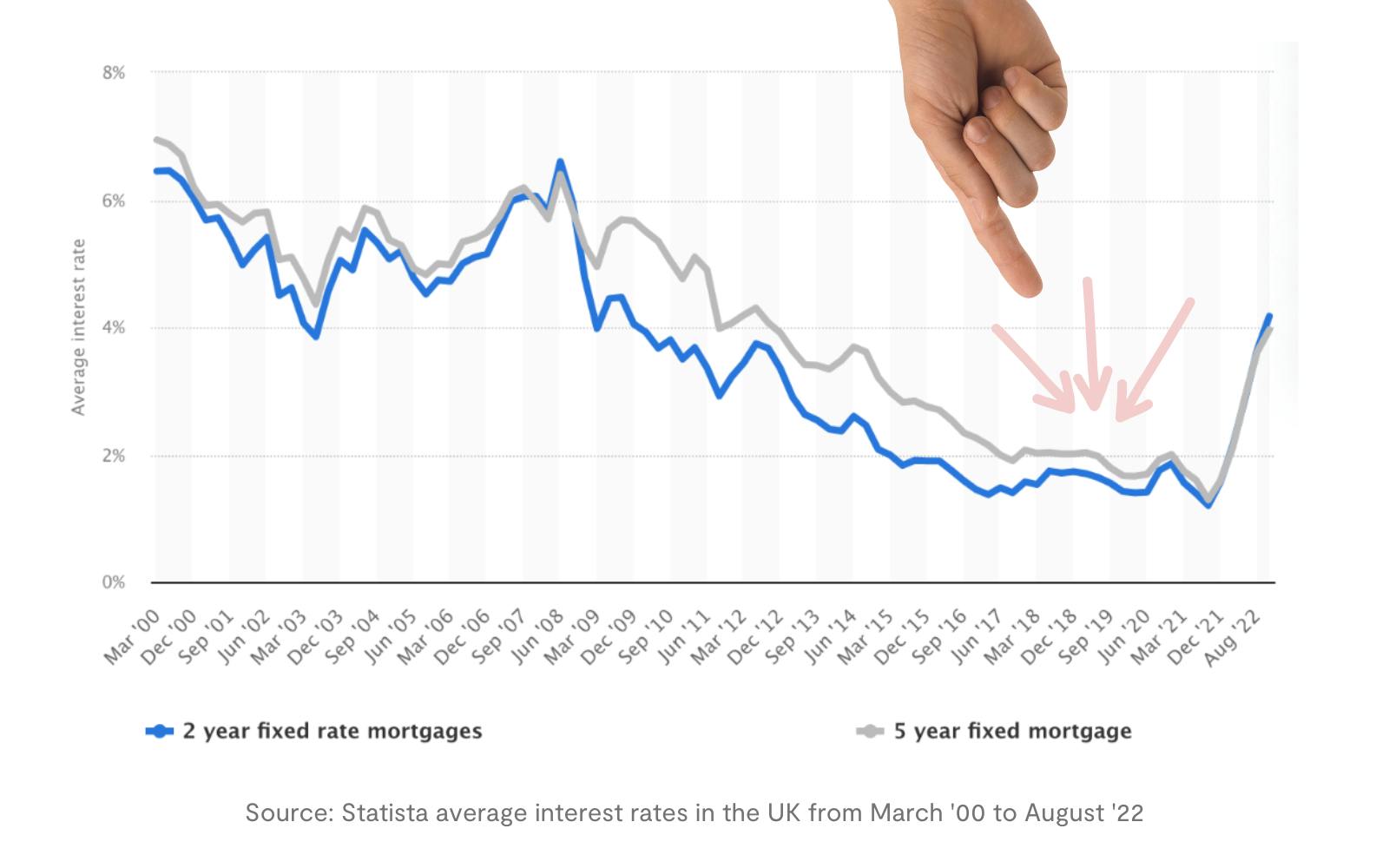 A line chart shows two-year and five-year fixed rate mortgage interest rates from 2000 to 2022. Arrows point to the low rates in the pandemic years.
Understand what's possible: know your mortgage affordability
Everyone's circumstances are different, and it might be better for you to hold off on the house hunt and keep renting for a while. Or it might not. The key here is to understand what's affordable for you. 
Use a quick mortgage calculator to work out how your mortgage repayments would stack up versus what you pay in rent. If it's similar, or even slightly more - ask yourself if the number is affordable for you. 
If it is, then look to get a mortgage illustration, to see if lenders will allow you to borrow the amount you need. 
Your credit history has never been more important
In tough times lenders tighten up their eligibility around what credit mishaps are acceptable. So be sure to review your credit file from one or all of the credit reference agencies (Equifax, Experian and TransUnion) before you apply. 
As we've touched on, short-term volatility should not put you off buying your first home. Consider the long-term benefits of homeownership, what the alternatives are for you and suss out what you can afford in order to make a reasoned decision. 
I'm a homeowner. What's the best thing to do to protect myself?
Whether your current mortgage deal is expiring in the next few months, or not for another year, this is a time of anxiety for homeowners. Monthly costs are increasing significantly, particularly for those borrowers who secured ultra-low rates in 2020.
But, you'll be glad to know that there are plenty of options out there.
Consider a variable or tracker mortgage
Traditionally, fixed-rate mortgages have been much more popular in the UK - in fact, they make up 74% of active mortgages in the UK. 
But with market uncertainty pushing up fixed-rate deals into the region of 5% to 6%, variable rates offer a solution for those looking to keep their repayments low. 
A variable mortgage rises and falls in line with an index - usually the base rate. So if the base rate increases, so does your mortgage interest rate. You don't know exactly what you'll be paying each month, so it is a riskier product for those that like certainty. 
Currently, the best interest rate on an 80% variable mortgage over 2-years is 3.45% - significantly lower than fixed-rate deals. Plus, some lenders don't charge early repayment fees. So if in a few months fixed rate mortgages are looking more attractive, you can exit your tracker mortgage and move onto something more predictable. 
Hold a fixed rate mortgage offer for six-months
Many lenders' mortgage offers for remortgages are valid for up to six months. So if your current mortgage doesn't expire for a while, but you're worried about interest rates continuing to rise, it could be sensible to reserve a fixed-rate deal now. 
If rates have come down by the time your remortgage date rolls around, you're not committed to the mortgage offer. But if they have increased further, you can lock-in the agreed rate. 
Remember mortgages are more flexible than you might think
If the cost of living crisis is biting and you're struggling to pay your mortgage, it's very important to note that mortgages are much more flexible than you might think, and repossession is a last resort for a lender. 
Offset mortgage
If you want to reduce the amount of interest you pay on your mortgage, and you have savings, an offset mortgage could be a great option to keep monthly payments low. 
An offset mortgage essentially links your mortgage with your savings account. The lender will take away the amount in your savings account from what you owe on your mortgage. You'll only pay interest on what's left.
Mortgage payment holiday 
You could approach your lender and ask for a temporary mortgage payment holiday. You might remember payment holidays being spoken about a lot during the COVID pandemic. It is an arrangement between you and your lender that allows you to stop or reduce your mortgage repayments for an agreed period of time. 
Note that your lender doesn't have to agree to your request, and it's not automatic, so never stop paying without speaking to your lender first.
Mortgage porting
If you're concerned about the long-term impact of rising interest rates, you could also look to port your mortgage to a new property and downsize. This would provide you the opportunity to reduce your borrowing, or make use of some of the equity you've built up in your old home, say, to put it into your savings account. 
Check the terms and conditions of your mortgage, and also do some research into your lender to get a feel for whether this could be a possibility for you. 
What would you do if you were in my situation?
At the end of the day, the decision is yours to make. Regardless of what's happening in the market, you need somewhere to live. But whether that's through homeownership or renting is a decision for you to make after considering the pros and cons of both. 
So, we can't make the choice for you. But we can help you on your way; the best piece of advice, whether you're a first-time buyer or a seasoned homeowner, is to seek expert advice. The market has never been more volatile or unpredictable, but an entire industry of experts exists solely to ensure that you can get the best possible deal. 
Many mortgage brokers (including Tembo) don't charge a fee for their service until you get a mortgage offer from a lender. So, try not to rush into a decision, and get all the free advice you can from a professional first. 
Don't go it alone. Speak to a mortgage expert today so you can make an informed decision.