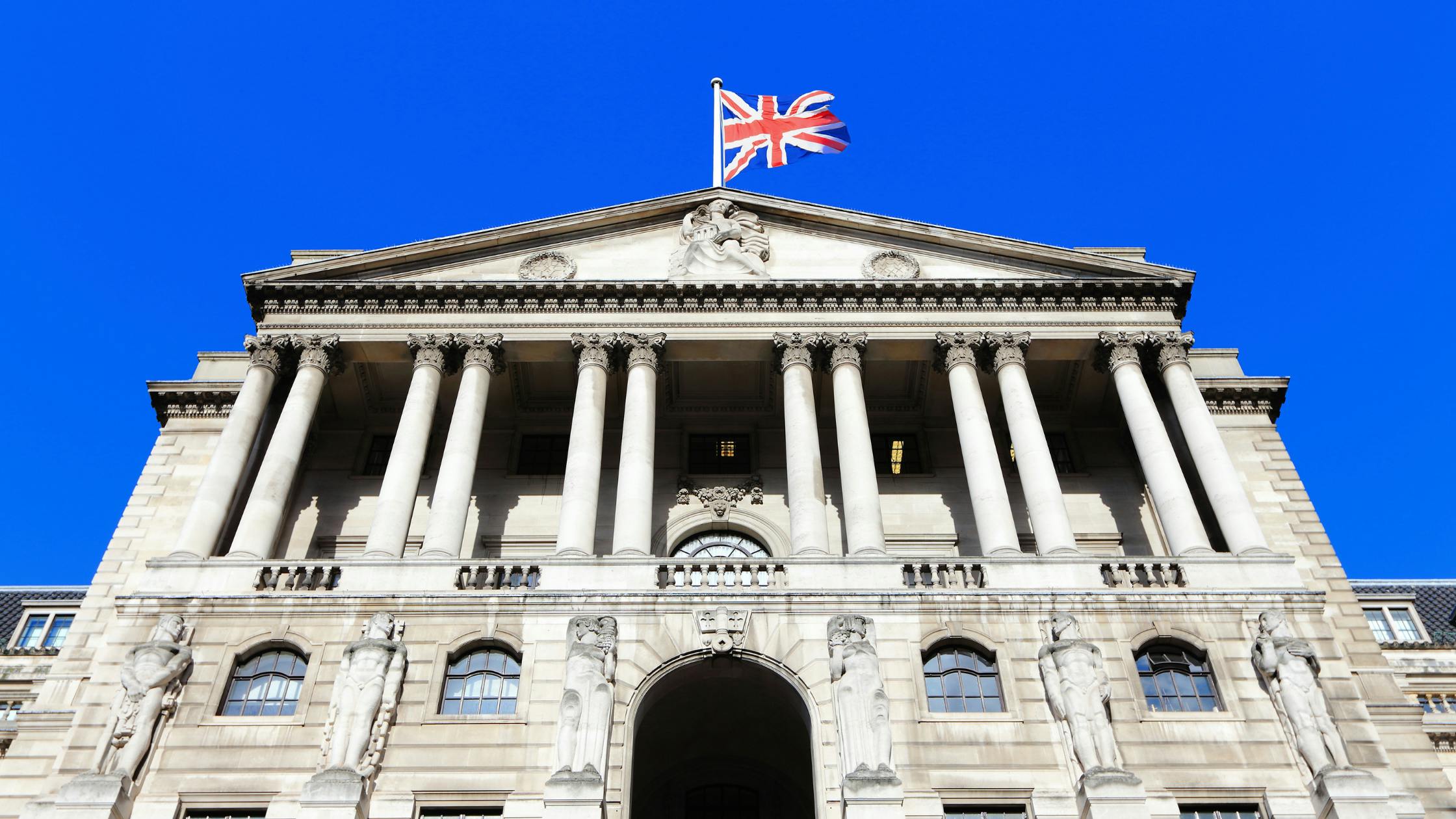 What is the Bank of England's base rate?
Last Updated
2 October 2023
Chances are, you've likely heard the Bank of England's base rate mentioned in the news - probably in relation to mortgage interest rates or inflation. But what is the base rate, and how does it impact you? Keep reading to find out.
What is the Bank of England's base rate?
The Bank of England's base rate, sometimes called the Bank of England rate or simply the base rate, is the rate the Bank of England charges other lenders to borrow money. It's used by other banks and building societies to set their own interest rates on loans such as mortgages, as well as savings accounts.
Keep an eye on the current Bank of England base rate with our Tracker.
How does the base rate affect interest rates?
When the base rate goes up, this makes borrowing more expensive for lenders, so they often raise their own interest rates in response. This is good news if you've got cash in the bank, as you'll earn more interest on your savings. But it can be bad news if you want to borrow money, as it makes taking out loans for things like mortgages, cars or personal finance more expensive. On the other hand, when the base rate falls, so does the cost of borrowing, so interest rates often tend to follow suit.
See what's happening with live rates and compare mortgage deals with our Mortgage Rate Comparison tool.
Worried about mortgage costs going up?
If you're a homeowner or you're thinking of applying for a mortgage, you might be worried about how these changes will impact your finances. Create a free Tembo plan today to see what rates you could be offered and the monthly costs.
Create my plan
What is the history of the Bank of England's base rate?
The history of the Bank of England's base rate goes back further than you might think. The base rate was created when the Bank of England was granted a Royal Charter by King William and Queen Mary in 1694. This charter originally stated that the bank was founded to "promote the public Good and Benefit of our People", which at the time meant funding wars with France.
Over the centuries, the base rate has been used to cool or stimulate the economy or control inflation, in particular during uncertain times such as during wars, financial crises or pandemics.
If you look at how the base rate has changed since it was first introduced, you can see that there were some periods when the base rate stayed stable, and others when it was constantly in flux.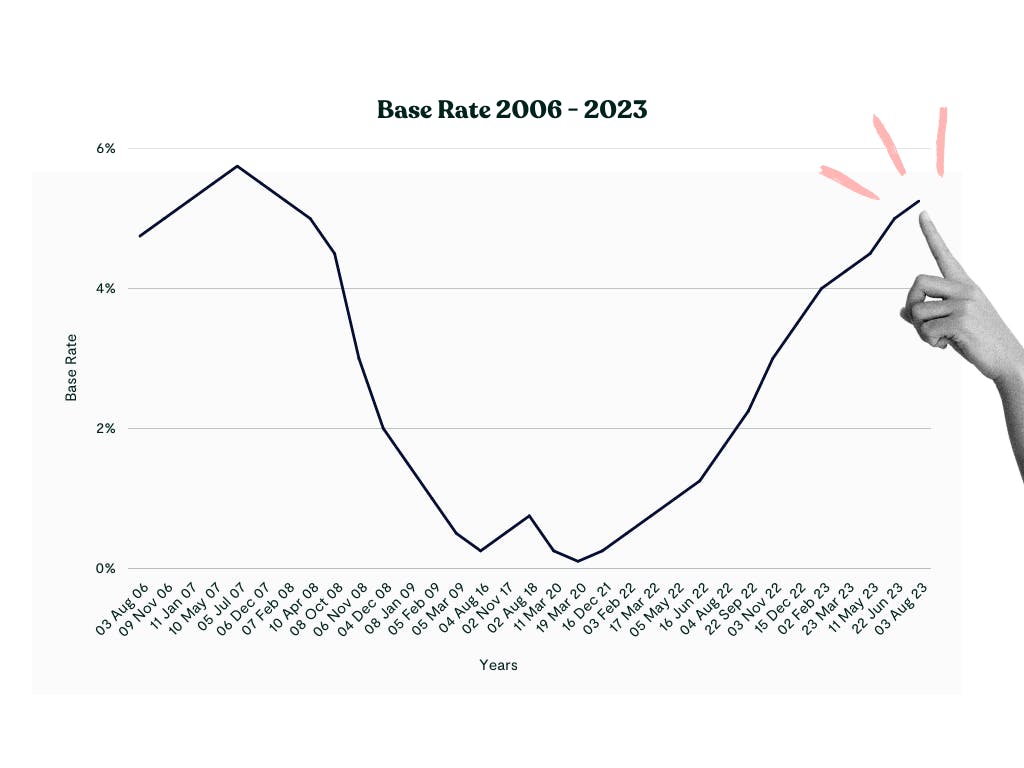 For example, the highest base rate level ever recorded was in 1979 when it peaked at 17%. The lowest ever recorded level was in 2020 when it fell to 0.1% during the Coronavirus pandemic. Typically, a much more normal range for the base rate is between 4-6%.
Back in my day…
You can see from the graph that the 70s and 80s were periods of great turbulence, when interest rates soared in an attempt to control inflation after oil prices and wage rises caused it to increase drastically. When talking to your parents or grandparents about the difficulties of getting on the ladder today with rising interest rates, they might mention this time as a period when their mortgage payments increased dramatically - which they did.
However, it's important to put the increases into context. The average cost of a house in the UK at the end of the 70s was £19,925. If you bought a house then when interest rates were at their highest at 17%, your monthly repayments would be £259, roughly 26% of the average earnings of two people*. 
Today, the average house in the UK costs £286,000. With current interest rates around 6%, your monthly repayments would be £1,658 - 31% of the average salary of two people*. So while paying 17% on a mortgage back then certainly wasn't easy, it was much more affordable than current interest rate levels. If interest rates rose to 17% today, mortgage repayments would cost £3,701, 70% of the average salary for a two-earner household!
Based on a 25 year mortgage term and 10% deposit. Average wage in late 1970s was £6,000 (£500 per month), average salary in 2023 is £31,772 (£2,648 per month). Salaries are pre-tax. 
What is the current Bank of England base rate?
The current Bank of England base rate is 5.25% — its highest level since 2008. The Bank of England raised its base rate 14 times in a row, the most recent rise being 0.25% on the 3rd August 2023. At the most recent meeting on the 21st September 2023, they voted 5-4 to hold the base rate at 5.25%.
Back in March 2020, the Bank of England cut the base rate twice. They hoped that by reducing the cost of borrowing, they'd ease the economic pressure caused by the Coronavirus pandemic. The first cut was on the 11th March, bringing the rate down from 0.75% to 0.25%. Just eight days later on the 19th March it dropped again to 0.10%.  
Is the base rate going up?
The base rate has been going up and it's expected to increase further over 2023. It's increased more than a dozen times in the last 18 months, gradually rising from 0.10% in December 2021 to 5.25% today. For context, in 2021 when the base rate rose it was the first increase in 14 years - since then it rose 8 times in 2022 and 5 times in 2023. 
Why is the base rate going up?
By increasing the base rate, the Bank of England hopes it can get inflation under control which is currently way above the 2% target. By increasing the base rate, the Bank of England is trying to stop people borrowing and spending so much, while rewarding saving. If people spend less money, this will (in theory) stop companies increasing their prices as quickly, which should bring down inflation. 
Unfortunately, there's no guarantee this will work. So far in 2023, inflation has been fairly stubborn despite the recent decreases, and we are way off the 2% target, so it's likely that the base rate will rise further to get inflation down even more.
What's going to happen to my mortgage costs?
If you've got a fixed-rate mortgage, you're protected from interest rate rises until the end of your fixed term. If your fixed-rate is set to end in the next six months, it may be wise to speak to a mortgage broker sooner rather than later. If you're on a variable rate deal, every time the base rate rises you will likely see an immediate impact to your monthly repayments.

Learn more: What should I do when my fixed-rate mortgage ends?
Struggling to remortgage? You're in the right place
Here at Tembo we can help you find the best rate for you from thousands of mortgage products, including whether it's worth staying with your current lender. Get started today by creating a free Tembo plan.
Create my plan
How high will the base rate go?
No one knows for sure how high the base rate will go, but experts have warned that it could increase to 6% by the end of the year. Getting inflation under control is the Bank of England's top priority at the moment, backed by Rishi Sunak's pledge to halve inflation by the end of the year. 
While some have criticised the Bank of England's tactics, the Chancellor Jeremy Hunt has made it clear that the government supports the Bank of England in "doing whatever it takes" to get price increases under control. 
When is the next Bank of England base rate meeting?
The Bank of England's next base rate meeting will be held on the 3rd August 2023. They usually meet every six weeks, but during times of crisis they tend to meet more often.
How often does the Bank of England base rate change?
There is no hard and fast rule for how often the Bank of England's base rate changes. The base rate will only be increased when the central bank feels it's necessary to do so. Some years, the base rate stays stable and barely changes, other times, like more recently, the base rates is changed each time the Bank of England meets.
Tembo's predictions for the Bank of England base rate:
"It's difficult to know what's going to happen over the next couple of months. At the start of 2023 interest rates started to come back down after the peak of the mini-budget, but then rose again. Markets widely predict that interest rates will continue to climb this year, before coming back down from summer 2024, but at this stage predictions feel like a fool's game."

Perry Graves
Mortgage Advisor at Tembo
See what you could rates you could be offered today
At Tembo, we're experts at helping buyers and remortgagers increase their affordability, so you can buy sooner or access lower rates.
Get started today