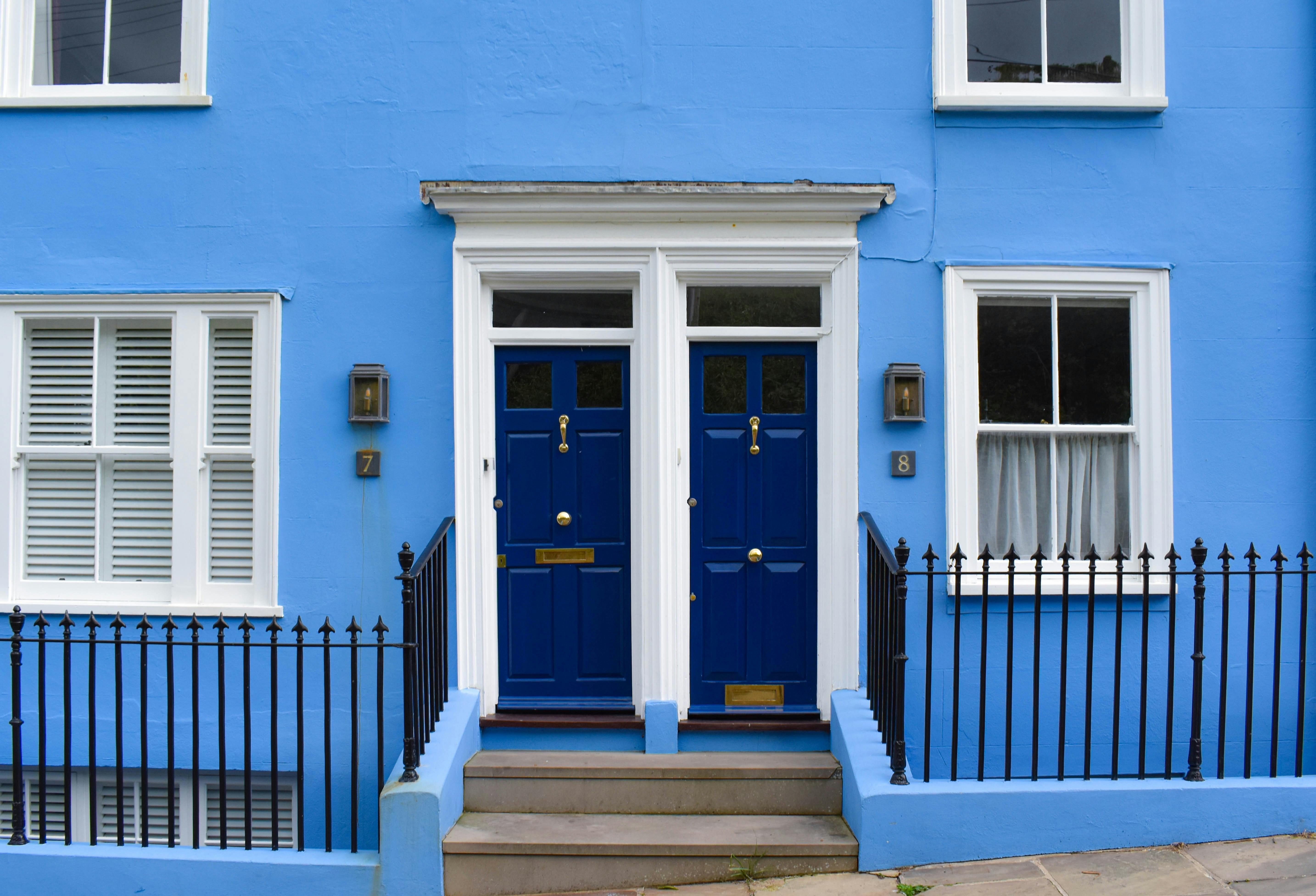 Can a parent help with a mortgage?
Last Updated
11 July 2023
How can your parents help you buy a house? Find out all about what options are available for parent-supported mortgages in this guide.
Can my parents help me get a mortgage or buy a house?
Yes, your parents can help you get a mortgage. There are various ways your parents could support your home purchase, including ways that don't require them to gift you large sums of cash.
These include adding part of or all of your parent's income to your mortgage application as a guarantor through an Income Boost. This increases the total income which your mortgage affordability will be based on, so you could get a larger mortgage and get on the ladder sooner.
Your parents can also use a Deposit Boost to unlock money from their own property, which can then be gifted to you to boost your own house deposit or be used as the entire down payment.
With a larger house deposit, you can access lower interest rates which will make your monthly repayments more affordable. In fact, through a Deposit Boost our customers save £17,000 in interest over a 5-year term. Or you could choose to buy a more expensive property with your boosted deposit instead, which could mean an extra bedroom or bigger garden!
If your parents do have cash savings and want to help you buy, another way they could help you get a mortgage is through a Savings as Security mortgage. Also called a family springboard mortgage, this works by your parent depositing 10% of the property value in a special savings account held by the lender for a set number of years.
As long as you make the monthly repayments, your parents will get their savings back at the end of the fixed period, plus any accrued interest. Because they've deposited 10% of the property's value, this scheme helps you get on the ladder with no house deposit saved.
What is a guarantor mortgage and how do they work?
A guarantor is liable for the mortgage debt
In becoming your guarantor, your parent will be agreeing to be liable for the mortgage debt, which means they'll be required to step in if you are unable to make the mortgage repayments.
Can my parents pay my mortgage?
If you're struggling to pay your monthly repayments, you may be wondering if your parents can help you stay in the home you love by paying your mortgage for you. The good news is yes, it is possible for your parents or another family member to help you pay your mortgage. They could gift you a lump sum of cash to be used to reduce your mortgage loan, which will make your monthly repayments more affordable.
If they want to contribute to the monthly payments on-going, they can also be added to your mortgage through a Dynamic Income Boost. This way, they can choose to build up an equity stake in your home by contributing to the repayments, but won't own your home. Each owner's share is individual and reflects how much they contribute to the mortgage over time, as well as any change in the property's value.
Can I get a joint mortgage with my parent?
Yes, you can get a joint mortgage with your parent to become co-owners. There are a few ways to do this. If you use a traditional joint mortgage, you and your parent will both be liable for the mortgage debt and will own 50% of the equity in the home each.
Or you can use a tenants in common style mortgage, which allows you to add your parents to your mortgage application as co-owners, but instead of splitting the equity evenly you will each have an individual share in the property.
This way, each co-owner's share is separate and reflects what they have contributed to the house deposit and repayments over the years. 
One way of doing this is through a Dynamic Income Boost, which allows your parents to contribute to the monthly repayments in return for equity in the home. With this scheme, your parents will have no ownership of the property, so if you're a first-time buyer, you won't lose access to any stamp duty benefits, and their tax position won't be impacted either - this makes it an attractive option for many families.
They could also use a Deposit Loan to contribute to your house deposit, or supply the cash for the entire down payment. This will be either as an equity loan, where they will own a percentage of your property, or as an interest-free loan that is repaid when the property is sold.
See how your parents could help you buy today
By creating a free Tembo plan, you can see all the ways your parents could boost your mortgage affordability to help you buy sooner.
Create my plan now
Do parents help pay for a house?
You might think that parental help buying a home is only for the rich and wealthy, but this isn't the case. The "Bank of Mum and Dad" is often used to describe any financial help parents give their children, including support to get on the housing ladder. There is a lot of stigma attached to this idea - in popular culture, it's often represented as demanding, lazy children being over-reliant on indulgent parents.
But the reality is, more parents than you think help their children buy a house. In fact, over half of first time buyers are reliant on family support to buy their first home. If you are aged under 35 years, more than half (56%) of your friends are likely to have been given a leg up onto the property ladder by a financial gift or loan from their parents. In fact, 71% said they couldn't have bought without that financial support, or they would have had to delay buying by an average of 4 years. And it's nothing to be ashamed of, because buying a home solo - well, it's never been harder as we'll come onto next.
Why do so many first time buyers need help buying a house?
With house prices rising by as much as 5-10% a year and the average first time buyer home now costing £226,399, many younger homebuyers are being priced out. Often the problem is not that they can't afford the repayments, but that they struggle to save the deposit in the first place or get a mortgage big enough to buy what they need.
In most cities, if you are a first time buyer and are able to put down a 10-15% deposit, your monthly repayments will be cheaper than renting. But if you're at an early stage of your career and earning power, building a big enough deposit is especially hard if you have to pay high rent while you save.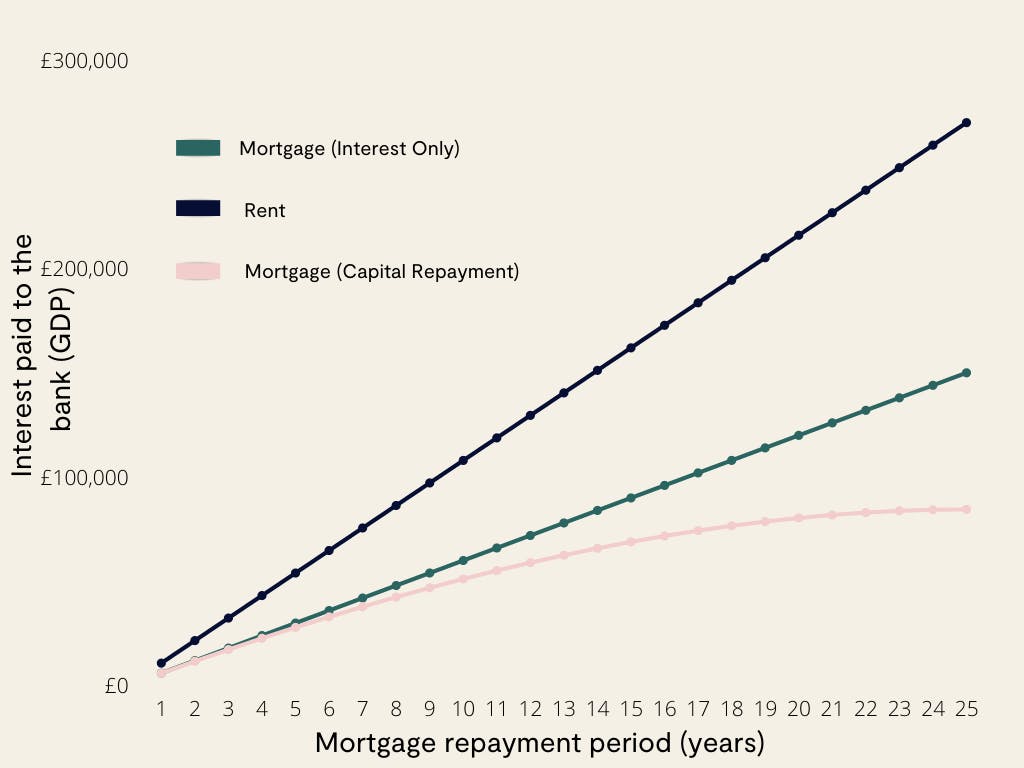 Owning a property will make you over £350,000 better off
Getting on the ladder earlier with parental help will not only give you security against rent rises, it will also make you financially better off in the long term. In fact, owning a property makes you £352,500 better off than the average private renter over the next 30 years—even if house prices don't rise.
Should I accept help from my parents to buy a house?
It's normal to feel uncertain about accepting help from your parents to buy a house. We are told that we should stand on our own two feet, and be able to get on the property ladder without any help. You might also worry that your parents won't have enough to live on by themselves if they offer you support, or it could create tensions between siblings or other family members.
The important thing to remember is that accepting help from family to buy is normal, and is nothing to be ashamed of. If you're worried about how to broach the subject with your family, read our guide here on how to talk to your family about support, inheritance and more.
If my parents give me the money as a gift, can they tell me which house to buy?
No, in law once a gift is given it is the receiver's to do with as they wish. Parents may ask children they are giving a gift to sign a "letter of intent", explaining what they will do with the money, but this is not enforceable by law.
I'm not married to my partner, will they be entitled to half the gift if we split?
Drawing up a cohabitation agreement or Living Together Agreement (LTA) can avoid any problems with splitting the gift if the relationship breaks down. 
This is a legal document common among unmarried couples. It lays out how any assets will be divided if the couple splits.
The legal bits
If your parents are helping you buy, there are a couple of things to keep in mind as you go through the home buying process:
You must tell your conveyancer (the solicitor handling the legal aspect of a home purchase) some or all of the deposit is a gift
You'll need to provide your lender with written proof to show that the money is a gift, not a loan. If the money is a loan, create a written agreement so it's clear that the money will be repaid later down the line. 
A mortgage lender will want to know the gift is from legitimately earned money, so will want to see your parents' bank statements, too.
Your parents will have no legal claim on their financial gift once it's given, or the property you've bought
Consider drawing up a deed of trust - the solicitor working on the property purchase can do this for you. In the event of a split with your partner or friend you bought with, a deed of trust will protect your rights to keep 100% of the financial gift. 
Both you and your parents may want to write or update your Wills after a financial gift. For your parents, this is an opportunity to even out the financial gift to one child by apportioning more inheritance later to other children. Children may also want to write a Will to ensure the gifted money goes back to their parents if they die before them. Often, the solicitor who arranged the legal side of the home purchase can write a Will for you, too.
If you're using a guarantor mortgage, your family member will be required to seek independent legal advice (ILA), to ensure that they understand the risks associated with their support.
Where to get advice
At Tembo, we specialise in helping families work together to make home happen, so first thing's first - create a Tembo plan to see which schemes could work for you and your loved ones.
If your parents want to help you buy a house, it's important to get professional, independent legal and financial advice once they've decided which mortgage they want to use. That might mean talking to their regulated financial advisor, as Tembo customer Jo did:
Looking for ways your parents could help? Talk to the experts
At Tembo, we specialise in helping buyers boost their mortgage affordability to buy sooner through a range of family support mortgage options and buying schemes. To see how your parents could help you buy a home, create a free Tembo plan today for a personalised recommendation. You can then book in a free, no-obligation call with our award-winning team to talk through your options.
Get started