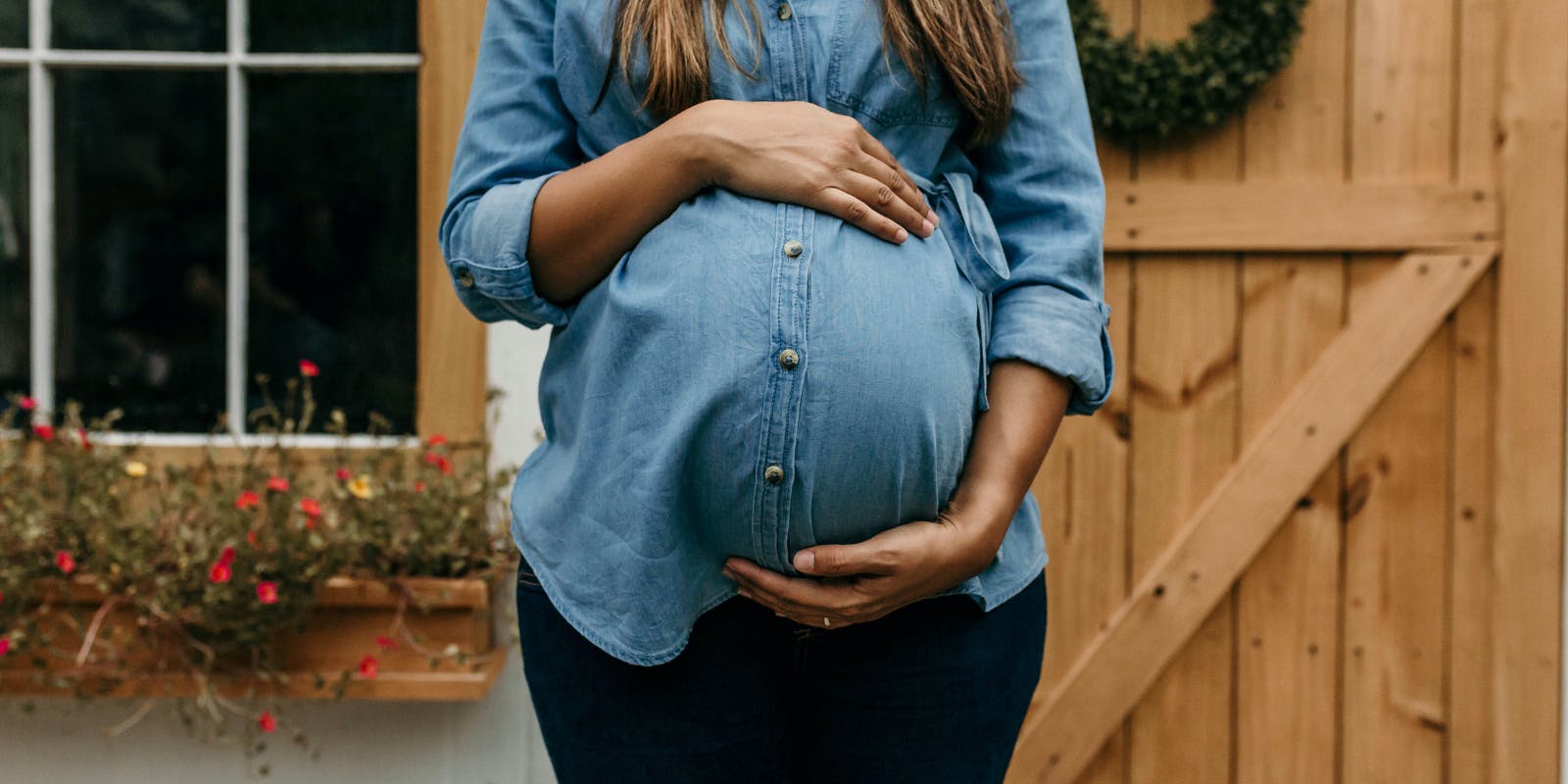 Can you get a mortgage when pregnant or on maternity leave?
Last Updated
9 August 2023
Buying a home can be one of the most exciting yet stressful life events a person can experience. If you're pregnant or buying a house while on maternity leave, it's easy to feel even more overwhelmed.
If you're pregnant or on maternity leave, you may be wondering how this will affect your ability to buy a home. Does being pregnant make it harder to get a mortgage? And do you have to declare pregnancy on a mortgage application? 
Read on to find out how to get a mortgage on maternity leave, applying for a mortgage when you're pregnant and how to increase your borrowing potential in this guide.
Can you get a mortgage on maternity leave?
Yes, it is absolutely possible to get a mortgage on maternity leave. But it can be more complicated than if you were working full-time. Some mortgage lenders will reject applications from people on maternity leave, but most will simply want proof that you'll return to work on a full salary, and when that will happen. Some lenders will base the loan amount on the amount you'll earn on leave, rather than your usual salary, but this is rare. 
To increase your chances of getting approved and getting a good deal, it's wise to talk to a mortgage broker. They'll know the industry inside out and will help you identify the flexible lenders who are most likely to have favourable criteria for maternity leave. 
Can you get a mortgage when pregnant?
Yes, it is possible to get a mortgage while you're pregnant. The main thing lenders will be concerned about is your affordability. If you're going down to one household income, or one of you is going on parental leave, this could reduce your mortgage affordability. This could impact the amount you could be offered for a mortgage, or if you can get a mortgage in the first place.
Working with a mortgage broker can really help here. If they are affordability experts like Tembo, they can help you discover schemes that boost your affordability to help you get on the ladder.
Does being pregnant make it harder to get a mortgage?
Being pregnant can make it harder to get a mortgage, even if you're not on maternity leave yet. This is because, rather than focusing on what your income is now, lenders will sometimes assess your affordability based on what your income will be while you're spending more time with your baby, which could limit your borrowing potential.
However, many lenders will still consider your full salary, but they can be difficult to track down. This is because only a selection of mortgages are listed on comparison websites and some lenders reserve the best deals for those who apply through a mortgage broker like us.
This is why it can be beneficial to get professional mortgage advice before applying for a mortgage with a specific lender. An expert mortgage broker will know which lenders are more likely to accept your application, as well as ways you could increase your affordability so you could borrow more.
Will it be easier if I'm applying with my partner or spouse?
If you're applying for a joint mortgage with your partner or spouse and they plan to keep working when the baby is born, this can make things easier. However, lenders may agree to lend based on your partner's income alone. This can mean that if your partner earns a modest salary and you're hoping to buy a big house in an expensive area, you might not be able to borrow enough.
If you still can't afford a mortgage on maternity leave, here are a couple of ways to boost your borrowing potential…
How to boost your borrowing power:
1) Use an Income Boost to boost your borrowing
An Income Boost, also known as a Joint Borrower Sole Proprietor mortgage, could help you increase what you can borrow for a mortgage while you're pregnant or on maternity leave. It works by adding a friend or family member to your mortgage application as a guarantor to boost your borrowing potential. The lender will take their income into account when carrying out their affordability assessments. Based on a larger total income, you could be offered a larger mortgage!
The person you add to the mortgage won't have ownership over the property as they will be acting as a guarantor. But if you have difficulties making your payments, they'll need to help.
As long as you meet all the criteria, you can do this even if you're buying the property with your partner or spouse. You and your partner would be joint owners, while your 'booster' is simply added to the mortgage. 
2) Use a Deposit Boost to increase your deposit size
Another option is to use our Deposit Boost service. This involves taking out two separate mortgages. The first mortgage is taken out by a friend or family member who owns their own home. By remortgaging their property, they can free up some equity from their property that can be gifted to you as part of or your full house deposit.
The second mortgage is used to buy your home. You'll also use the gifted deposit along with any other savings you have when applying for the mortgage.
With a boost to your deposit size, you can reduce the amount you need to borrow for a mortgage which will allow you to access lower interest rates. This will make you monthly repayments more affordable and easier to manage while on maternity leave.
3) Get a 0% mortgage with a Savings as Security mortgage
With a Savings as Security mortgage, also known as a springboard mortgage allows you to buy a home with no deposit by utilising a loved one's savings. A family member or friend will put 10% of the full property value into a savings account with the mortgage lender. Their money is held for 5-years as security against your mortgage. As long as you make your repayments each month, your loved one will get their money back at the end of the fixed term, plus any interest that has built up.
Because they've deposited 10% of the property's value, this removes the need for you to put down a deposit yourself.
4) Use your rent to prove your affordability
With Skipton's Track Record mortgage, you can use your track record of paying rent each month to get a 100% mortgage - meaning you could buy a home with no deposit saved up.
To qualify, you have to evidence that you've paid your rent and household bills in full for the last 12 months.
5) Boost what you can borrow through a Professional Mortgage
If your partner is a key worker such as a nurse, doctor or teacher, or works in a professional field such as law or accountancy, they could qualify for a Professional Mortgage or a Key Worker mortgage. These are enhanced borrowing schemes that let the qualifying applicant borrow up to 5.5 or even 6.5 times their salary for a mortgage.
If you or your partner is a high earner (earning at least £37,000 individually or £50,000 collectively), you could also qualify for a 5.5x Income Mortgage. This allows you to borrow up to 5.5x your income without needing to work in a professional field.
Only qualifying applicants get enhanced borrowing
If you and your partner are buying together and only one of you works in a professional field, then only they will qualify for enhanced borrowing. The other applicant will only be able to borrow the standard amount - 4-4.5 times your salary.
6) Reduce how much you need to buy with Shared Ownership
Instead of trying to get a mortgage for the whole property value, you could get on the ladder sooner by buying a share of a home through Shared Ownership. There are different Shared Ownership and part buy, part rent schemes, but the main crux of how they work is this - you'll buy a share of the home (normally 10-75%), which can be with a mortgage or outright. You'll then pay rent on the share of the home you don't own to your shared ownership provider.
Over time, you can buy more of the property to reduce how much rent you pay as well as how much of the property is yours. This is known as stair casing, and can either be done through monthly payments or in lump sums when you're ready.
See how you could get on the ladder sooner with Tembo
At Tembo, we specialise in helping buyers discover how they could afford their dream home and get on the ladder sooner. By creating a free Tembo plan, you get a personalised recommendation of all the buying schemes you could be eligible for - in an instant.
Create my Tembo plan
Can mortgage lenders ask if I'm pregnant?
No, mortgage lenders are not allowed to ask if you're pregnant or on maternity leave when you apply for a mortgage, as this would be discriminatory under the Equality Act 2010. However, lenders are expected to take into account future changes in your incomings and outgoings. And of course, having a baby can impact every aspect of your finances.
So while a lender can't ask if you're pregnant, they may ask if you're aware of any changes to your income or expenditure in the future. If you tell them that you're pregnant, the underwriter will usually assess your finances as if you already have a child, to ensure the mortgage won't become unaffordable once your baby has been born. This means they will add a dependent to your mortgage. 
They might enquire about the following:
How long your maternity leave will be
Whether you plan to return to work full-time
Whether your salary will be the same when you return to work
How much you expect to spend on childcare
They might also ask your employer to provide them with a 'letter of intent' confirming the things you've told them. These questions might feel intrusive, but it's all part of lenders' affordability checks. 
Do I have to tell the mortgage lender I'm pregnant?
Legally you must declare any significant changes that could impact your ability to repay the loan in future. As pregnancy or maternity leave normally impacts your finances, it typically is considered to fall into this category, and therefore is something you should tell your mortgage lender about. Keep in mind that lenders will expect you to sign a declaration to say you've completed your application truthfully.
Do you have to declare pregnancy on mortgage application?
You do not have to declare pregnancy on a mortgage application, but you should disclose to your mortgage advisor or lender anything that will impact your financial situation in the future. Having a baby is a huge life event, and will change your life as well as your financials! For that reason, always be upfront. Over 600,000 babies are born each year - so lenders are very used to applications with maternity cover! It's nothing you need to try to conceal. 
What happens if my lender finds out I didn't disclose my pregnancy?
In some cases, not being truthful in a mortgage application could give your lender grounds to withdraw their offer. This may cause unnecessary stress during the home buying process, the last thing you need is to be scrambling to find a new lender when you've already got a new baby to care for! 
That said, it would be very uncommon for this to happen due to, say, an early undisclosed pregnancy. It would be hard for your lender to prove that you knew you were pregnant at the time of your application. It might not be so plausible if you're eight months in!
Read more: What to do if your mortgage application is rejected?
Does maternity leave impact my remortgage?
Yes, maternity leave could impact your remortgage. Remortgaging on maternity leave is not that different to making a new mortgage application. If you switch to a new mortgage lender, they will conduct affordability test to ensure you can afford the mortgage before accepting the switch. Being on maternity leave could reduce your affordability, which could mean you might find it harder to remortgage.
Some people choose a product transfer with their existing lender, rather than trying to switch to a completely new deal. Product transfers rarely require affordability checks, providing you're not extending the term of your mortgage or trying to release equity. While this can be a relatively easy option, it's not always the most cost-effective and could see you missing out on better deals and more suitable terms with other lenders.
By comparing mortgages from lots of different providers rather than sticking with your current one, you could save thousands over the course of your mortgage term. Before remortgaging on maternity leave, it's a good idea to speak to a specialist mortgage broker like us. We'll find a lender who'll take your working salary into account, rather than one who'll restrict the amount you can borrow.
Which lenders will accept my full salary?
Most UK lenders will accept mortgage applications from people on maternity leave, but they may have other criteria that need to be met. The majority of lenders will accept your full return to work salary rather than maternity pay. But they will usually want a return to work date and letter, but other than that, it's usually quite simple! 
That's because a 12-month dip isn't reflective of the whole term of your mortgage, which might be paid back over a 30-year period. 
For example, Natwest will take your full-time salary into account when assessing affordability but they'll ask for confirmation that you're planning to return to work full-time.
Generation Home will accept 100% of your return-to-work income, where you can prove you'll be returning to work in 12-months of the application being submitted. You'll also need to show how you are going to cover the reduction in income. 
Precise Mortgages will ask your employer to verify in writing how much you'll earn when you return to work after maternity leave. 
Santander will check how affordable your mortgage will be when you're on maternity leave. They'll also factor in predicted childcare costs before deciding whether to lend. 
Metro will accept the return-to-work salary, providing there's income/savings to cover any reduction in income. The employer's letter needs to confirm the return to work date, income, hours and that there's no change in the terms of employment. 
Nationwide will ask for the latest payslip which shows you're on maternity leave, e.g. Statutory Maternity pay information, and the payslip prior to you going on leave, which shows your full salary.
See what you could afford with Tembo
Making plans for a new mortgage and a new baby? Get a personalised mortgage recommendation and discover what you could borrow in minutes.
Get started
Can you get a mortgage on maternity leave if you're self-employed?
Yes, it is possible to get a mortgage if you're pregnant or on maternity leave and self-employed, but you may have to jump through a few extra hoops than if you worked for someone else. While lender criteria can seem unfair, ultimately it's designed to stop people taking on more debt than they can afford. 
The lender will want to know how your business and income will be impacted when you have a baby. If you have employees who'll keep everything ticking over for you, the impact on your income may be minimal. But if you're a sole trader or you run a limited company by yourself, this might make it harder for you to keep up with repayments on your mortgage. If you're pregnant or buying a house while on maternity leave, work out whether you'll be able to afford the mortgage once your baby's arrived. 
Santander says that when assessing affordability for self-employed applicants, they look at the last two years' trading accounts and take an average income across those two years. Their current maximum LTV for self-employed applicants is 75%, meaning you'll need to put down a 25% deposit or higher.
If you have savings set aside to cover your expenses during maternity leave, it's a good idea to mention this to your lender. It's also wise to tell them if you plan to reduce childcare costs by having family members look after the baby while you work. 
We've helped thousands discover how they could buy a new home
Even if you're self-employed, on maternity leave or a solo buyer, there are ways to increase your affordability to get on the ladder sooner. To see what options are open to you, create a free Tembo plan today.
Create my plan