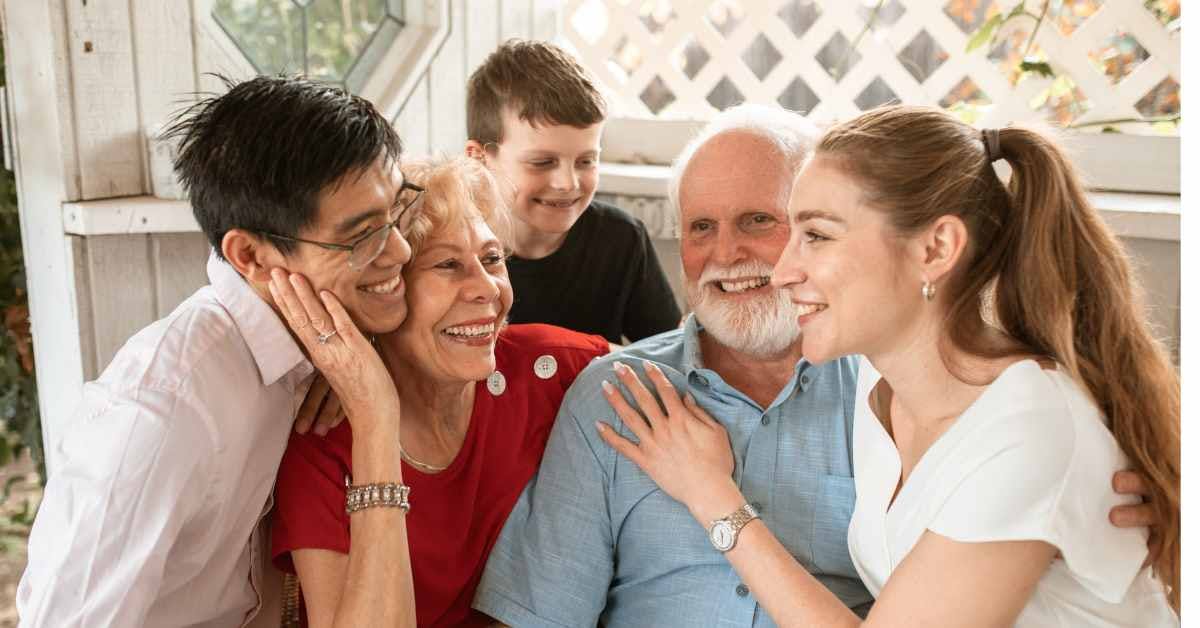 Top 10 Family Assist Mortgages To Help You Buy
Last Updated
21 December 2022
Almost half of all first-time buyer transactions involve The Bank of Mum and Dad. In fact, it's believed parents will gift or loan £25 billion pounds to their children over the next three years.
With property prices rising so dramatically and the cost of living crisis making it harder than ever for renters to save a deposit, it's no wonder that so many people are turning to their parents for help.
For many first-time buyers, help comes in the form of large cash gifts or informal loans. But not many people realise that there are other options too. If your parents (or another financially comfortable family member) is able and willing to help, a family assist mortgage may be suitable.
So how do family mortgages work and which one is right for you? Here are 10 family help mortgages to consider:
1. Barclays Springboard
If you'd like to buy a house but you don't have a deposit, Barclays Springboard may be the answer. You can borrow up to 100% of the property's price as long as a family member provides 10% of it as a security for five years. 
Your helper will need to open a Helpful Start account in their name, where their money will earn interest for an agreed term. As long as you pay your mortgage on time each month, they'll get their money back after 5 years plus any interest that has accrued.  
Many family assisted mortgages have restrictions on who can help you, but with Barclays Springboard your helper doesn't have to be immediate family. A friend can help you, if they wish. 
You can borrow for up to 35 years, helping to keep your repayments as low as possible. You can also fix your mortgage for up to 5 years. This can make it easier to budget and give you peace of mind, but it's a good idea to speak to a mortgage broker to find out whether a fix of this length is right for you. If you'd like to check your eligibility, say hello to the Tembo team today. We'll answer all your questions.
2. Lloyds Lend a Hand
Lloyds Lend a Hand also lets you buy your first home without a deposit, great if you can afford monthly mortgage payments but you're struggling to save money while renting. 
Instead of having to put down a deposit, Lloyds will let a family member put 10% of the purchase price into a 3-year fixed term savings account. If you pay your mortgage as agreed, they'll get this money back (plus interest) at the end of the term. 
Many family help mortgages involve adding your family member to the mortgage, but that's not the case with Lloyds Lend a Hand. Not only will the property be all yours, you'll be the only person named on the mortgage too.
3. Mansfield Building Society - Family Assist 
Mansfield Build Society's Family Assist mortgage allows borrowers to take out a 100% mortgage providing a family member is willing to use cash or home equity as collateral.
The collateral will be held by the building society for 7 years from the start of the mortgage. 
You can choose between a number of mortgage products, providing lender criteria is met. This can make it easier to find the right terms for you, but it's wise to speak to a mortgage broker before making your decision.
We help home buyers discover their true buying budget
We work with over 100 mortgage lenders to help buyers discover the family assisted mortgages and specialist schemes they are eligible for, through our smart decisioning technology. Find out how much you could afford through one of these schemes with Tembo.
Get started today
4. Generation Home
Generation Home's Income Booster lets you add a family member's income to your mortgage so you can borrow more money. It's all about boosting your affordability and making you more attractive to lenders. 
You can add a parent, grandparent, sibling, aunt or uncle. If you're buying a home with your partner, their family members can get involved too. 
Your income booster won't have to make your mortgage payments from the get-go, but if you get into financial difficulties and struggle to make them yourself, they'll need to be on stand-by. 
Your income booster can be retired, but they'll need to meet Generation Home's income and age requirements. 
5. Nationwide Family Deposit
If you have a generous family member and they have a mortgage with Nationwide, a Family Deposit mortgage could be the key to your first home. It can be particularly helpful if your family member is unable or reluctant to give you a chunk of their savings.
They'll be able to borrow against the equity in their property and give you that money as a deposit. It's up to you whether their gift serves as your whole house deposit or you top it up with your own savings. 
Get a free, downloadable Mortgage In Principle
Create a plan on our homebuyer platform in 10 minutes. It's free, there's no credit check involved and at the end you'll get a personalised recommendation with indicative interest rates and a downloadable Mortgage In Principle.
Create a plan now
6. Vernon Building Society - Head Start Mortgage
Vernon Building Society's Head Start Mortgage allows families to help the younger generation buy a property. 
To put it simply, the buyer will purchase a property in their own name with a mortgage of up to 100% of the property's value. 100% mortgages are hard to come by these days, but Vernon makes it happen by adding a family member to the mortgage agreement.
If you were to get into financial difficulties during their mortgage term, your family member would need to step in and help with the mortgage payments. They must also provide additional security in the form of a cash deposit or a charge over their own home. 
Although the family member will be jointly responsible for the mortgage, their name won't be on the property itself.
7. Metro Bank - Joint Borrower Sole Proprietor 
Metro Bank's Joint Borrower Sole Proprietor mortgage will lend you up to 90% of the property's value, meaning you don't need to save a big deposit to get on the housing ladder. 
To be eligible, you'll need to find at least one family member who's willing to be added to your mortgage. Metro's offering shares some similarities to Vernon Building Society's Head Start Mortgage. For example, the mortgage will become your family member's responsibility, as well as yours, but they won't be added to the property itself. This means the home will be all yours! 
If you don't have your own savings, Metro Bank will accept a gifted deposit from a member of your immediate family. This can be really helpful, as some lenders will want proof that you saved the money yourself.
8. Tipton and Cosely - Family Assist
Tipton's Family Assist Mortgage lets buyers borrow 100% of the property's value or purchase price (whichever is lowest). That's right… no deposit needed! 
Your mum, dad or other relatives can help you in one of two ways:
They can put 20% of your purchase price or property value (whichever's lowest) into Tipton's Family Assist savings account. Once you own 20% of your home (80% LTV), they're free to withdraw their money. Their money will earn interest while it's in the Family Assist account.

Use a percentage of their property as collateral. A 20% charge (purchase price or property value) will be placed on your family member's property. This means your mortgage will be secured against a portion of their home. 
If you were unable to pay your mortgage, Tipton may need to access your family member's savings or release equity from their property to cover the shortfall. But Tipton says that they'd only look to access this collateral as a last resort, for example after . 
To qualify for option 2, your family member must own at least 40% of their home. 
9. The Family Building Society - Family Mortgage 
It will come as no surprise that The Family Building Society offers a choice of family assist mortgages. Its Family Mortgage, for example, allows first-time buyers to borrow up to 95% of the property's value with the help of relatives.
To be eligible, the borrower needs a 5% deposit (though this can be gifted to them) and at least one family member who is willing to use their savings or property as a security. 
There are three ways family members can help:
Place savings in a Family Security Account, where it'll earn interest. After 10 years, they'll get their money back - as long as the buyer has kept up with their mortgage payments. 


Offset a portion of the mortgage by placing their savings in a Family Offset Account. This reduces the amount of the mortgage that interest is charged on, making the buyer's repayments more affordable. Unlike the previous option, interest won't be added to the family member's savings. To withdraw the money or close the Family Offset Account, a review of the linked Family Mortgage will need to be carried out.


Use the value in their property to help the buyer access a better interest rate and reduce their mortgage payments. If the buyer keeps up with their mortgage payments, after 10 years the charge on the family member's property will come to an end. The family member doesn't need to use their whole property as a security. Instead, an agreed amount will be used as collateral. But they may need to sell their home if they're unable to make up the shortfall.
10. The Family Building Society - Joint Mortgage Sole Owner
The Family Building Society's Joint Mortgage Sole Owner (JMSO) arrangement allows buyers to boost their affordability with the help of a family member.
This type of mortgage allows up to two occupying owners to live in the property and up to two family members to support them with the mortgage. 
So, let's imagine you're buying a house with your partner and your parents want to help. Under this arrangement, you and your partner would own the house, but your parents would be responsible for the mortgage if you were unable to make the payments.
Our list of family mortgages certainly isn't exhaustive. There are many more family help mortgages to choose from. The hardest part can be figuring out which one is best for both you and your generous relative(s). 
This is where our team of specialist mortgage brokers come in. We know the mortgage market inside out and can explore every aspect of your financial situation until we find the right deal for you. 
Let's make home happen
Voted Britain's Best Mortgage Broker 2022, our award-winning team of mortgage specialists specialise in helping buyers boost their mortgage affordability and borrowing power to get on the ladder sooner. To get started, create a plan for free today.
Get a mortgage