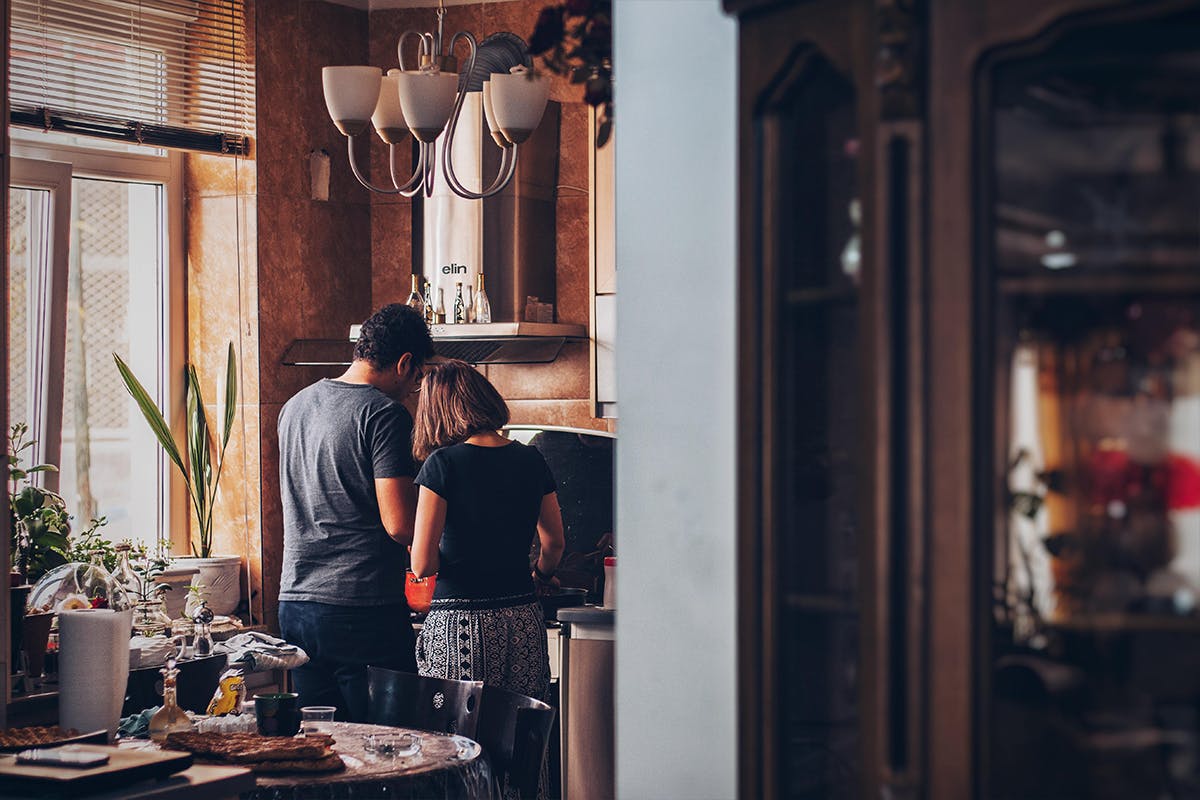 The essential guide to buying a house together
Last Updated
21 April 2023
If you're buying a house together with a partner or spouse, or teaming up with your friend to get on the housing ladder, read our top 10 tips on buying your first home with someone else. 
Tips on buying a house together:
1) Be honest
Buying your first home with another person is a huge decision. Talk to each openly about what type of house you want to buy, where you want to live and if it's a friend, how long you see the arrangement lasting. Now is time to be upfront about any issues you have with your credit history, such as an old County Court Judgement (CCJ) or missed credit card payments. It will impact the size of your mortgage so it's best to be honest at the start. 
Want some more info on why your credit score matters when buying a home? Check out our blog.
2) Check their status
If you're buying with someone who has owned a property before, you will not be eligible to claim first-time buyer stamp duty relief. The relief exempts first-time buyers from paying any tax on the first £300,000 of their property price. Without this relief you'll need to set aside extra cash to foot the tax bill.
3) Boost your deposit
By putting your savings together, you'll be able to raise a bigger deposit for your first home. The bigger your deposit the less risk you pose to the lender so it will offer you a lower interest rate in return.
If you're struggling to save a deposit, check out our Deposit Boost. We can get you on the ladder, faster, by unlocking money from a loved one's property.
Read more: How much house deposit do you need?
4) Improve your affordability
One way mortgage lenders work out how much you can borrow is to multiply your salary by 4, for example. If your annual salary is £30,000 and your friend earns £30,000 too then the lender would add them together to get £60,000 and multiply that by 4 to give you a maximum loan of £240,000. Your mortgage lender will also look at how much debt you and your friend have. If both or one of you has a lot of debt this will reduce the amount you can borrow.
5) Understand your responsibilities
Every person named on the mortgage is responsible for paying 100% of the monthly payment. You'll hear your bank refer to this as joint and severally liable. If one of you can't pay the other must make up the difference or you will both face a black mark on your credit report. If you're buying with a partner it's worth discussing how much you're both contributing. If you earn more money than your other half, they may be expecting you to pay a larger share. 
Want to know how much you can borrow together?
Use our quick calculator to suss our your budget. When you're ready to book a call with our team, our mortgage experts are on hand!
Mortgage Calculator
6) Consider your legal ownership
If you're not legally registered as an owner of the property you have no rights to it. 
There are two ways to register your ownership when you're buying a house with a partner or friend. The first is as joint owners, common for married couples and civil partners. This means if you die the house automatically passes to the other owner. Tenancy in Common is the other way you can jointly own a property, popular with relatives or groups of friends. When you die you can leave your share of the house to someone else through your will. Up to four people can be tenants in common and they don't have to own equal shares.  
7) Protect your savings
When you're buying a house with a partner different deposits can cause an issue if you need to sell and part ways. You can ask your solicitor to draw up what's called a Deed or Declaration of Trust. It's a legal document that lays out how much each person has put into the property and how much they will receive when its sold. You can include what share of the property you own, how the mortgage will be repaid and a notice period if one person wants to sell. If you've received money from your mum and dad to buy the house it's a handy way of protecting the value of their gift from other owners. 
8) Adding a partner to the mortgage
If you're already a homeowner and your partner moves in with you later down the line you can speak to your mortgage lender to get them added to the loan. They will need to be credit checked and prove they can afford the repayments. If they are helping you pay off the mortgage you may want to discuss adding them to the property deeds to make them a joint legal owner. This is a called a transfer of equity. Take legal advice on how to register their ownership and draw up a Deed of Trust. 
9) Buying a partner out
Not everything lasts forever. A common Google search in the UK is 'buying partner out of a joint mortgage', so if you're looking into this - you're not alone! If your property partner wants out, you will have to take over their share of the mortgage and property at the same time. To do this you'll need to remortgage and prove to your lender that you can afford to make the payments by yourself. You might have to need to increase your mortgage to raise money to buy out your partner's share.
10) Consider your options
If you don't want to buy with another person, you can team up with a housing association to buy house shared ownership. Or, Tembo's Income Boost (known in mortgage land as a JBSP mortgage) is a great option for those that need to boost their affordability- with a little help from a loved one.
Here's how shared ownership works:
1) You buy a share in a house owned by a housing association, let's say 25%. 
2) The housing association owns the remaining 75%. 
3) You pay rent on the 75% share and take out a shared ownership mortgage to buy 20%.
4) You put down a 5% deposit.  
The advantage of shared ownership houses is that the housing association will take care of maintenance. They tend to be cheaper to buy and rent too. But not everyone is eligible so check the government's criteria.
Here's how an Income Boost works:
1) You can add up to four people (Joint Borrowers) to the mortgage application.
2) They can allocate some of their income to the mortgage so a greater amount can be borrowed.
3) The 'sole proprietor' part means that only the buyer is on the deeds of the property, so the other joint borrowers do not have ownership of the property (they are just on the mortgage).
4) In the event the buyer is unable to pay the mortgage the joint borrowers would be jointly liable for it.
The advantage of an Income Boost is that if the buyer is likely to have a pay increase over the coming years, the joint borrowers can come off the mortgage.