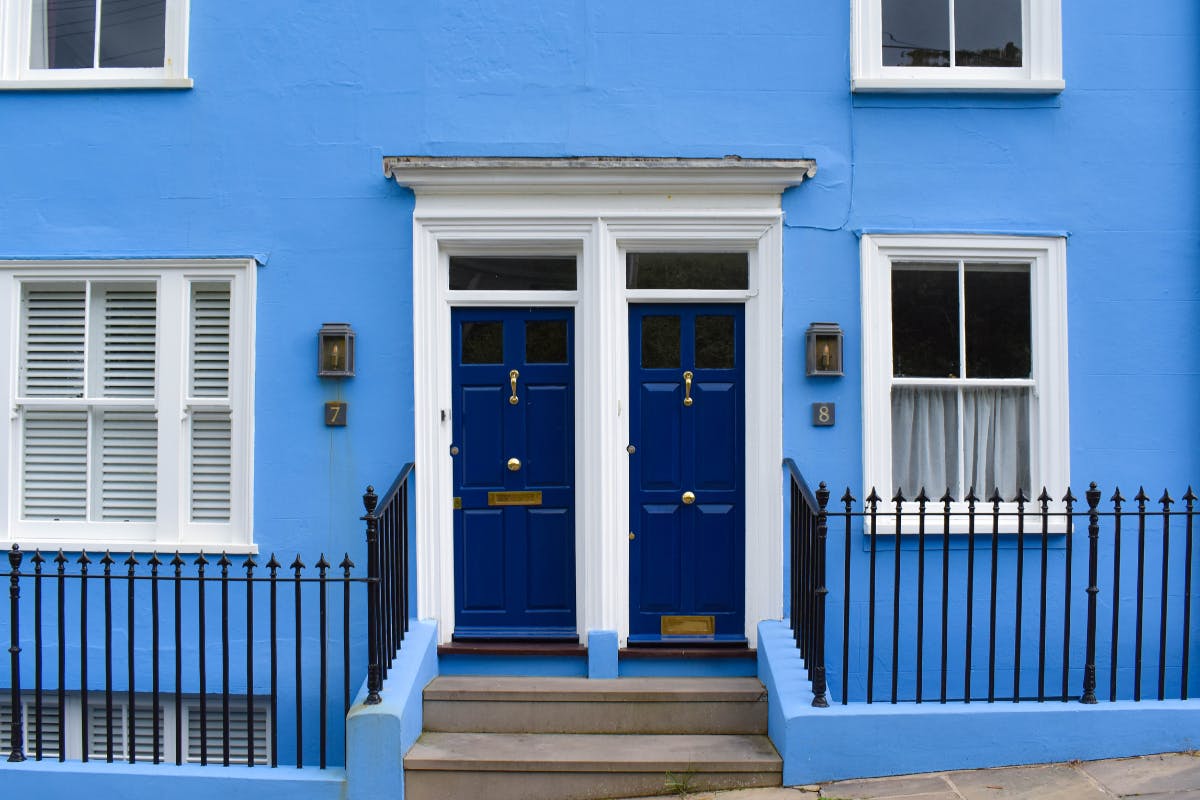 How to get a mortgage as a first time buyer
Last Updated
1 September 2023
If you want to buy a house most buyers know you need to get a mortgage to afford one. But anyone who's never bought a home before is probably wondering -  how do I get a mortgage?
This guide walks you through how exactly to get a mortgage as a first time buyer. For the full steps to buying your first home, read our guide here.
Steps to getting a mortgage:
1) Work out how much you can afford
2) Find out if you can get a mortgage
3) Get all your documents ready
4) Find the right mortgage deal for you
5) Get a Decision In Principle
6) Find a property
7) Get approved for a mortgage
8) Instruct your solicitors
9) Receive your mortgage offer
10) Survey the property
11) Searches and investigations
12) Get house insurance
13) Transfer your deposit
14) Exchange contracts
15) Completion
We've detailed each of these steps below so you know what you need to do at each stage of getting your first mortgage:
How to get a mortgage
1) Work out how much you can afford
To establish how much you can borrow for a mortgage, you should use a Mortgage Calculator to see how much you can borrow based on your household income and deposit savings, or work with a trusted mortgage broker who will take you through an affordability assessment. They'll ask how much deposit you've saved and the value of the homes you've got in mind.
If you aren't going through a broker, keep in mind that calculators don't take into account your personal circumstances which could affect the amount you will be offered by a lender, such as credit history, dependants or outgoings.
Read more: Are mortgage calculators accurate?
With a traditional mortgage, you can typically borrow between 4 to 4.5 times your household income. But this often isn't enough for buyers, particularly first time buyers, to get the mortgage they need to buy. Luckily, there are lots of ways to boost what you can afford to borrow. These include family support options like guarantor mortgages, as well as schemes for those without family support like mortgages for professionals, NHS or key workers or high earners.
There are also schemes which allow you to buy with no deposit, or only a small amount saved up. These include 100% mortgages, Deposit Unlock, Armed Forces Help To Buy and Shared Ownership.
Working with a mortgage broker like Tembo who specialises in helping buyers boost their affordability can help you discover alternative buying schemes like these which can help you buy sooner.
See what you could get for a mortgage today
Use our Mortgage Calculator to see what you could be offered for a mortgage today. Or for a personalised recommendation, create a free Tembo plan to see all the ways you could get on the ladder and even boost your borrowing potential.
2) Find out if you can get a mortgage
The next step of getting a mortgage is to see if you are eligible for one. Although you can go direct to a mortgage lender like your go-to bank, this will only show you if you can get a mortgage with that specific lender. There are lots of lenders out there, including familiar high street banks and newer, innovative providers you might never have heard of. The easiest way to ensure you are applying for mortgage schemes you are eligible for (and therefore likely to be accepted) is to work with an expert like a mortgage broker.
A qualified mortgage broker will search the whole mortgage market to find you the best deal for your circumstances. You don't have to wait until you're ready to buy a house either. By speaking to an adviser a year or more in advance, they can help you to set a house deposit goal or tell you how to boost the mortgage you'll be offered by paying off debts and give you advice on how to improve your credit score.
They can also help you get a Mortgage In Principle, which is a simple document that confirms the amount you could borrow for a mortgage. This isn't the same as a mortgage offer, that comes much later. Instead, a Mortgage In Principle shows estate agents that you are in a position to afford a property you're viewing, making you a more attractive buyer. Get a free, downloadable Mortgage In Principle here.
Start by arranging a phone call or meeting with a mortgage broker. When you create a free plan on our homebuyer platform, you not only get a personalised mortgage recommendation, you can also book in a free, no-obligation call with one of our award-winning mortgage brokers to talk through your options. Get started here.
Read more: How to find a good mortgage broker?
3) Get all your documents ready
Your mortgage broker will needs your latest three months' payslips and bank statements to check your affordability - this is to work out what you can afford to borrow for a mortgage. So it's worth getting these documents ready before you chat to your broker. It's worth nothing that if you're self-employed, you'll need to provide the last three years' accounts or SA302s, which are statements from HMRC that prove your earnings.
Proof of identification and address is also needed, so your current passport or driving licence. The same goes for any utility bill or bank statement you're using to prove where you live. If you don't have a passport or driving licence, ring ahead to find out what else you can bring. No ID can mean no appointment.
These days online copies are widely accepted - in fact, if you book an appointment with us, you can upload these documents to your Tembo account before your call.
It's also a good idea to order a copy of your credit report from CheckMyFile to take to your meeting. This is a report which shows what debts you have, as well as any credit blips you've had that might affect which lenders will give you a mortgage. You need to be honest with your broker about any credit issues you've had, so they can find a lender which will be willing to accept your mortgage application. The lender will run their own credit checks later on, so being honest about any past slip ups earlier will save you from potentially being rejected from a mortgage down the line.
What is mortgage affordability?
See what you could be eligible for
When you create a free Tembo plan, you get a personalised recommendation of all the ways you could buy. Get started to see what you could be eligible for, and how much you could afford with each.
Create my plan
4) Find the right mortgage deal for you
It's time for your mortgage advisor to do their research. Every buyer has their own unique set of circumstances that affects how much they can borrow and which lenders will lend to them. Factors such as your age, earnings, financial commitments, how you long you've been self-employed and the size and source of your deposit can all impact the deal and the size of the mortgage you'll be offered.
This is why working with a mortgage broker can be incredibly helpful. They will search from a range of mortgage lenders and products to find the best deals and mortgage rates for you. For example, at Tembo we search from over 20,000 mortgage products to find the best deal for each customer.
5) Get a Decision In Principle
Once they've found the best deal, your mortgage broker will call you back with the results. If you're happy with the interest rate, monthly payment and the size of the mortgage they will then apply to the lender for an Agreement in Principle (AIP). Also known as a Decision in Principle, this is an estimate of what the lender is prepared to offer you and comes in the form of a certificate.
Although it is not a legally binding agreement, it shows the estate agent you're a serious buyer. When you make an offer on a property, some sellers will refuse to take their property off the market unless you have an AIP. An AIP is typically valid from 30 to 90 days; so if you are a year away from purchase, you are most likely not at the point of needing an AIP.
Read more: Agreement In Principle: What can go wrong?
6) Find a property
Armed with your AIP, you can now go house hunting and make offer on your dream home! Remember to consider negotiating the house price before you put your offer in, as this could save you thousands.
Once your offer has been accepted it's time to get back in touch with your mortgage broker to get the ball rolling.
Read more: What to look for when viewing a house?
7) Get approved for a mortgage
To get approved for a mortgage, you need to submit a full mortgage application through the mortgage lender that gave you the AIP. Once the application has been processed, you'll find out if you have been officially approved. The mortgage broker will manage this process for you using all the information you've previously provided (bank statements etc.).
If any of your circumstances have changed between then and now, such as a change of job, fluctuation in your salary or you've missed your latest credit card payment you must tell your broker at the point of application. Your lender is about to do a belt and braces check on your credit history and earnings - so now is the time to speak up!
After the mortgage lender has received your application, they will then cross check it against your income evidence, credit report and bank statements to be sure you meet the bank's criteria and you've been honest about your circumstances.  At this point the lender might go back to your broker with further questions or ask for more evidence to support your application.
8) Instruct your solicitors
When the lender is satisfied with all your details, they will instruct a surveyor to go out and value the home you want to buy to make sure it's worth what you are willing to pay for it. It's important to remember that this is a limited valuation to let the lender know if the property is a suitable security for the loan. It's not an in-depth investigation into the condition of the property. Buyers are advised to pay for a Home Buyer report which will uncover any problems such as subsidence or damp which will need to be repaired at a cost, which start from around £400.
9) Receive your mortgage offer
If your bank is happy with the valuation you'll be issued a formal mortgage offer. If the lender isn't happy it will go back to your broker with a lower mortgage offer or decline your application altogether.
The time it takes from submitting your application to receiving a mortgage offer can be anywhere between two to four weeks. Self-employed borrowers usually have to wait longer than applicants who are employed. Plus, when lenders are extremely busy it can take from three to six weeks.
A mortgage offer from your lender means they are happy to lend you the money. It is legally binding and usually valid for between three to six months. While your mortgage offer is in date, the lender will honour the mortgage interest rate they have given you even if it has been withdrawn for new applications. Lenders will sometimes agree to extend the mortgage offer, depending on the circumstances.
Once you receive your offer, you need to sign and send it back to your mortgage broker ASAP. 
Read more: What to do if your mortgage application has been declined?
Keep in mind
Your mortgage offer can be withdrawn if the lender finds out about a significant change in your circumstances.
10) Survey the property
The next step is to get your future home surveyed. This is to check that the property you're buying is structurally sound. There are different types of surveys you can get, but all will inspect the condition of the home to varying degrees. The survey will be conducted by a professional surveyor, and the information revealed could impact whether you want to go ahead with the home purchase, or if there are grounds to negotiate the house price.
11) Searches and investigations
Now your solicitor will begin a number of searches and investigations. This includes looking at documents that detail the boundaries of the land, access ways to the property etc. Your solicitor will also 'raise enquiries', which is essentially asking questions to the seller's solicitors. There can be a bit of back and forth at this stage, but it's also an opportunity for you to ask any burning questions you have about the property, like what the neighbours are like.
12) Get house insurance
Now is the time to start thinking about house insurance. Your lender will specify that you have to have insurance from the moment you exchange contracts, so it's a good idea to start looking early so you don't make a decision in a rush. House insurance gives you vital protection in the event of things like flooding, fires and natural disasters.
13) Transfer your deposit
The time has come to part with your hard-earned savings and send over your house deposit to your solicitors. They'll then hold it securely for you until you complete.
14) Exchange contracts
When you exchange contracts, you have reached the point of no-return in your home purchase journey. In order to exchange contracts, you and the seller needed to have both signed the contract and agreed a completion date. Your deposit needs to have been transferred to your solicitor, and you and the seller have given your respective solicitors final authority to exchange. Once all those steps are done, the solicitors will ensure all the finances are ready to go, including stamp duty and legal fees.
15) Completion
The final step - completion! Your solicitor will send your deposit and the money from your lender to the seller's solicitors by bank transfer. Once they've received the money, they'll call your solicitors to confirm it's complete. The estate agents will then be given the go ahead to hand the keys over to you. The house is officially yours!
While you're moving into your new home, your solicitor will register the transfer of the property at the Land Registry. This can take a few months, but once done you'll receive a copy from your solicitors.
Now is also the perfect time to start thinking about mortgage protection and life insurance
Ready to get a mortgage?
We've helped thousands of buyers discover how they could afford their dream home with a specialist mortgage or budget boosting scheme. For a personalised mortgage recommendation, simply create a free Tembo plan today. You can then book in a no-obligation call with one of our award-wining team to talk through your options
Get started