When you're buying a home, it can seem like you're being asked to raid your savings for fee after fee and bill after bill.
After you've set aside your deposit for buying a home, there's the mortgage costs, money for a survey and legal expenses, removal men to pay and – last but certainly not least - a substantial bill to be paid to the tax man for the privilege of purchasing a property. This is called stamp duty.
So, what is stamp duty?
Stamp Duty Land Tax, or stamp duty for short, is a tax paid to the government when you buy property or land for more than £40,000 in England and Northern Ireland. (Wales and Scotland have similar property taxes that have slightly different names).
Stamp duty is a huge money spinner for the government. We're talking more than £8bn in tax receipts for 2020/21 which makes our love affair with homeownership highly profitable for HMRC.
The tax is broken down into bands and each band triggers a different rate of tax. The more expensive the property's price tag, the bigger the tax bill.
But the good news is there's an exemption.
If you're buying your first home, you're entitled to first-time buyer stamp duty relief.
First-time buyer stamp duty relief was introduced in 2017 to reduce the upfront costs of buying a house and to help young buyers on to the property ladder. To qualify for the relief, you can never have owned a property before in the UK or anywhere in the world.
Thanks to the relief, in 79% of all local authorities in England, an average first-time buyer stamp duty bill is zero. In the more expensive areas, such as London, a reduced amount of stamp duty is payable.
It sounds a bit confusing, so it's no surprise that a common internet search among would-be homeowners is 'do first time buyers pay stamp duty?'
It's actually pretty straight forward.
First time buyers do not pay any stamp duty on properties that cost £300,000 or less. If the home costs up to £500,000, first-time buyers pay 5% stamp duty on the slice of the property price from £300,000 to £500,000.
The average UK first-time buyer property price is £221,743 so that means buyers have nothing to pay to HMRC and one less bill to save for. In London where the average home costs £433,631 for fledgling buyers, an average first-time buyer stamp duty bill is £6,681.55.
Here's how it is calculated.
The first £300,000 is exempt from stamp duty. That leaves £133,631 left over which attracts a 5% stamp duty charge of £6,681.55.
If your first home costs more than £500,000, your purchase is subject to normal stamp rates.
Let's have a look at the tax bands that apply to non-first-time buyers.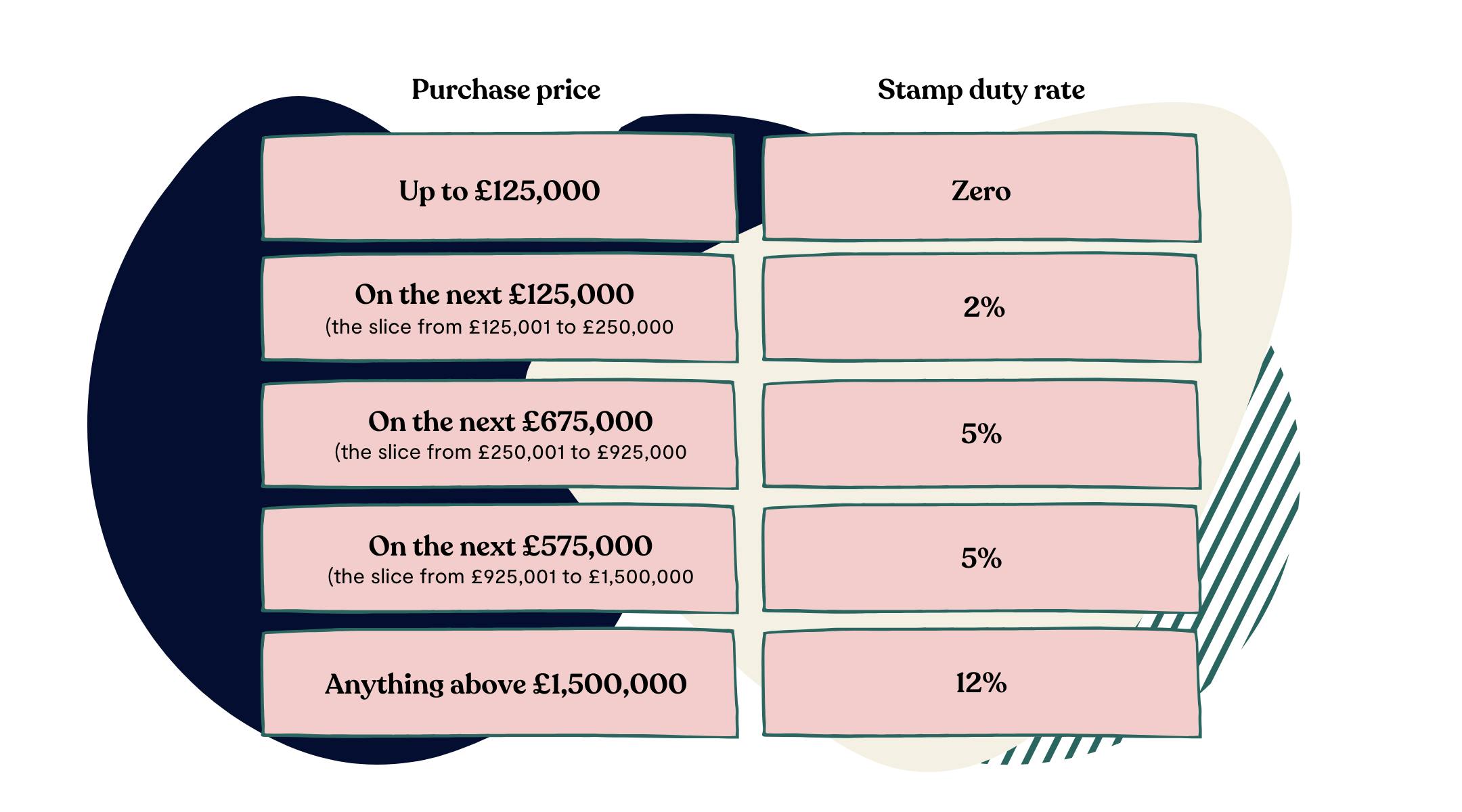 Stamp duty holiday
Right now, however, there has been a temporary suspension of the normal stamp duty tax bands.
Unless you have been living under a rock for almost a year, you'll know that the Chancellor, Rishi Sunak, announced a stamp duty holiday last summer to breath life back into the housing market after being shutdown at the start of the pandemic.
His tax giveaway means that until June 30th (it was recently extended beyond the original March 31st deadline) all homeowners are exempt from paying any stamp duty on the first £500,000 of the purchase price of your main residence. Note that if it's your second home, or you are landlord buying a buy-to-let property you will be liable to pay some stamp duty.
The tax break certainly worked. With the chance of saving up to £15,000 in tax the country has been whipped up into a homebuying frenzy creating bidding wars for homes priced below £500,000 and making it tough for first-time buyers to get a look in.
Don't worry though. The clock is ticking and soon second steppers will once more be subject to the normal rates of stamp duty.
When does the stamp duty holiday end?
June 30th is the first significant date and marks the last day of the £500,000 nil-rate threshold. From July 1, only the first £250,000 of the purchase price is stamp duty free and normal stamp duty tax rates apply from £250,001.
Homebuyers have until 30th September to take advantage of the reduced stamp duty relief before it disappears completely.
But the first-time buyer stamp duty is here to stay, for now at least.
So if you're buying a home priced at £300,000 or less, stamp duty is one expense you can tick off your list of homebuying costs. And Tembo can help you cross off or drastically reduce another.
With Tembo's innovative deposit boost you can buy a house with little or no deposit at all allowing you to get on the property ladder much quicker than you thought. All you need is a family member or friend who is willing to use their own home to help you out.
Interested in finding out more? Complete an online plan today and if you're eligible for a Tembo deposit boost we'll get you booked in for an introductory call to find out more about you and your circumstances.
Words by Samantha Partington