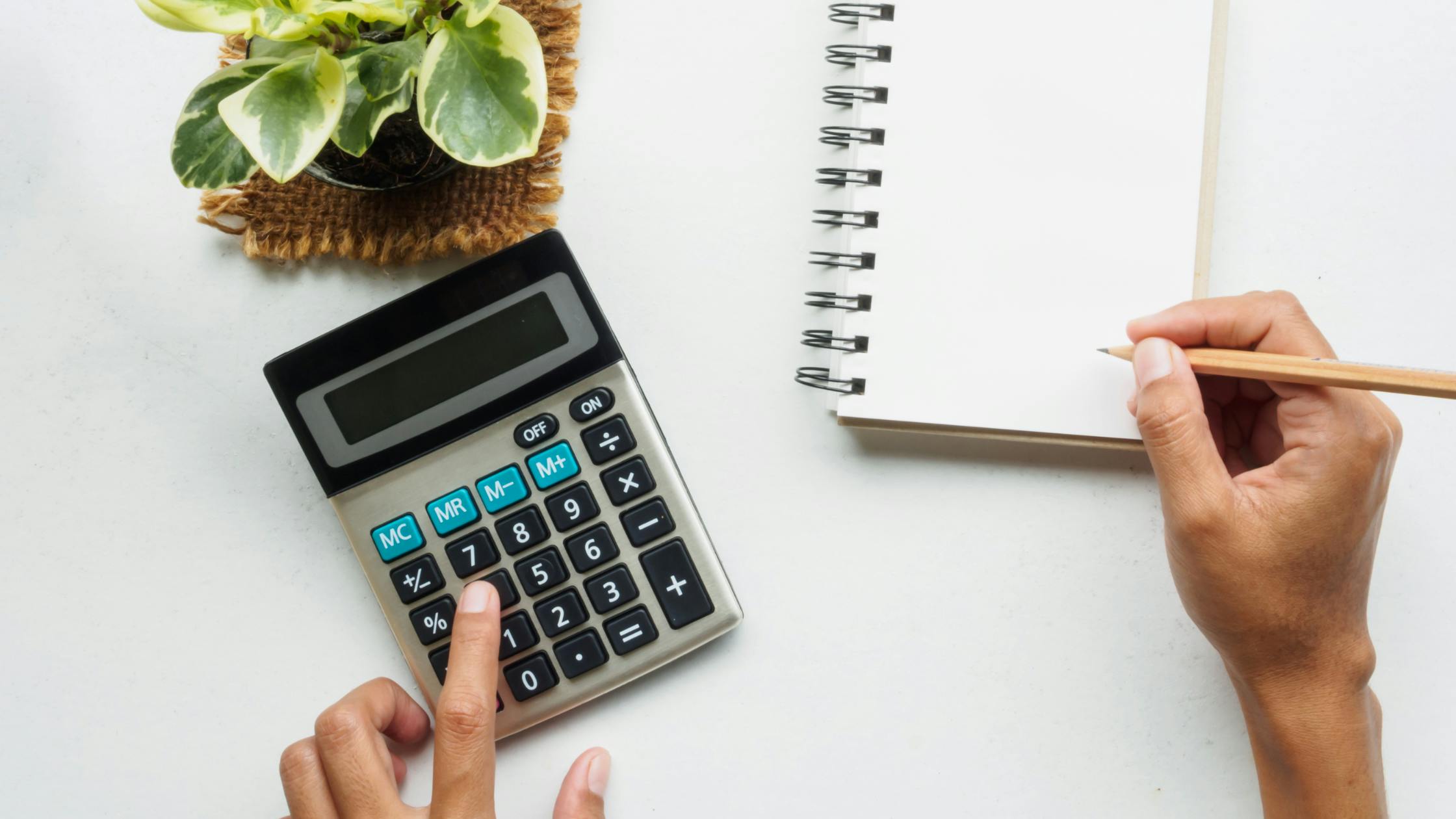 How accurate are mortgage calculators?
When you apply for a mortgage, your broker will carry out a series of affordability checks with a lender to determine how much money they will lend toyou. Or, if you go direct, the lender will do these checks themselves. Their checks are designed to determine how much you can afford to borrow. Each lender has its own criteria, meaning you may be eligible for a bigger mortgage with Bank A than you'd get from Bank B. 
If you're a first-time buyer wondering how much you could borrow, or you're thinking of remortgaging for a lower interest rate, using a mortgage calculator early in the process can give you an idea of your affordability. 
But how accurate are mortgage calculators? And how is mortgage affordability calculated? We'll explain how mortgage calculators work and how you can get a personalised mortgage calculation in minutes.
How is mortgage affordability calculated?
Mortgage affordability for residential mortgages is usually calculated based on your income and expenses. Many lenders use something called Income Multiples as part of their affordability assessment. Income multiples are used to work out how much they'll lend you by multiplying your household income by a certain amount - normally 4 to 4.5 times. The final figure is the maximum amount they could offer you with a standard mortgage.
Let's imagine you earn £30,000 a year, for example. With an income multiplier of 4.5, if you were buying a house on your own this would give you access to a loan of around £135,000.
If you're buying a house with someone else and they earn the same as you, you could potentially double your mortgage to £270,000.
However, the amount you could be offered for a mortgage loan will also be influenced by other factors, such as whether you're self-employed, receive any benefits or other income sources like from a pension. 
When assessing your income, mortgage calculators might include: 
Basic employment
Self employment
Child benefits and working tax credit
Pension
Rent from a buy-to-let property
Commission, overtime and bonuses
Not all income is always considered
If the amount you earn from commissions, overtime and bonuses fluctuates from one month to the next, some won't factor these income sources into their calculations if you can't evidence at least 2-year's history. Other calculators will include only a percentage of commissions in affordability. 
Once a lender has assessed your income based on their criteria, they'll run checks to see whether you could afford the loan payments alongside your expenses and other financial responsibilities. 
When assessing your outgoings, they'll usually take into account:
Debts, loans & credit card balances
Council tax
Utilities 
Phone contracts
Existing mortgage payments
Student loan payments
Transport costs
Childcare costs
School fees
Car finance 
If you're pregnant when you apply for a mortgage, the lender may factor future childcare costs into account. 
Learn more: Can you get a mortgage when pregnant or on maternity leave?
Finally, the lender will look at your credit history. If you have a history of missed payments on loans, more serious adverse credit like CCJs or IVAs, or even lack a credit history at all, it can reduce the amount a lender will allow you to borrow - or stop you from borrowing from that lender at all. 
Once your outgoings and credit has  been assessed, the mortgage lender will decide on an amount they are willing to offer you for a mortgage loan. 
If the amount you're offered isn't enough to buy a home in your chosen area, you may be glad to know that some lenders offer 5.5x income mortgages. You'll usually need a higher salary or work in a "professional" job to access one of these, but knowing if you're eligible for these enhanced borrowing schemes or which lenders offer them can be confusing. 
That's why it's important to speak to a mortgage broker (like us) who can help you discover all the schemes you are eligible for.
If you don't qualify for an enhanced borrowing scheme, an Income Boost could help you increase your affordability by adding a family member to your mortgage application as a guarantor. A Deposit Boost could also bridge the gap between your deposit and loan amount, by unlocking money from a loved one's property to boost your down payment. 
Unable to get financial support from loved ones? Don't worry, there are still lots of options out there that don't require family support - Deposit Unlock, Shared Ownership, or a 100% mortgage can be good alternatives for those buying without help from relatives.
How accurate are mortgage calculators?
Mortgage calculators can give you an idea how much you may be able to borrow, but they aren't completely accurate. Every mortgage calculator is built slightly differently, and if you're using a tool that aggregates multiple lender's eligibility, there might be new changes to the lender's criteria that haven't yet been added. 
Plus, sometimes when using a calculator, you might use 'finger in the air' information - especially on things like outgoings and expenses. In order to understand your borrowing exactly, you'll need to supply evidence to a mortgage broker or lender that the information you've provided in the calculator is totally accurate. 
That's why you'll always see wording on a mortgage calculator result that says something along the lines of: "this information is a guide only and should not be relied on as a recommendation or advice." 
What's the best mortgage calculator to use?
Some lenders will have a simple to use mortgage calculator on their website. However, unless you know exactly which lender you want to use, it's usually better to use an 'aggregator' calculator from a comparison site or mortgage broker. In that way, you can check your eligibility across a wide range of lenders to find your maximum budget.
As a leader in alternative ways to get on the ladder, our Mortgage Calculator has been built to not only show you what you could afford with a traditional mortgage, but how much you could afford through other schemes like Shared Ownership, as well as how you could increase your borrowing by adding a Booster. 
In aggregating over 17 specialist schemes and assessing your eligibility for the live rates and products from over 100 lenders, the Tembo mortgage calculator shows a borrowing result which is over £190,000 above five other comparable tools.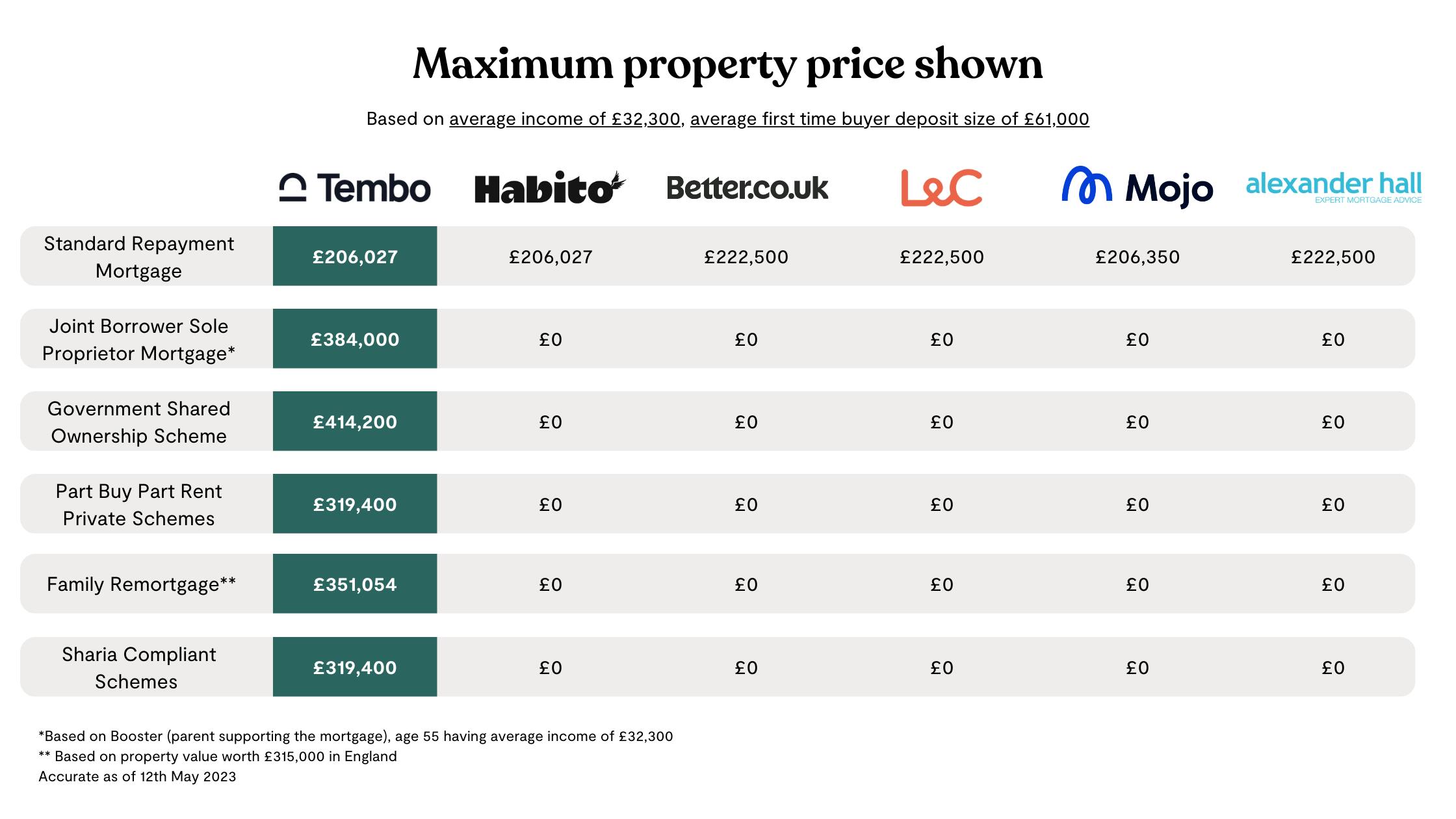 Find out what you could borrow today
Have a play around with our Mortgage Calculator to see what you could afford alone, or with help from a loved one. You'll also see example interest rates and what monthly payments might look like.
Get started
How can I get a personalised mortgage calculation?
To get a personalised mortgage calculation, you should look for a tool that takes into account your outgoings, credit history and detailed employment and income history. You might find with tools that don't take this into account that the results are too simplistic. You might not be shown a personalised interest rate, or - more upsettingly - you might be shown a number that's far higher or lower than what you are actually eligible to borrow. They also often show results only for standard mortgages, excluding specialist buying schemes which could boost what you could afford.
Instead, to get a personalised mortgage calculation you should use a tool that is much more sophisticated, like our Fact Find. Our Fact Find is different because it doesn't show generalised recommendations. Instead, developed using our award-winning decisioning technology, it will compare your eligibility to over 20,000 mortgage products, including specialist buying schemes which you might not have heard of. 
You'll then get your own free Tembo plan, with a personalised recommendation of all the ways you could get a mortgage, and how much you could borrow through different buying schemes. It will also show you indicative interest rates for each scheme, and an idea of what monthly repayments might look like.
See what you could afford with Tembo
Get a personalised mortgage recommendation today by creating a free Tembo plan using our Fact Find. It takes 10 minutes to complete, and there's no credit check involved.
Get started