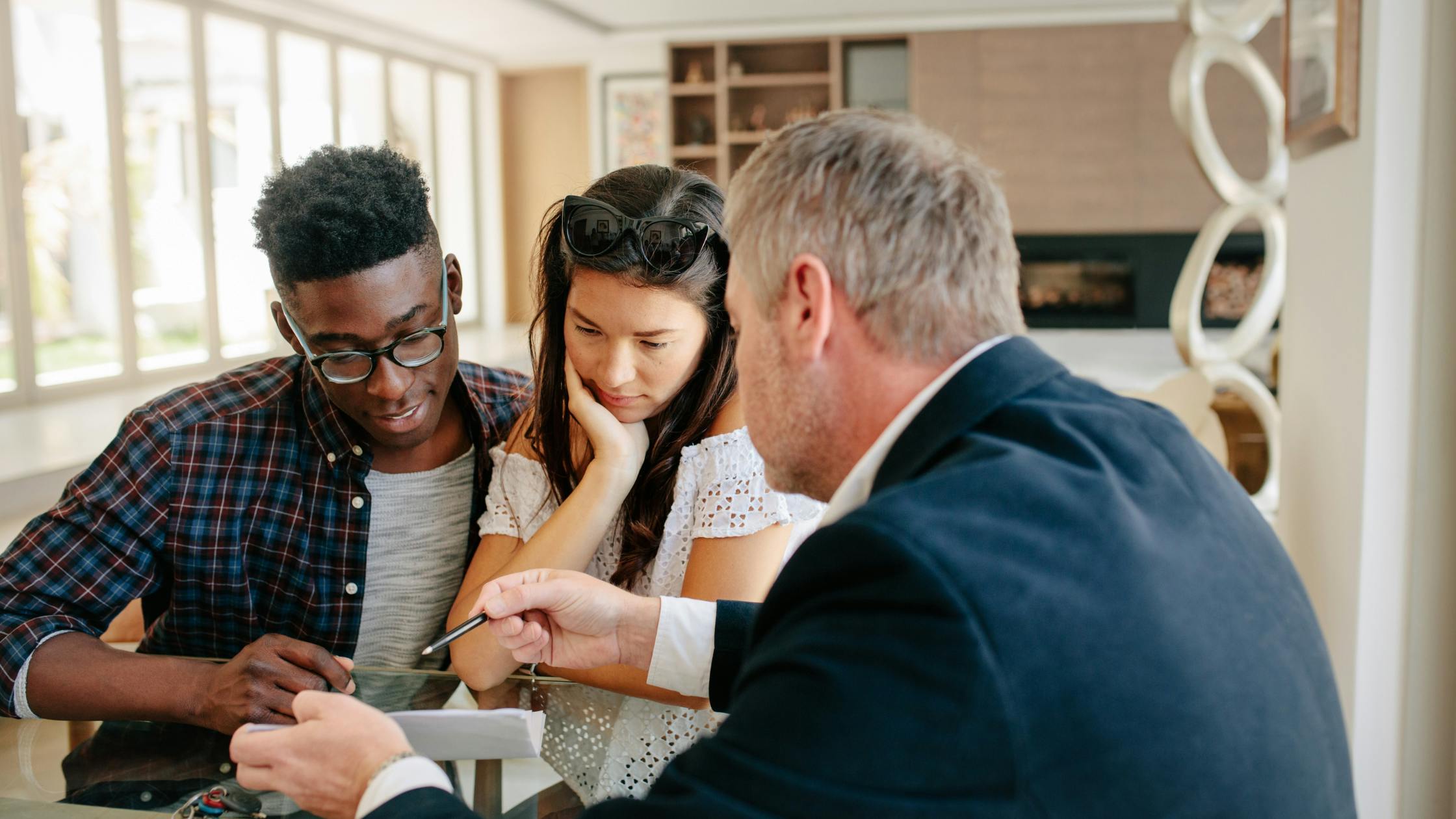 Why use a mortgage broker?
If you're buying a house, remortgaging your home or investing in buy-to-let, a mortgage broker can help you navigate the complex world of mortgages and property. But what does a mortgage broker do exactly? Do you have to use one? And is it worth paying for mortgage advice? Let's take a look.
What does a mortgage broker do?
A mortgage broker helps people find the right mortgage deal for their goals and circumstances from a range of lenders across the mortgage market. Not everyone is eligible for every mortgage product, but a mortgage broker can help you find the best deals which you qualify for. This is because they are experts in what's available from different lenders and what their eligibility criteria is, including high-street banks, building societies as well as specialist lenders you might never have heard of.
On average, our customers boost their budget by £82,000
Voted Best Mortgage Broker, Tembo specialises in alternative ways to get on the ladder, helping buyers and movers to discover their true buying budget through a range of specialist schemes. To see how we could help you, create a free Tembo plan to get started
Create my Tembo plan
Why use a mortgage broker?
There are lots of benefits to working with a mortgage broker instead of trying to find a mortgage deal alone. These include:
A mortgage broker can talk you through your options to give you specialist advice on the best course of action for your circumstance.
Mortgage brokers often have access to a wider choice of mortgage deals than you could find alone. For example, at Tembo we have access to over 100 lenders and 20,000 mortgage products.
A mortgage broker often helps relieve the admin side of buying a home by helping you prepare your mortgage application, including submitting documents and liaising with the home seller and solicitors. This takes the hassle out of applying for a mortgage, which can be extremely helpful if you have a busy life yourself.
If things go wrong - let's say your mortgage isn't approved or your offer expires - a mortgage broker will be there to support you in making a new application if required.
A mortgage broker can often save you money on interest by helping you get the best possible interest rate for your situation.
Because mortgage brokers are experts in different lenders' eligibility criteria, they can help you avoid being rejected by a lender by ensuring you qualify for their mortgage deals. Plus, they often have relationships with certain lenders underwriters. 
Read more: What to do if your mortgage application is declined?
Can mortgage brokers get you a bigger mortgage?
Because mortgage brokers have access to a wider range of mortgage deals, they can sometimes help you get a bigger mortgage by helping you boost your mortgage affordability or identity enhanced borrowing schemes you could qualify for.
For example, with a 5.5x Income Mortgage you could borrow up to 5.5x your income, which is substantially more than the typical 4 to 4.5 times your income. The same goes with a Key Worker, Blue Light or NHS Mortgage, or a Professional Mortgage - these schemes could allow you to borrow up to 6.5 times your income, if you meet the eligibility criteria. 
At Tembo, boosting your mortgage affordability is what we specialise in. In fact, on average our customers boost their buying budget by £82,000! To see what you could afford with Tembo's help, create a free Tembo plan to get started.
Are mortgage brokers regulated?
Yes, in the UK mortgage brokers are regulated by the Financial Conduct Authority (FCA), or they have to be an approved agent acting for a regulated firm. This means they are subject to a number of rules and regulations which ensure they provide their customers with quality, fair and clear advice that is not misleading in any way. 
Do mortgage brokers charge a fee?
Yes, it is common for mortgage brokers to charge a fee. This is because when you work with a mortgage broker, you'll get the benefit of expert advice from a fully qualified specialist. You'll also get their time and expertise to research the best deals for your situation from across the mortgage market, as well as managing the mortgage application process and delivering the best possible service no matter how complex your situation is. 
How much do mortgage brokers charge?
How much a mortgage broker charges varies from broker to broker - some will charge a certain amount, while others will work out their fee as a percentage of the total mortgage loan size. 
At Tembo, we charge a flat rate for different mortgage types to keep things simple. For a standard standard mortgage, our fee is £499, while for a Boost mortgage or more complex cases it is up to £999. The good news is, the fee isn't payable until you have a mortgage offer from a lender, so you'll never pay for advice alone. 
How does working with a mortgage broker work?
If you're wondering what it's like to work with a mortgage broker, the process tends to look like this:
1. Gathering information about your finances and goals
When you first start working with a mortgage broker, they'll ask you a series of questions so that they can get to know you better.
They'll usually ask you about your income, expenses, credit rating and goals. If you're buying your first home, how much money do you want to borrow? If you want to remortgage, what do you plan to use the money for? When do you hope to retire? 
This lets them paint a picture of your overall finances and figure out how they can help you achieve your goal. Being as honest as possible with your mortgage broker will make it easier for them to find the perfect deal for you. Remember: they're on your side and they want your application to be approved.
"Don't be put off working with a mortgage broker if you are self-employed, have poor credit or have a small deposit, they may still be able to help you. Just be as honest as possible about your situation, and they'll work with you to find the best deal for you"

Kirsty White
Head of Mortgages at Tembo
2. Overcoming common mortgage obstacles
If you've got a low credit score, a small house deposit, unpredictable income or you're self-employed, you may have fewer lenders and products to choose from. Thankfully, a mortgage broker can usually help you overcome these common mortgage affordability obstacles. 
You can increase your chances even further by using a specialist broker who focuses on cases like yours. At Tembo, for example, we're experts at helping people boost their mortgage affordability through a range of innovative mortgages and buying schemes. 
3. Comparing multiple mortgage deals
Once your mortgage broker has a thorough understanding of your financial situation, they'll compare multiple mortgage deals to find the right one for you. 
The number of deals they compare will depend on the type of mortgage broker you work with: independent or restricted. An independent mortgage broker will compare mortgages from across the whole market, while a restricted or tied mortgage broker can only offer deals from a limited number of providers.
Searching across the market can be extremely time-consuming, even for expert brokers. To ensure we don't miss the perfect deal for you, we've designed our unique smart decisioning tech to compare your details to over 20,000 mortgage products in seconds - all you have to do is create a free Tembo plan. 
At the end, you'll get a personalised recommendation of all the ways you could buy a home, which your dedicated mortgage broker will use when they begin the qualification process.
4. Helping you choose the right deal for you
Next, your mortgage broker will present you with a list of the most suitable deals for you. The number of deals you'll be shown will depend on your chosen broker, but you can usually expect to be given 3 to 5 mortgage deals to choose from, but this can be more. 
This might not sound like very many, but that's because your mortgage broker will have done all the hard work, research and number crunching for you. They'll have ruled out any unsuitable deals, highlighting only those they recommend to you personally. With a mortgage broker at your side, you can avoid so much time and stress.
How long does a mortgage application take through a broker?
Working with a mortgage broker can often speed up your mortgage application. This is because they will do all the researching for you, as well as managing your mortgage application on your behalf by liaising with your lender, as well as the home seller, solicitors and conveyancer. 
If everything goes smoothly, you can get a mortgage offer within a couple of days - however, if your situation is more complex, it takes a while to collect the required documents or the lender comes back with questions, this can elongate the process to a couple of weeks or months.
Do I need a mortgage broker?
You don't need a mortgage broker to get a mortgage. You could get a mortgage directly through a bank or building society instead. This might seem like the easiest solution, but it could see you missing out on thousands of better mortgage deals, even if you compare several deals online before taking your pick.
Plus, lenders are under no obligation to tell you if you could get a more suitable deal elsewhere — though they do have a number of other responsibilities such as making sure you can afford the loan. The wrong deal could cost you thousands (or even tens of thousands) over the course of your mortgage, so it's worth getting it right!
A mortgage broker can compare thousands of mortgage products from a whole variety of lenders to find the best deal for you, including ones you might not have access to alone or through comparison websites. They also help to make the mortgage application as smooth as possible, which can be a godsend when trying to navigate all the documents that lenders need to qualify a mortgage application.
Let's make home happen
Tembo? Our award-winning team can help you boost your mortgage affordability so you can get on the ladder sooner, or get access to better mortgage rates.
Get started