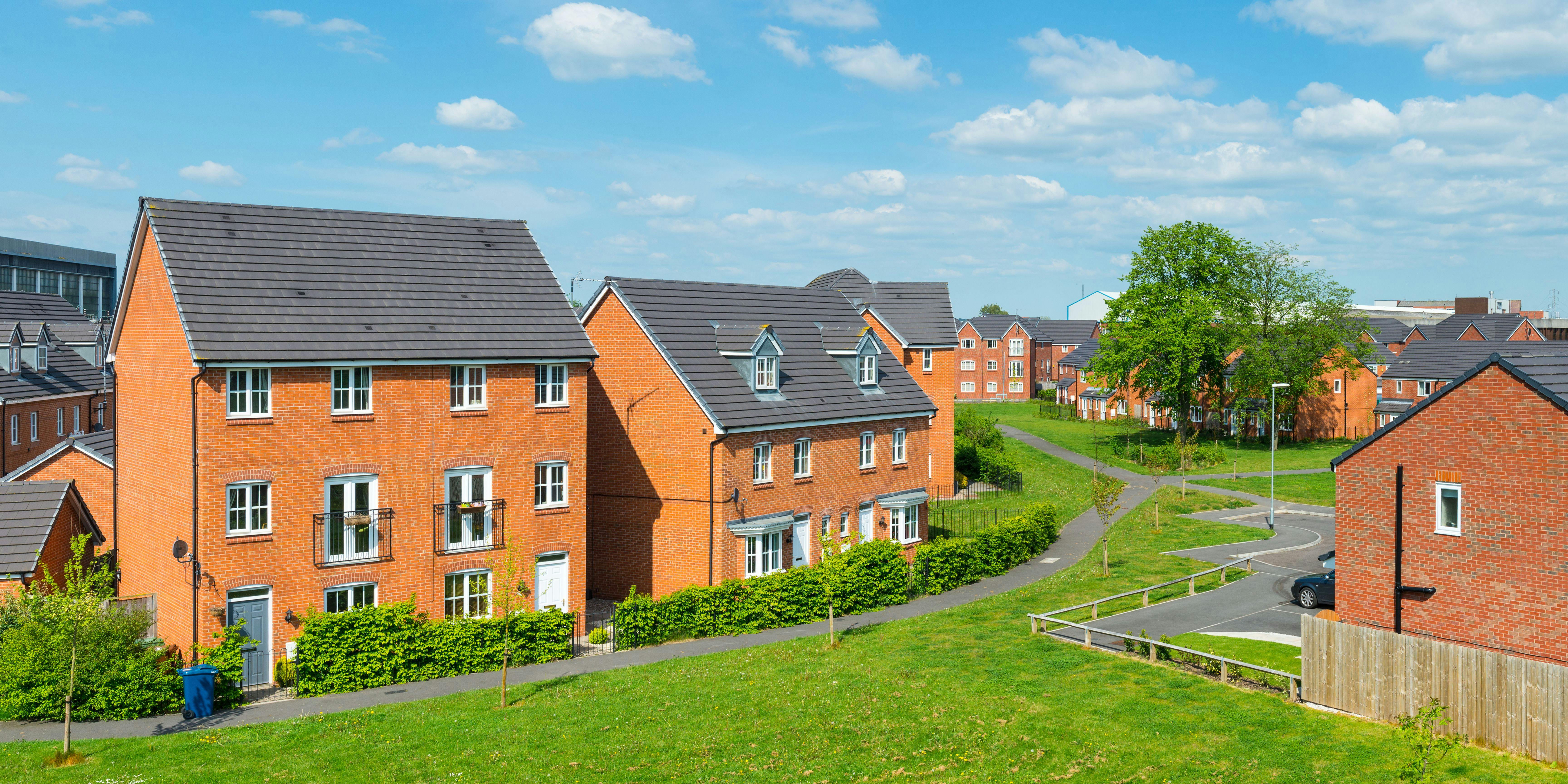 New Build vs Old House, which one should you choose?
Last Updated
12 April 2023
You're almost ready to buy a home, but you're not sure which one to get. Buying a fixer upper, smashing walls down with a sledgehammer and designing your dream kitchen looks so much fun. But you also like the idea of moving into a new build and not having to lift a finger. 
So, which one should you choose? If you're struggling to decide between a new build and an existing home, join us as we explore the pros and cons of each.
New build vs old house
First, let's weigh up the pros and cons of new builds and existing homes that need little to no alterations. 
Want to avoid the stress of a property chain? New build 🏠
One of the best things about buying a new build is that they don't involve lengthy chains. This means that no one is moving out of the house that you're buying. When there are several buyers and sellers in a chain, delays can occur. If one person pulls out or their mortgage offer expires, this could see the chain collapse and multiple house sales fall through. 
When you buy a new build, you can usually avoid chain-related drama — especially if you're a first-time buyer and you don't need to sell your existing home.
Want more time to save money? New build 🏠
If you're buying 'off plan' and your new home is in progress, this could give you more time to save money. You'll usually have to put down a small deposit of around £1,000 to secure the property, but you won't need to pay the rest of your deposit until you exchange contracts and complete the purchase. 
If you're able to save more money while you wait for the developers to complete the job, you could put down a bigger deposit and potentially access a better mortgage deal. 
You might also like: How much house can I afford?
Want to make the most of developers' incentives? New build
Many developers offer incentives as a way to attract buyers. These might include cashback, upgraded fixtures and fittings, or even the offer to pay your stamp duty bill for you. 
You could also use budget boosting schemes to make affording a new build even easier. Deposit Unlock allows you to purchase a new build property with just a 5% deposit, for example. While Builders Gift, selected developers offer a contribution towards your house deposit. This is usually up to a maximum of 5% of the full property price, but will vary depending on the home builder. 
New build vs renovation
Now, let's compare a new build vs renovation project. Even though they're two opposite extremes, it can be hard to choose. Turning a scruffy and neglected property into your forever home can be really fulfilling. But on the flip side, you could buy a brand new home and save yourself a lot of blood, sweat and tears. Here are a few things to consider before making a decision:
Want a low purchase price? Renovation 🔨
If you'd like to buy a home on a very tight budget, a fixer upper could be right for you. It should be much cheaper than similarly sized properties on the same street.
Don't have loads of cash leftover after paying your deposit and forking out on fees? You could move into the property and fund home improvements gradually using your income. You'll need to work out how liveable the property is first — unless you're happy to shower at the gym and live off microwave meals for the time being!
Getting a mortgage on a fixer upper isn't always smooth sailing. Some lenders have strict criteria when it comes to renovation projects. HSBC, for example, will only consider your application if the house is habitable and has a working kitchen and bathroom. 
It's a good idea to speak to a mortgage broker before making an offer on a rundown property.
Would you like help finding the right mortgage for your renovation project? Talk to Tembo. 
Want to save on stamp duty? Renovation 🔨
Stamp Duty Land Tax (SDLT) is a type of tax that's based on the property's price. If the house you want to buy needs a lot of work and its price reflects that, your stamp duty bill may be lower than if you were to buy a similar property that was newly renovated.
Top Tip
Are you a first-time buyer in England or Northern Ireland? You won't pay any stamp duty on the first £425,000 of a property purchase anyway, regardless of whether you're buying a new build or renovation.
Want the freedom to make your dream home? Renovation 🔨
If you aspire to be a homeowner because you want the freedom to decorate and really make a place your own, a renovation project could be really fulfilling. With the right planning permission, you could even extend the property and make big changes to its exterior or garden. 
Don't have DIY skills or lots of cash? New build 🏠
Brand new homes can be more expensive than older properties — particularly those that are in disrepair and need a lot of work. 
But a higher property price can sometimes be worth it if you don't have the first idea how to plaster a room and you don't have time to learn. Otherwise, you'll need to get the experts in. 
Renovating a house can cost tens of thousands of pounds. In some cases, you might be better off with a new build… or at least an older home that has been well looked after by its previous owners. 
Want everything to be immaculate? New build 🏠
There's something special about moving into a house that's been built just for you.  You won't need to replace the carpets, deep clean the bathroom or caulk the skirting boards.
If you'd like to paint the walls and add some personality, treat your new build like a blank canvas. Most developers will let you choose the flooring, kitchen cupboards and bathroom tiles, too.
Something to keep in mind is that although new builds are often marketed as luxurious and pristine, it's common for them to have flaws. These are known as 'snags'. Tell your developer if you spot any issues. They should send people round to fix the problem. 
Don't try to fix the snags yourself or hire someone to fix them. You've paid for quality and that's what you should get! 
You might also like: How to find a house
On average, our customers boost their buying budget by £82,000
Getting a mortgage can be difficult, especially if you're finding yourself priced out of where you want to buy. We specialise in helping buyers discover how they could boost their borrowing power through a range of specialist schemes. Create a free Tembo plan to see what you could be eligible for.
Get started
Do new build houses lose value?
Like a new car, a new home can come with a premium. As soon as you put your shiny new key in the door, its value will probably decrease. If you're hoping to move house again in a couple of years, a significant fall in value could put your plans on hold. 
Thankfully, the value of new build properties tends to recover within a few years and appreciate just like any other home. 
Is it easy to get a mortgage on a new build? 
The new build premium can make it harder to get a mortgage. Banks and building societies sometimes have strict criteria when lending on a new build property. It's all down to the risks that come with securing a loan against a depreciating asset. 
In the unlikely event that you stopped paying your mortgage and the lender repossessed the property, they may be forced to sell it for less than the original loan amount.
Putting down a bigger deposit can give you a wider choice of mortgage lenders, but don't worry if you're trying to buy with a small deposit or not deposit at all. There are other options out there. In fact, this is something we specialise in at Tembo. We help thousands of buyers discover their true buying budget through a range of buying schemes. 
For instance, a Deposit Boost could be the answer if you've got no deposit at all, as long as you have a home owning friend or family member who's willing to help. By releasing equity from their own property, they can free up cash to be put towards your home. 
If you have a small deposit of 5%, you may be eligible for the Deposit Unlock scheme. You can be either a first time buyer or a home mover, but the new build must be from a participating builder to qualify. Our team of mortgage experts have access to all the participating lenders, so we can help you find the right deal for you. To get started, simply create a free Tembo plan. 
Why do people not like new builds?
Some people dream of buying a brand new home with immaculate furnishings. For others, though, a new build would be their worst nightmare. This can be for cosmetic reasons, which we'll explore below, but it may be a financial or legal decision too. 
They're often smaller than older homes
New builds are often smaller than older homes. Not only in terms of floor space, but they usually have lower ceilings too. 
You won't be able to view it first
If you're buying off plan, you won't know exactly what you're buying until you get your keys. You may have to settle for floor plans and digital drawings. 
Buying from a big developer? They may let you visit similar properties they've built before. This might not be an option with small to mid-sized developers, though, especially if each project differs from the last. 
They're often leasehold 
New build homes are often sold as leasehold rather than freehold. This means that although you'll own the property itself, the ground it's built on will be owned by a leaseholder. 
Bizarrely, the leaseholder will be classed as your 'landlord'. If you're buying a house to escape landlords, this may be the last thing you want to hear. 
You'll need to ground rent along with annual service and maintenance fees. These can vary dramatically depending on your chosen developer, the type of property you buy and the terms of the lease. 
Before making a purchase, ask your solicitor to explain the costs involved and the terms of your lease. They should let you know if there are any particularly concerning clauses that need your attention. It's also important to find out how many years are left on the lease. Ideally you want it to be as close to 999 years as possible. If there are less than 90 years left on the lease, this could cause problems when getting a mortgage. 
They have 'less character'
If you love a high ceiling, original fireplace and stained-glass windows, a new build might not be for you. However, it is possible to add period charm to a new home. Think antique furniture, wooden shutters and copious tins of Farrow and Ball. 
But if you're in a new build flat or your home is a leasehold, you may have to run bigger changes by your landlord. Your lease could prevent you knocking down a wall or even dictate what frontdoor you can have. 
If you're trying to buy a new build with a small deposit or you're struggling to get past lenders' mortgage affordability checks, let us help you. We specialise in helping buyers boost their budgets, so they can get on the ladder sooner. In fact, on average our customers boost their budgets by £82,000. To get an idea how much you could borrow with our help, create a free Tembo plan.
Create a free Tembo plan to discover how much you could boost your buying budget
We've helped thousands of first time buyers and home movers discover how they could buy their dream home. Get started by creating a free Tembo plan to get a personalised recommendation
Create my Tembo plan