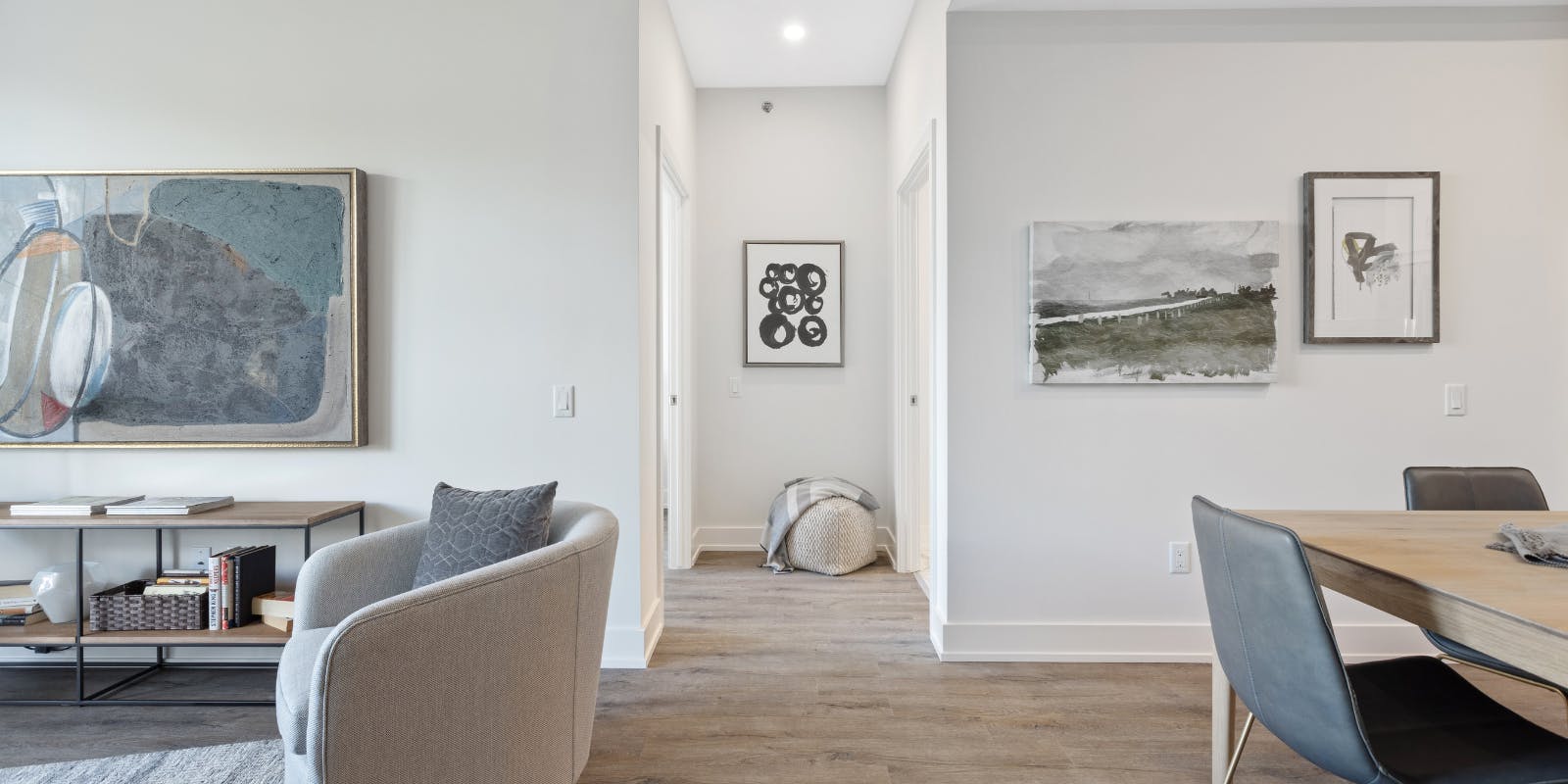 Buying a new build: Everything you need to know
Last Updated
9 August 2023
Buying a new build property can have lots of benefits, from increased energy efficiency to a 10-year warranty. Here's everything you need to know about buying a new build home.
There's something special about being the first person to live in a property. Everything will be brand-spanking new and you won't need to clean up after previous owners. 
New build properties are often decorated in neutral colours, so you don't need to dig out a paintbrush the second you move in. On the flip side, if grey and white isn't your style, you can treat your new home like a blank canvas and splash out on Farrow & Ball. 
New builds are often more energy efficient than older homes, meaning you could save thousands on your energy bills. You'll probably have to do fewer repairs than if you were to buy an older home too. So instead of spending your money on fixing dodgy boilers or leaky ceilings, you can buy a beautiful sofa and a Persian rug. 
There are countless benefits of buying a new build, but is a new home a good investment? How long does it take? Do you need a survey? And what does snagging mean? 
Let's dig into it. 
What is the process of buying a new build?
The process of buying a new build can be a whirlwind from start to finish. Here's the key steps:
1. Get your finances in order
If you'd like to buy a new build, getting your finances in order is a good place to start. You'll need to make a note of your income, savings and expenses, as this will give you an idea how much you can afford to spend on mortgage payments each month. When you create a Tembo plan, you can also get an idea of what monthly repayments might look like as well as indicative interest rates.
You'll also need to set money aside for solicitor fees, moving costs, and furniture. In some cases you might need to budget for surveys, stamp duty and mortgage fees too. 
Use an online mortgage calculator to get a rough idea how much you can borrow. You might be surprised at how many options there are, even for first-time buyers with modest salaries or small deposits. 
For example, Deposit Unlock allows you to buy a new build property with just 5% deposit, while mortgages for professionals, key workers and high earners let you borrow up to 5.5 times or 6.5 times your income. There are also family support options like guarantor mortgages, as well as other schemes like Shared Ownership.
2. Get a mortgage broker
While you can do some number crunching yourself, speaking to a mortgage expert can help you find out exactly what you can afford, as well as innovative buying schemes which could help you afford more - many of which you might not have heard of. They'll also help you overcome common mortgage affordability obstacles such as a low credit score or unpredictable income. 
Once you've found a mortgage broker you'd like to work with, ask them to provide you with a Mortgage in Principle. When you find somewhere you want to buy, this document should give you the confidence to make an offer. It can also show developers that you're in a good position to get a mortgage.
While you don't have to use a mortgage broker and could approach a lender directly, the downside of this is that you'll only be able to choose from the mortgages they have on offer. This could see you missing out on the best mortgage deals and cost you more money in the long run.
Wondering what's right for you? Read our guide on brokers vs lenders. 
3. Find the right home
There are several ways to find a new-build home. They're often listed on estate agents' websites, even if they're in the early planning stages. You could also visit the websites of well known developers such as Persimmon, Barratt, Taylor Wimpey and Bellway.
When a new project is in development, there'll usually be a contact number or website listed around the perimeter of the plot. Make a note of any you see in your chosen area and reach out to the developer directly for more information.  
If you find a new build that's already been built, you should be able to book a viewing. If the build hasn't started yet or it's underway, you may have to make your decision based on floorplans and illustrations instead.
You might also like our guides on Where should I buy a house? and What to look for when viewing houses.
4. Reserve the property
Once you've found the place for you, it's time to reserve it. The developer will charge you a reservation fee, usually between £500 - £1,000. Most home developers will deduct the reservation fee from the total price of the house. 
If you back out of the sale at a later date, you won't get this money back unless the developer has agreed to a long stop date. We'll talk about this in more detail later.
5. Appoint a solicitor
Buying a home is complicated. The process can be particularly overwhelming if you're a first-time buyer and you don't know what to expect. Thankfully, your conveyancing solicitor will guide you through the process, help you get your documents in order and ensure you're getting a good deal. 
6. Apply for a mortgage
Now it's time to start the formal mortgage application process. If you've hired a mortgage broker, they'll submit the mortgage application for you, which means you won't have to spend your lunch breaks on the phone to the bank or deal with piles of paperwork. They'll do all the admin work, including liaising with your lender, as well as the seller and solicitors.  
Read more: What to do if your mortgage application is rejected?
7. Pay your home exchange deposit
When you buy a new build house, your deposit will effectively be split in two. You'll need to pay a home exchange deposit. This is paid after your offer is accepted but before you exchange contracts with the seller/developer. You'll probably be expected to pay 5-10% of the property price at this stage. Occasionally the developer will accept no deposit on exchange if you're still saving, but most want some upfront. 
Later, you'll need to pay the mortgage deposit. This is paid at completion, when you officially become the property's legal owner. If you only have a 5-10% deposit, then you won't pay anything extra at completion. 
Find out more: How much deposit do you need to buy a house?
8. Exchange contracts and pay your mortgage deposit
When your new build is finally ready, it's time to exchange contracts. Your solicitor and the developer's solicitor will lead the way here. You'll pay the rest of the deposit (if you have more) to the developer. If you're using a Help to Buy ISA (the government bonus) or a Lifetime ISA, this will be paid on completion. 
9. Move in
And you're in! Your developer will tell you when and where to collect your keys. They should also show you around your new home and answer any questions. 
On average, our customers boost their budget by £82,000
To discover all the ways you could buy a new build property and even boost your budget, create a free Tembo plan on our homebuyer platform today.
Get started
How to get the most out of your home developer
To make sure you get good value for money, do plenty of research before choosing a developer to buy your new build property from. Don't be afraid to stand up for yourself! Here's how to get the most out of them:
1. Check out their past projects
Before making an offer, have a look at the developer's other projects. Check out their website, social media pages and reviews. You could even visit their other sites to see how they look from the outside.
Are the gardens well maintained? Have the windows been washed? A maintenance company will usually be appointed to take care of communal areas and the outside of the properties. Some maintenance companies are more reliable than others, so if the estate has fallen into disrepair, this is something to keep in mind. 
2. Befriend other owners
If you're thinking of buying from a large developer, it should be fairly easy to find owners on social media. On Instagram, for example, many buyers document the process of buying a new build. You can find them by searching hashtags such as #newbuildjourney, #newbuildhomeowner or the name of your developer. Follow these accounts and don't be afraid to ask them questions. If they had a bad experience with their developer, they'll probably be happy to warn others.
3. Ask for a long stop date
Before paying your reservation fee, it's a good idea to ask the developer for a long stop date. This is an agreed date that your home must be completed by. If the property is not completed by this date, you'll be entitled to a refund of your reservation fee. Negotiating a long stop date can save you a lot of disappointment and waiting around.
Is buying a new build a good investment?
New builds often decrease in value within the first few years because they've lost that element of exclusivity and personalisation because they are no longer "new". But their value tends to recover again within a few years, so they can be a good investment in the long run.
This phenomenon is often referred to as the 'new build premium'. Here's how you can tackle it:
Don't be afraid to negotiate
New build property prices aren't set in stone and it's sometimes possible to negotiate the house price with the developer. If they say no, you could try to negotiate better fixtures and fittings instead. 
Developers will usually let you choose between a selection of countertops, cabinets and carpets at no extra cost. Sometimes they'll give you an additional list of features that come at a premium. If you see something on the expensive list that you want, there's no harm in asking them to throw in these upgrades for free. 
Check if the developer will offer a builders gift
Some building developers, such as Barratt Homes offer incentives, whereby they match any personal deposit you provide - usually up to a maximum of 5% of the purchase price. These are called Builder's Gift deposits, and will need to be declared on your mortgage application. 
Do be wary if this is being promoted heavily, as there's usually a reason that builders make this kind of offer. Perhaps because properties are selling more slowly in that development, or they might be deemed to be overvalued. 
Only buy if you're happy to live there long-term
If you're desperate to get onto the property ladder, it can be tempting to buy the first home you can afford ⁠— even if it doesn't meet your needs.  But buying a home with an 'it'll do' mentality can be risky. Instead, try to find somewhere that you're happy to live in for 3, 5 or even 10 years. This can help you to offset the new build premium and ride out fluctuations in the property or mortgage market.
Look for ways to add value
Your new build should already include modern fixtures and fittings, but that doesn't mean improvements can't be made. Adding a conservatory or landscaping the garden could give your property a competitive edge when you come to sell.
Make the most of your new home's warranty
Most new builds come with a 10-year warranty, protecting you in the event of any structural issues. Not only could this save you having to spend thousands on repairs, it can help you sell the property for a good price.
FAQs
What does 'snagging' mean?
Snagging refers to any small defects or problem with your property that exists after the project has been completed. Common snags include missing grout, chipped tiles, and bad paintwork.
Don't be disheartened if your new home isn't immaculate, snags are a common part of the new build process. After completion, most developers expect to spend the first few weeks correcting mistakes. They'll probably have a team of tradespeople on hand to fix various jobs across the development.
When you get into your new home, go from room to room making a note of any snags you see. Some of them might only be small, but don't ignore them or try to fix them yourself. You've paid a lot of money and you deserve a home that's finished to a good standard! 
Do you need a survey when buying a new build property?
No, you don't need to have a survey when buying a new build property, but it can be a good idea. For example, you might want to book a professional snagging survey. The surveyor will visit the property before you complete the purchase. This gives the developer time to fix any issues before you collect your keys.
This could be particularly helpful if you're a non-confrontational person. Rather than going to the developer with a list of issues that you've found, a snagging professional will have that conversation for you. They'll also notice issues that you might have missed. A professional snagging survey can cost between £300 to £600 but is well worth it for that extra piece of mind.
How long does it take to buy a new build?
The process of buying a new build can take anywhere from a couple of months to more than a year. If you've got your eye on a new property that has already been built, you might be able to move in within a couple of months.  
Off-plan properties (homes that haven't been built yet) can of course see you waiting much longer, so it's worth asking the developer how long they expect the project to take. Some developers will go from laying their first brick to handing over the keys within 3-6 months, while other projects take much longer. 
If you reserve a property and the completion date keeps getting pushed back, you may have to apply for a new mortgage. This is because most mortgage offers are only valid within a specified time frame. If this happens, a mortgage broker can help you submit a new application quickly and with as little stress as possible.
Can you decorate a new build house straight away?
Yes, you can decorate a new build house straight away but it's not advisable. New build homes often have to "settle in", and the dry out process has to be complete before decorating. This usually takes 9 months to a year, during which time small shrinkage cracks may continue to appear in the walls, which are completely normal in new homes.
After this time, there should be no problem decorating your new build house.
What questions should I ask when buying a new build?
Here are a few questions to ask your developers.
When will the property be completed?
Can I upgrade to nicer fixtures and fittings for free?
How many houses have been sold already?
Is the property leasehold or freehold?
Can I have copies of the property plans and drawings?
Is there a long stop completion date?
Is there a management company and if so, who is it?
Will the garden be landscaped?
Do I need to use the developer's solicitor?
Some property developers will encourage customers to use their conveyancing solicitor. Using the same conveyancer can be risky because they might not always act in your best interests. Using an independent solicitor can ensure you get the legal support you deserve.
Read more: What is conveyancing and do I need it?
See how you could afford a new build property with Tembo's help
If you're looking at a new-build and you want to understand your options to buy it, talk to Tembo. Our award-winning mortgage brokers are here to help you make an informed decision and find the best possible mortgage. To get started, simply create your free Tembo plan.
Create my free plan