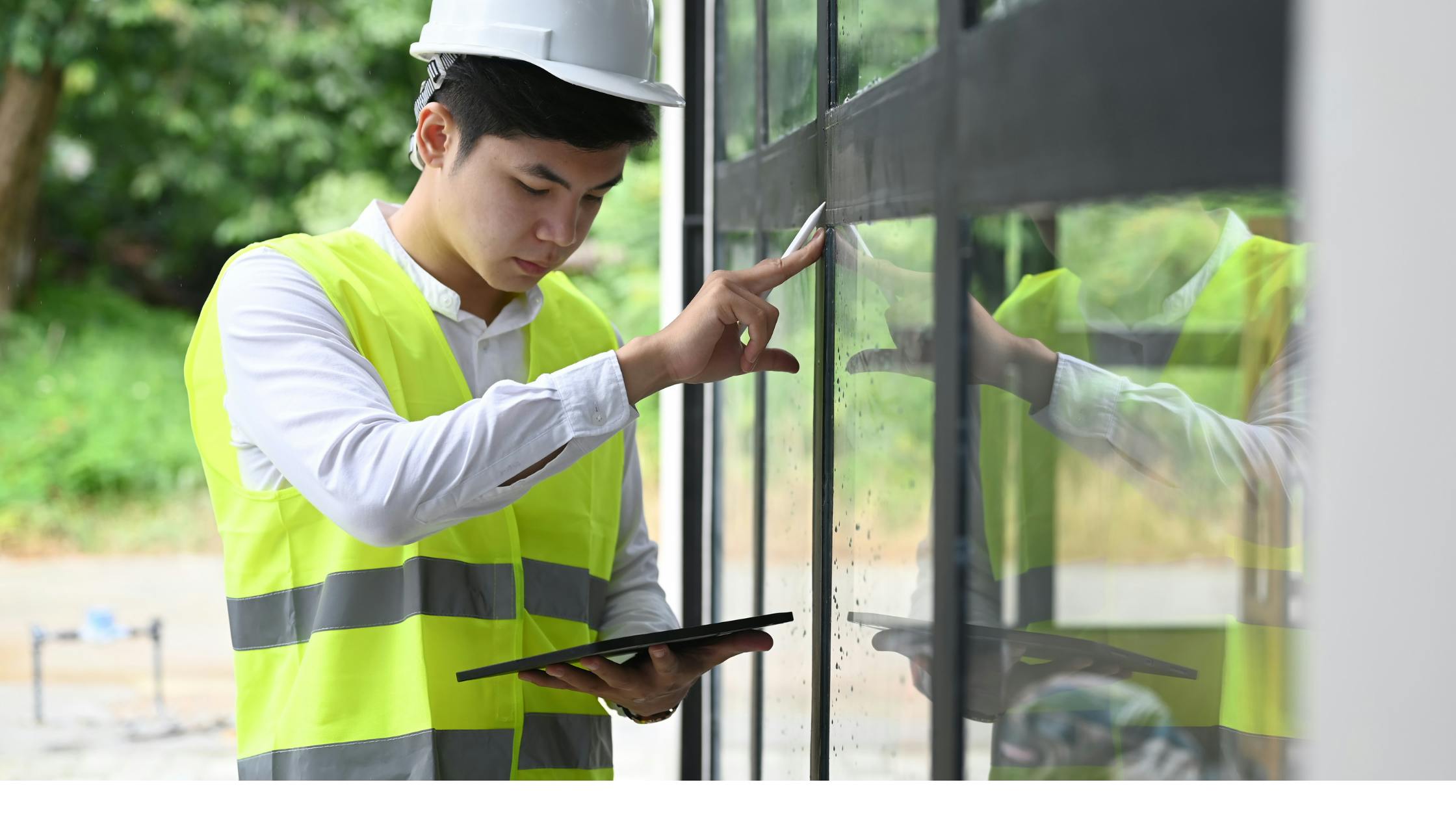 What is conveyancing and do I need to do it?
Last Updated
9 August 2023
If you're looking to buy your first house, you might have heard of conveyancing. But what is conveyancing and why do you need a conveyancer in the first place? We'll answer all your questions in this guide.
What is conveyancing?
When you buy a house, you'll need to go through the conveyancing process. This is a legal and administrative practice that transfers the ownership of a property from one person to another. 
It'll begin once you've had a mortgage offer accepted on a property and it'll end once the final contracts have been signed, the funds have been transferred to the seller & ownership has been transferred. This final stage of the process is known as 'completion'. 
Read more: Buying a house timeline
What is a conveyancer?
A conveyancer is a specialist lawyer whose expertise is in the legal aspects of buying and selling property (conveyancing). A conveyancer can also be a solicitor or a licensed conveyancer.
What does a conveyancer do?
A conveyancer carries out a number of tasks to ensure a property sale meets a number of legal requirements. You can hire a solicitor, property lawyer or a licensed conveyancer to carry out the conveyancing process for you. 
Their responsibilities tend to involve:
Managing paperwork
Reading contracts and leases
Carrying out searches (more on this later)
Transferring money between buyers and sellers
Communicating with the other party's conveyancer
Offering legal advice and support
How much does conveyancing cost?
Conveyancing costs can vary from as little as £500 if you hire an online conveyancer to several thousands if you hire a conveyancer with a lot of experience and expertise. The amount you pay can also depend on your circumstances and the complexity of your purchase. 
Here are a few things that could affect the cost of conveyancing:
Whether you're buying a property, selling a property, buying and selling, or remortgaging
The price of your new property
The property type (leasehold, freehold, new build etc.)
You might like: How to negotiate on house price
Before you officially start working together, the conveyancer will provide you with a quote. This should outline exactly how much their service will cost and whether you'll be charged for any additional admin, phone calls or meetings. Their quote should explain how much you'll need to pay for land registry, searches and Stamp Duty too. 
Some conveyancers offer a no-completion, no fee service, meaning you won't be left out of pocket if the sale falls through. 
Top Tip
Hiring the cheapest conveyancer you can find might seem like a smart move if you're on a tight budget, but working with a specialist could save you time and money.
Looking for a conveyancer? We can help
We are an award-winning mortgage broker that prides itself on helping our customers on every step towards homeownership, including helping you find a professional conveyancer. No matter where you are on your home buying journey, talk to Tembo.
Get started today
Can I do my own conveyancing?
Yes, you can do your own conveyancing if you wish, but it's not an easy process - especially if you don't have the necessary experience and credentials. Conveyancing can be complicated, time consuming and it involves a lot of paperwork and legal knowledge. Without substantial legal and administrative knowledge, you may miss important information that affects your property's value in the future. 
Conveyancing costs may seem expensive, but they're usually a worthwhile investment. An experienced conveyancer can be worth their salt: buying or selling a home is a huge financial milestone, you want to get it right. 
Here are just a few reasons a conveyancer can be well worth the money:
1. They'll carry out searches for you
The term 'searches' is often used to describe the research a conveyancer does into the property and its surrounding areas. They'll look out for anything that could affect the value of the property or your standard of living. 
For example, are there sewers running close by? Will you be at risk of a flood? Are there any plans to build a train track at the bottom of your garden? A good solicitor can help you avoid buying a property that turns into a financial liability. 
As well as the searches, they'll also facilitate an exchange between the buyer and seller, where the buyer is able to ask any questions they have about the property, and the seller is legally obliged to give factually accurate information. 
2. They'll transfer money between the buyer and the seller
Your conveyancer also plays an important role in transferring money between buyers and sellers. The buyer will send their deposit to their conveyancer, who'll then send it to the seller's conveyancer, who'll then send it to the seller. 
This won't be as quick as the Monzo payment requests you send to your friends, but if anything goes wrong, all the payments are tracked.
3. They'll register property ownership
When the ownership of a property changes, a conveyancer will remove the previous owners' details and register the new owners via the Land Registry. 
4. They'll check the contracts are up to scratch
Buying a property is likely to be one of the biggest financial commitments of your life, so it's crucial that you read all contracts before signing them. 
There's just one problem: the terminology used in these contracts can be confusing — especially if you don't have a legal background or understanding of the terminology. 
Thankfully, your conveyancer will explain the contracts and legal documents to you, highlighting any clauses in particular that they think you need to be aware of. 
If you're buying a leasehold property, for example, it's your conveyancer's job to make sure you're happy with the terms of the lease. If there's anything you're worried about, your solicitor may be able to negotiate with the seller's solicitor to get you a better deal.
Some property sales fall through due to disagreements over contracts. This can be frustrating, particularly if you had your heart set on that particular property, but it's better to learn about these contractual differences sooner rather than later. Going ahead with the purchase could have much more serious and expensive consequences further down the line. 
Can I work with any conveyancer?
When taking out a mortgage from a lender, your conveyancer will need to be on the panel of the mortgage lender you've chosen to act on your behalf throughout the process. When you're engaging a conveyancer, the first step is therefore for you to ask them to check that your chosen lender is on their panel. If you're using a mortgage broker, they will do a lot of this legwork for you!
If your conveyancer isn't on the lender's panel, you'll need to opt for a different firm to carry out your legal enquiries. This can cause delays in the process, particularly if you don't find out soon enough, so always ask early!
If your conveyancer isn't on the lender's panel, you'll need to opt for a different firm to carry out your legal enquiries.  This can cause delays in the process, particularly if you don't find out soon enough, so always ask early! 
How long does conveyancing take?
The time it takes to complete the conveyancing process can vary. If everything goes smoothly, conveyancing can take between 6 to 8 weeks. If your house purchase or sale is part of a long property chain, the process could take months. Issues further along in the chain could cause delays for you, too. Read our full guide to buying a home here. 
Find out how long your mortgage offer lasts for - usually it's around 3 to 6 months. If the conveyancing process is taking a while to complete, you may need to request a mortgage extension or apply for a new mortgage. 
Don't panic if this happens to you. Delays are quite common, so lenders are used to extending their mortgage offers. If you've hired a mortgage broker (hello 👋) they can help you with this. 
When do you pay conveyancing fees?
You'll usually pay conveyancing fees at the end of your transaction. Most conveyancers will send their clients the bill once the house deposit has been transferred and the property purchase is complete.
If your property purchase is eligible for Stamp Duty Land Tax (SDLT), your conveyancer may file your SDLT return and pay the tax on your behalf. You'll be billed for this, so it's crucial you have the money set aside as Stamp Duty must be paid within 14 days of completion. 
Do I need a conveyancer to sell a house?
Technically, you do not need a conveyancer to sell a house. If you don't have conveyancing experience, though, it's usually best to hire an expert.
A lot of money changes hands during a property sale and a lot can go wrong. When you're selling something as valuable as a house, conveyancing fees can be a small price to pay for getting everything right. 
Do I need a conveyancer for a remortgage?
If your remortgage involves switching to a new mortgage deal with a different lender, then yes you'll need to use a conveyancer or carry out the conveyancing process yourself. The conveyancer will transfer the deeds and mortgage for you. 
If you've chosen a product transfer with your current lender, you don't need a conveyancer and you won't need to do the conveyancing yourself either. There's also no conveyancing required if you're borrowing more money from your existing lender or switching to a new interest rate with them.
Let's make home happen
Buying a house or remortgaging your home can feel overwhelming, but with the right support at your side, the process will only get easier. See how much you could boost your budget by, or what interest rates you could be offered by creating a free Tembo plan today.
Create my plan