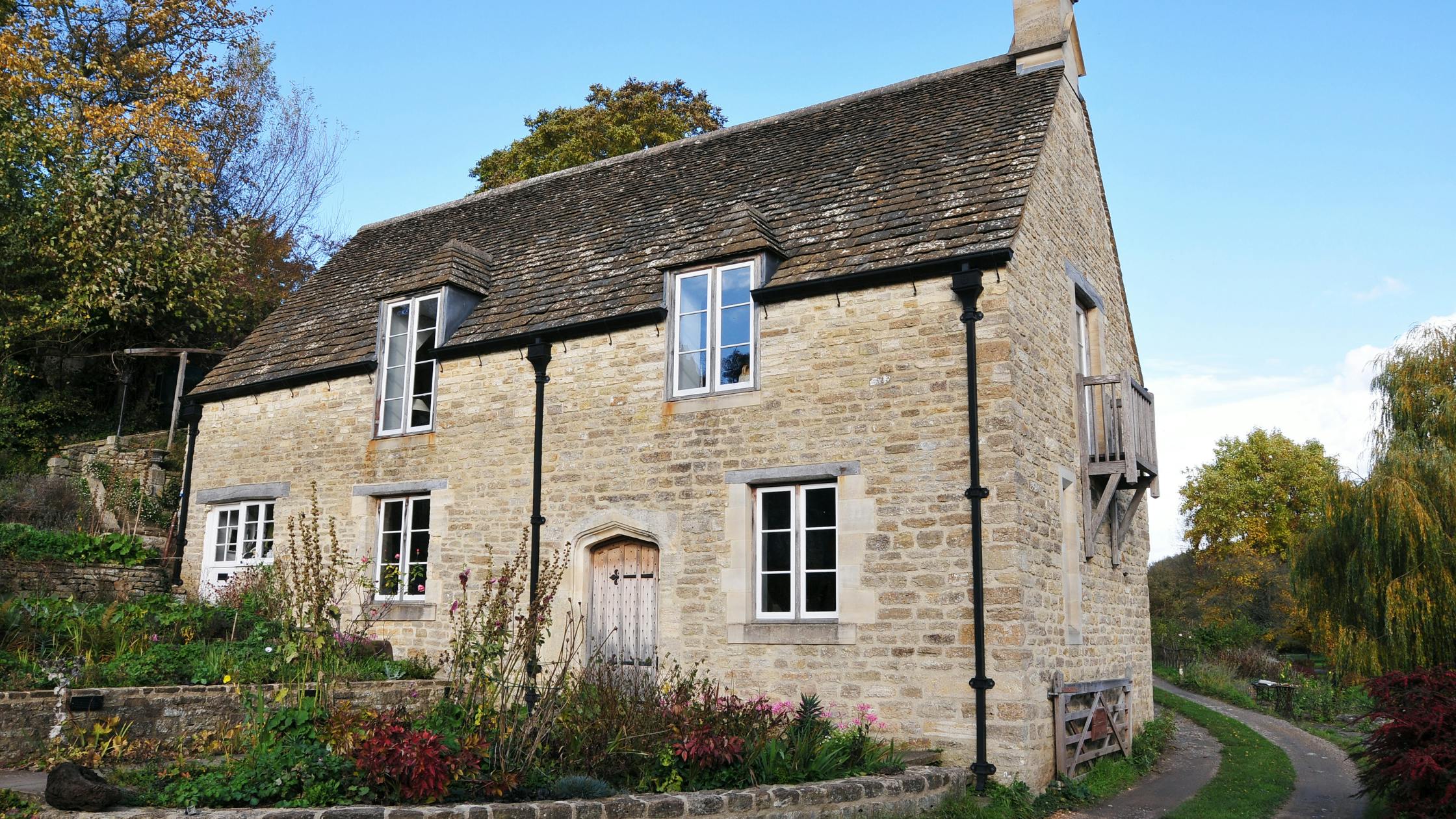 Equity release or remortgage: Which is right for me?
Last Updated
22 August 2023
If you'd like to release funds from your home, you have two main ways you could do this - equity release or through a remortgage. 
When you remortgage your home, you simply replace your existing mortgage deal with a new one. Remortgaging can help you access a better interest rate, reduce your monthly repayments or raise money to cover large expenses. 
If you remortgage your home to release equity, you'll usually see either your monthly payments or your mortgage term increase to reflect any additional borrowing. By the time you reach the end of the term, you'll have repaid what you owe.
Like a remortgage, equity release can also be used to fund big purchases, but it's only available to those aged 55+. It's a popular option for retirees looking to go on a cruise, buy a holiday home, or help a child or grandchild get on the property ladder. 
If you meet the criteria, you could also use equity release to pay off an existing mortgage or provide an income in retirement. And rather than repaying the lender monthly, you'll repay the loan through the sale of your property. This usually happens when you move into a care home, or when you pass away. 
But which option is right for you? Lets compare equity release vs remortgage in a little more detail.
See what you could be offered by remortgaging
Use our Remortgage Calculator to see what you could be offered, including interest rates and indicative monthly costs.
Can I take equity out of my house without refinancing?
Yes, it is possible to take equity out of your house without refinancing or remortgaging your property. Equity release is one alternative, and there are two main types of equity release to choose from:
A lifetime mortgage. This is through taking out an equity release mortgage.
Home reversion. This involves selling a portion of your home to the lender on the condition that you can continue to live there for as long as you wish
Our guide on What is equity release? explains the different types of equity release in more detail.
Is it better to remortgage or release equity?
Whether it's better to remortgage or release equity from your home will depend on your goals, property, and financial situation. It's unlikely to be a straightforward decision, but here's a snapshot of the key differences. 
It might be better to remortgage if…
🏠 You want to retain ownership of your home 
🏠 You want to pay off the loan by the end of your mortgage term
🏠 You want family or friends to inherit as much as possible of your home
It might be better to use equity release if…
🏠 You want tax-free regular payments
🏠 You don't want to repay the money until you move into care or pass away
🏠 You want to reduce the amount of inheritance tax payable on your estate
🏠 You've spoken to an independent financial advisor and they've recommended equity release
There are also risks with equity release that you need to consider when weighing up your options:
If you make any large monetary gifts to loved ones, they may have to pay inheritance tax in the future
If you go for an interest-roll up mortgage, the amount you owe will quickly increase over time 
Your family could receive little or no inheritance when you pass away
You may have to pay an early repayment charge if you repay the equity release loan early ⁠— even if you don't pay it off in full
Using equity release can affect your entitlement to means-tested state benefits
Before applying for a lifetime mortgage or home reversion plan, you will also need to get advice from a qualified equity release adviser. This is a requirement set by the Financial Conduct Authority to make sure you're making the right decision. 
You could also consider a Retirement Interest Only mortgage, otherwise known as a RIO. These were introduced as an alternative to traditional equity release. Unlike equity release, it's a mortgage product so it's affordability tested, but it offers lower monthly repayments than a remortgage. It can also be more suited to homeowners who are retired or are nearing retirement. 
To be eligible, you'll need to have no mortgage remaining on your property. As the name suggests with a RIO, you'll only pay the interest, not the capital. This means your monthly repayments will be lower than with a standard remortgage, but also that you'll have the balance remaining at the end of the term. This is typically paid off when you leave the property.   
Speak to the specialists
To work out whether you should remotgage or go for a retirement interest only mortgage, speak to our award-winning team. We can help you weigh up your options including how you could help a loved one buy a home. To get started, simply create a free Tembo plan.
Get started
Can you get 100% equity release?
It may be possible to get 100% equity release with a home reversion scheme, but most people will only be offered up to 80% of their property's value. So, if your home is worth £200,000 and you've paid the mortgage in full, you could release up to £160,000.
One of the downsides is that when you pass away, there won't be anything left from the sale of your home for your beneficiaries. With a lifetime mortgage, the most you can typically get is 18% to 50% of the property's value.
From a lender's perspective, offering 100% equity release would be risky. After all, they're relying on the property sale to repay the debt. If they lend you 100% of the property's value when you take out an equity release product, your home would need to increase in value for the lender to make a profit. If the property's value decreased or stayed the same, the lender would make a loss. 
Most lenders commit to a negative equity guarantee. This means that if the property's value falls, the lender can't recover debt above the property's value. In other words, they can't take money from your savings or estate to make up the shortfall. 
What is the best age to take equity release?
The best age to take equity release will depend on you and your goals. There is no upper age limit and the older you are, the more you can usually borrow. This is because the lender predicts they'll get their money back sooner.
However, you will need to be aged 55 or above to take out an equity release plan. If you and your partner own a property together but one of you is under 55, you'll need to wait until you're both 55 or older. 
The table below shows how much you can expect to borrow based on your age: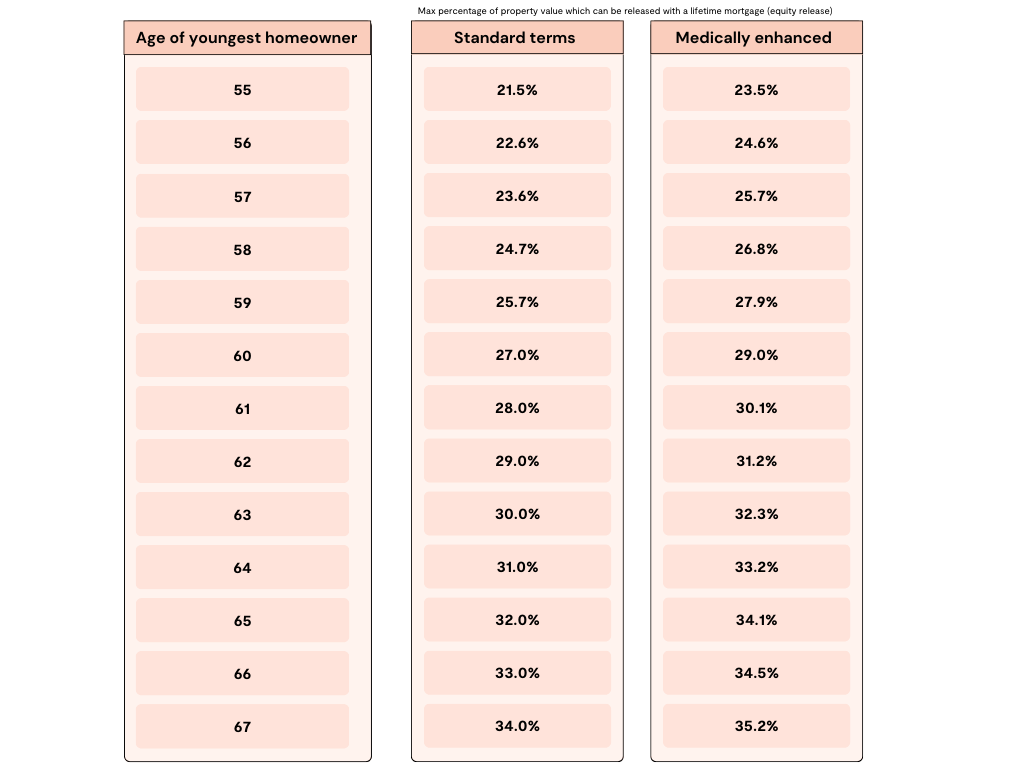 Source: Money Release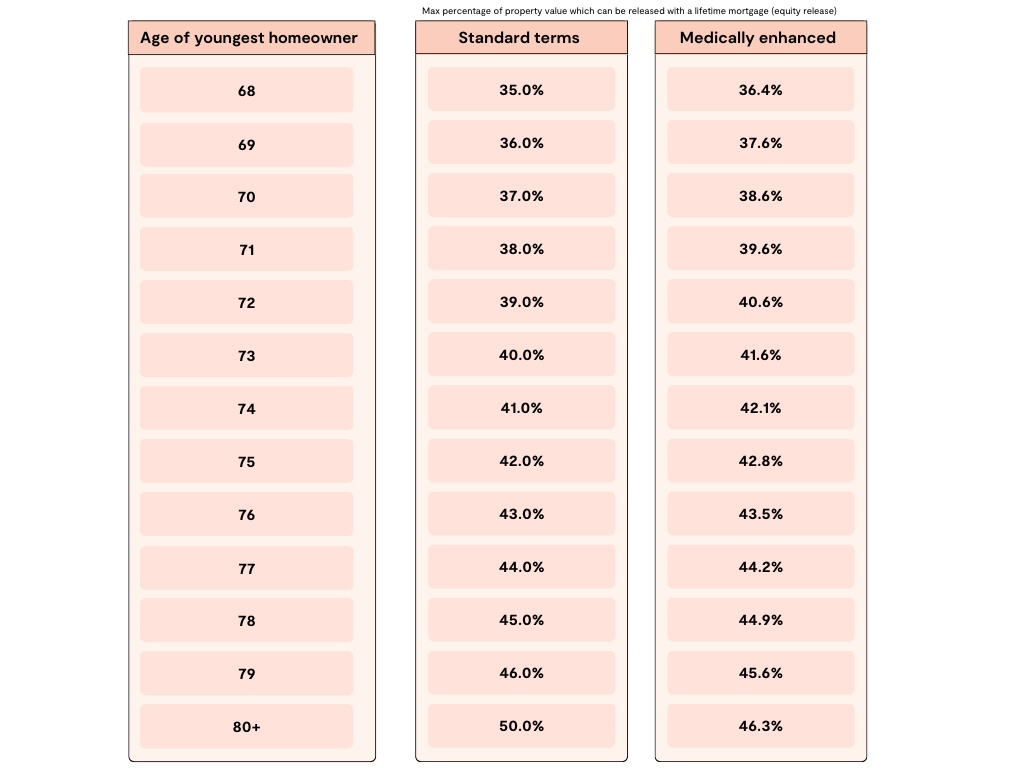 Source: Money Release
Talk through your options with our experts
Tembo is an award-winning mortgage broker that's helped thousands of buyers, movers and homeowners discover the right option for them. To get started, simply create a free Tembo plan with us - it takes 10 minutes to complete, and there's no credit check involved. Then, you can book in a free, no-obligation call with one of our expert advisors.
Get started