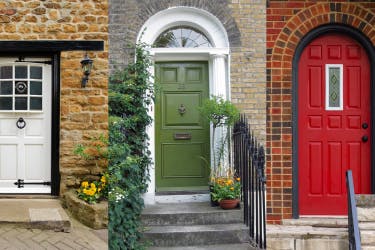 Shared Ownership vs Equity Loan: Which Should I Choose?
Last Updated
9 November 2023
If you're struggling to buy your first home due to a small deposit, modest salary or ridiculously high property prices in your area, you might be wondering whether to take out an equity loan or shared ownership mortgage. 
So which is best, shared ownership or an equity loan? Let's explore how these two options work and whether there are any alternatives.
What's the difference between shared ownership and an equity loan?
In a nutshell, shared ownership involves buying a share of a property and paying rent on the rest. An equity loan involves paying a small deposit, using an equity loan for a percentage of the property's value and getting a mortgage for the rest. Confused? Don't worry. We'll explain them in a bit more detail below. 
How do equity loans work?
Getting a mortgage with a small deposit can be a challenge, since many banks and building societies are reluctant to offer 95% mortgages, and if they do - they'll typically charge you higher interest rates. An equity loan can help you bridge the gap between your small deposit and the mortgage lender's requirements. It does this by offering you additional capital which you can use to increase your deposit and appear more attractive to mortgage lenders. 
The government's Help to Buy scheme is a type of equity loan, but it's no longer available to new customers and ends completely in March 2023. Thankfully, there are private equity loans to choose from. To be eligible, you'll need:
A 5% deposit
To be aged 24 or above
A household income of at least £35,000
A good credit rating 
How does shared ownership work?
If you can't afford to save a big deposit, you're struggling to get a mortgage or the houses in your area are just too expensive, a shared ownership mortgage could be right for you.
Shared ownership lets you get on the property ladder by buying a percentage of a home and paying rent on the rest. You'll combine your deposit with a mortgage to cover the portion of the property you own (usually between 25% and 75% of the property's price). You'll then pay rent to a housing association or private developer on the remaining share.
Shared ownership might sound expensive but if done well, it can be cheaper than renting. You can get away with putting down a much smaller deposit than you would if buying a home the traditional way. But it's a good idea to speak to a mortgage advisor before putting an offer on a property.
What are the downsides of shared ownership?
Few people would choose shared ownership over 'proper' homeownership, but for many it's the only option. If you're living in an expensive area and can't afford to buy a home the traditional way, shared ownership could get your foot in the homeownership door. 
At least with shared ownership, you're spending less on rent. You also have the option to 'staircase' your way to full ownership or sell after a few years and buy a house the regular way. But as you might've guessed, there are downsides. These include…
Service and maintenance charges can add up - You may have to pay a fee for the maintenance of communal areas. These charges can increase over time and you may be expected to pay for significant works such as roof maintenance, cladding replacement or the repair of a private road. 
Staircasing can be expensive - Staircasing your way to full ownership isn't as easy or affordable as it may sound. You may need to hire a solicitor to make changes to the lease and a surveyor to carry out a new valuation. Even though you'll share the property with a housing association or developer, covering these costs will be your responsibility. Unfair, right?
You'll still have a landlord - If you're fed up with landlords, shared ownership might not be the answer to all your problems. You may need permission to make big changes. If you have a particularly strict lease, you might need permission to redecorate. Before purchasing a shared ownership home, ask your conveyancer to highlight and challenge any unusual terms in the lease. 
There's a risk of negative equity - Is the property brand new? New build properties tend to come with a premium, meaning your new home may be worth less than you paid for it once you move in. This can put you at risk of negative equity, meaning the home is worth less than the mortgage you took out on it. Thankfully, most new build homes rise in value within a few years, so the longer you plan on living there the better.
What are the downsides of a private equity loan?
A private equity loan lets you boost your budget without family support, borrow up to 6x your income and buy a home you really love, rather than settling for the cheapest one you can find.
Sounds great! But what are the downsides? 
The lender will have a stake in your home - This means the equity loan provider will share future profits or losses made on your new home. So, if the property increases in value by 10%, the lender's share will increase too. 
Repaying the loan can be expensive - The cost of the loan will vary depending on your chosen equity loan provider. There are interest only options which reduce your monthly payments, but in this case the lender is likely to have a larger stake in your home.
Find out the best way to boost your buying budget
Through our smart technology, you'll get a personalised recommendation on which buying schemes you're eligible for and how much they could boost your buying budget. To get started, simply create a free Tembo plan today.
Create a plan
Which is better, Shared Ownership vs Equity Loan?
To work out whether shared ownership or an equity loan is best for you, you'll need to do some tough calculations and ask yourself some honest questions. You'll need to calculate:
How much you'd spend on mortgage, rent, staircasing costs and fees if you were to buy a shared ownership home
How much you'd spend on your mortgage and equity loan payments if you were to take out a private equity loan
But you'll also need to consider whether the property meets your needs, how happy you'll be, and how long you'll live in it. Buying a house is about more than just maths. Your home can be an investment, if you want it to be, but it's okay if it's just your home.
It can be tempting to try and do all these calculations yourself, but you'll save yourself a lot of time, stress and money by turning to an experienced mortgage broker. 
They'll work out which path is right for you. Not only will they consider what makes the most financial sense, they'll also think about what works best for you personally.
Are there any alternatives?
Don't rush into making a decision you're unsure about. If you've compared shared ownership vs equity loan and neither option feels right, here are a few alternatives to consider: 
Deposit Boost
If you're desperate to buy a home but your deposit is small or non-existent (we know how it is), a Deposit Boost could be the answer. You'll need a financially comfortable friend or relative who's willing to release equity from their property so it can be used as a deposit on your first home. 
A Deposit Boost can be a great way of passing wealth down through the generations, rather than leaving large assets to children and grandchildren as an inheritance. We've helped hundreds of first-time buyers get onto the property ladder this way. 
Guarantor mortgages
If you're struggling to get a standard mortgage, a guarantor mortgage could help. A guarantor is a friend or family member who's willing to say to the lender: "if this person is unable to pay their mortgage, I'll step in and help." This can give lenders the confidence to approve your mortgage application and give you the loan you need.
Income Boost
Do you have a healthy deposit but you're struggling to borrow enough to buy a home? An Income Boost could be the solution. Also known as a joint borrower sole proprietor mortgage, it involves adding a friend or family member's income to your mortgage application to boost your borrowing potential.
It's all about making yourself more attractive to lenders so they'll feel confident lending you the amount you need.
Although your booster will be named on the mortgage, they won't be named on the property itself. It's all yours. If you were to get into financial difficulties and couldn't keep up with your mortgage payments, your booster would be equally responsible for making the repayments.
Lifetime ISA
A Lifetime ISA (LISA) is a type of tax-free savings account where you can save for your first home and retirement at the same time. 
You can deposit up to £4,000 a year into your LISA and the government will boost your savings by 25%, so if you max it out, you could get a £1,000 bonus every year.
You need to have your LISA open for at least a year before you can use it towards your first home purchase. So if you don't have one already and you're hoping to buy in the next 12 months, it won't be suitable. 
Another thing to keep in mind is that you can only use it to buy a property worth up to £450,000, so it may be unsuitable if you live in an expensive area or want to buy a large forever home.
If you can find a shared ownership property that meets the Lifetime ISA's criteria, you can use both at the same time. You can also use your Lifetime ISA savings when taking out a private equity loan. 
If you're unsure which option is right for you, why not speak to Tembo? We've helped first-time buyers move out of their childhood bedrooms, single parents make a fresh start in a new city, and we've even helped students get mortgages despite not having a full time job.
If you'd like to get a rough idea how much you can afford to borrow before giving us a call, check out our mortgage calculator. Alternatively, register your details to get a free mortgage in principle today.
Create a free Tembo plan to discover your true buying budget
We specialise in helping buyers boost how much they can borrow through a range of specialist schemes. So you can get a mortgage sooner, and for less. To get started, create a free Tembo plan.
Create a plan