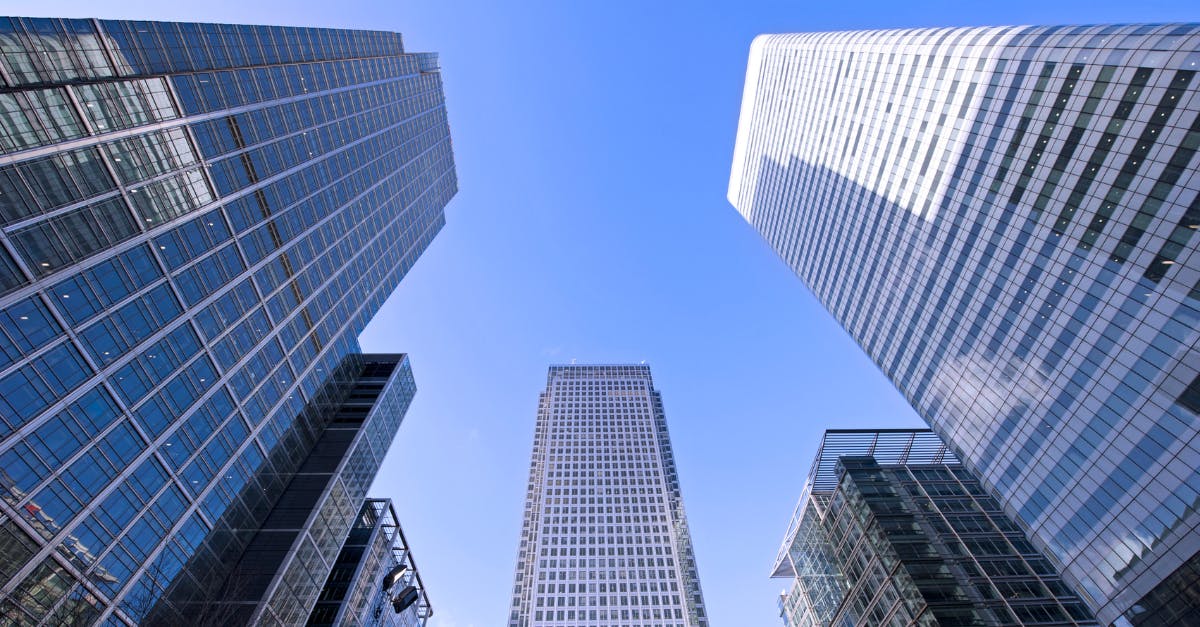 August's #MarketWatch - What's going on in mortgage land?
Last Updated
5 September 2023
Summer sunshine may feel like a distant dream, but there's hope on the horizon in mortgage-land. While many Brits enjoy a much-earned summer getaway, the world of mortgages stops for no tan (excuse the bad pun, we couldn't help it). 
Here's the latest goings-on in the market that you need to know about.
Inflation is nudging downwards - albeit slowly
The latest inflation data came out at the start of this month, showing that for the second month in a row inflation has dropped, down from 8.7% in May to 6.8% in the year up to July. It's not only the PM who will have breathed a sigh of relief at hearing this good news. The Bank's Monetary Policy Committee has come under criticism lately for its decision to repeatedly increase the base rate, but the latest figures show that its approach is working.
The drop was caused largely by an easing in food cost pressures. According to the latest figures released by the British Retail Consortium, food inflation fell to 11.5% in August, down from 13.4% in July - this is the lowest level since September last year. Falling electricity and gas prices have also helped to bring down inflation, but the rising cost of eating out, alcohol, tobacco and flights is helping to keep inflation way above the 2% target.
News of record wage growth will also stop the Bank of England from an all-out celebration. To prevent a wage spiral, it's likely they will raise the base rate for the 15th time at the next meeting in September. 
The tables might be turning
Despite more base rate rises on the horizon, there are signs mortgage rates might have reached their peak. Swap rates, a leading indicator of mortgage rates, have been falling recently. Already we've seen some lenders reduce rates - one household name by as much as 0.55%, and Skipton slashed the rates on its 100 per cent mortgages too. So far, so good.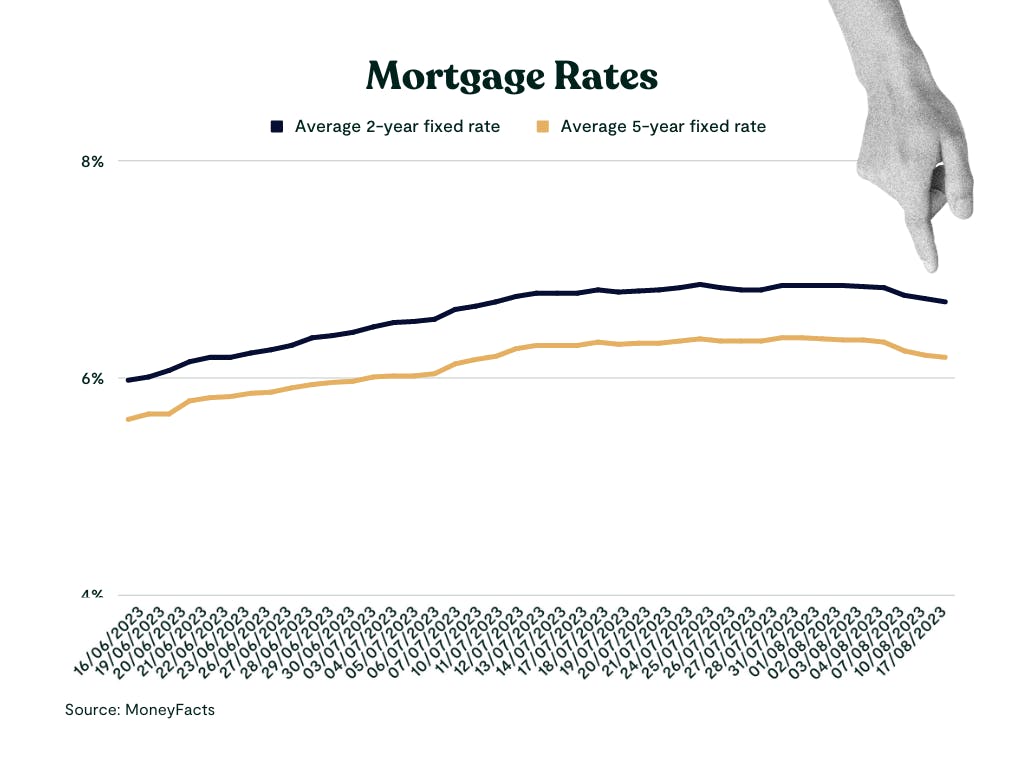 Plus, demand for houses is down, and July saw the largest annual drop in house prices in 14 years. In fact, last month 54% of homes sold below their asking price - and buyers on average are negotiating a 4.5% discount on price.
All this means that houses are more affordable than they were a year ago. Average earnings have risen by 7%, and a typical home in the UK now costs 6.7x the average annual earnings - that's down from 7.3x a year ago.
Buyers should make the most of this, if they can afford monthly repayments at current rates. If we see rates continue to drop, demand could jump back up, which will increase competition and could send house prices upwards again. 
While purchasing your first home is expensive, so is renting. Rental prices in the UK are now at the highest rate on record, rising 5.3% in the year up to July. They are outpacing pay growth, and now account for 28% of average pre-tax earnings - in London, it's 40%. In comparison, first time buyers are spending 21% of their household incomes on mortgage payments on average.
Plus, it's worth thinking about the long term benefits of having a place of your own. Owning a property puts you £200,000 better off over a 25 year period in comparison to someone that rents the same property. We're seeing from our own customers that they aren't letting rates get in the way of their dream, or the chance to build up their own property wealth.
Instead of putting off buying, we recommend considering ways to accommodate the higher rates. This includes opting for smaller houses, as well as putting down larger deposits through help from the Bank of Mum and Dad or early inheritance. There are lots of ways to access lower mortgage rates or boost your mortgage affordability - talking to experts like our team of mortgage advisors can help you discover the right option for you.
Right now is also a window of opportunity for second steppers. Larger homes saw the biggest price inflation over Covid and are now the most likely to sell for under their asking price. This means home sellers could bag themselves a bargain with their onward purchase, but they have to balance this with any price reduction on their current property.
A tool we recommend to our customers is our homebuyer reports. When you create a free Tembo plan, you can access these through your account. The reports let you unlock over 200 data points on any property you're looking at - including your own. In a buyer's market, these insights can give you the edge you need to effectively negotiate the price down. 
Learn more: How to negotiate house prices 
Remortgagers - don't sit on the fence 
If you're up to six months away from the end of your current deal, consider locking in a rate now. This will protect you if the tables turn and mortgage rates start to climb again. But if they continue to go down (which we predict they will) then you can re-apply at a later date to benefit from a lower rate.
For now, we'd recommend choosing a mortgage deal with a short term, like 2 or 3 years. It's impossible to know for certain what rates will do over the next few years, and fixing for longer than 3 years could see you paying a higher rate of interest if rates go down within that time.
If you're struggling to afford your repayments, consider options like an Income Boost remortgage, or switching to a part and part or interest only mortgage for a short time. The Tembo team (or another trusted advisor) can help advise you on the best option for you.
Keep reading: Are interest rates going up?
So, what should you look out for?
What mortgage lenders do next is crucial. Rate reductions are already gaining momentum as lenders compete for customers in a quiet market. If this keeps up and inflation keeps declining, rates could fall even more over the coming weeks, which could bump up demand.
If rates do drop and demand rises, this will increase competition for houses which could see prices rise again. 
Instead of holding off to see which way mortgage rates and house prices go, we'd recommend seeing what you could afford now. You might be surprised! At Tembo, we specialise in helping buyers and remortgagers discover how they can get on the ladder sooner, or remortgage onto a new deal.
See what you could afford today
Discover how much you could afford to borrow, or how you could remortgage through creating a free Tembo plan. Our smart tech will generate a free, personalised recommendation from over 20,000 mortgage products and 17 budget-boosting schemes - in seconds. You can then book in a free, no-obligation call with one of our award-winning advisors to talk through your options.