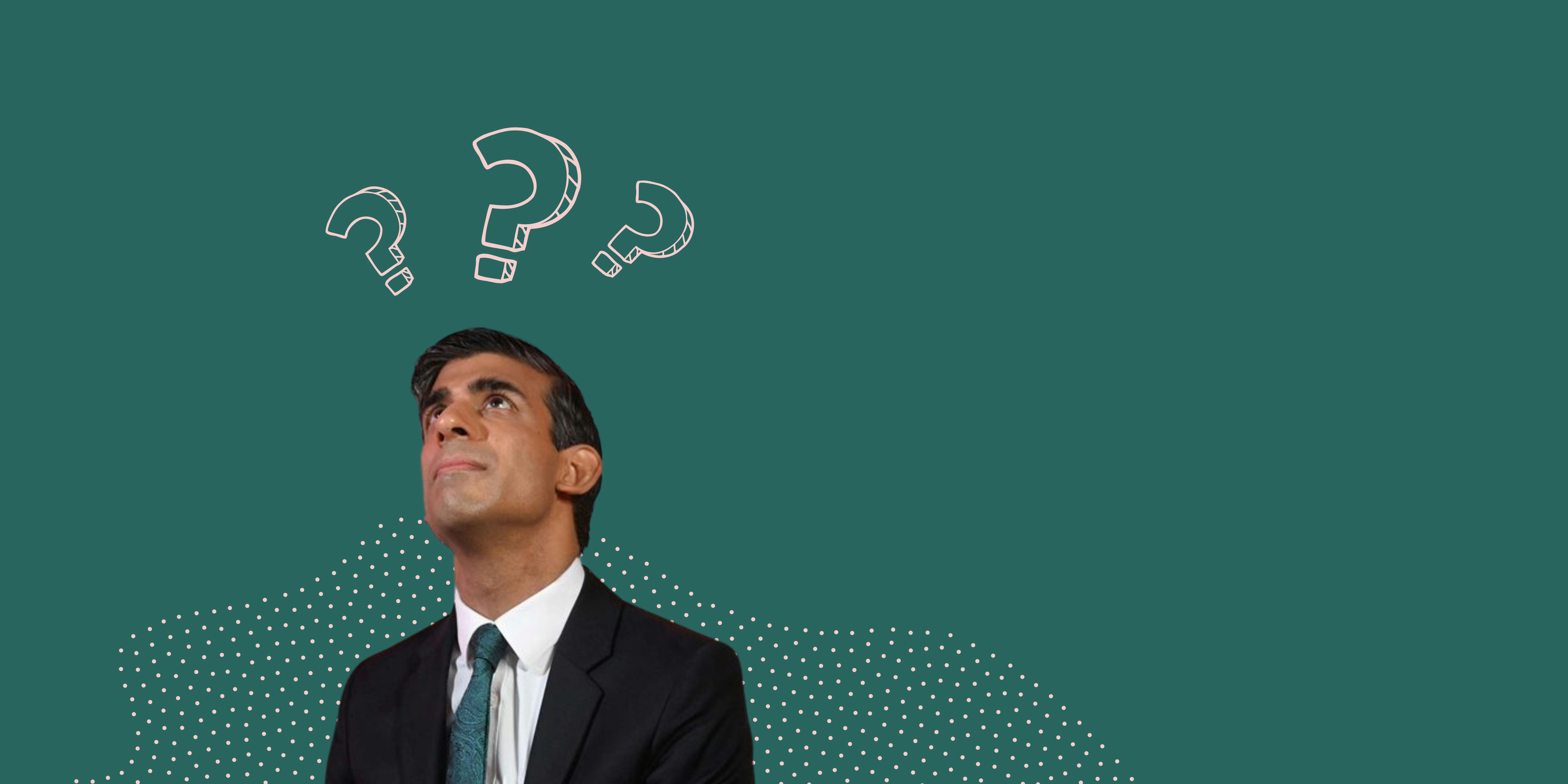 Rishi Sunak's Housing Policy: What Help Is There For First Time Buyers?
2022 was another year of unpredictability. We experienced an energy crisis, cost of living crisis, rising inflation and three different prime ministers. After an uncertain year, it's hoped that Rishi Sunak can help the UK avoid a lengthy recession and steer us towards economic stability in 2023.
But what are his plans for housing? What does his Conservative manifesto say about first time buyers? And is government housing policy enough to help those who need it the most? Let's take a look at what Rishi Sunak's housing policies could mean for you.
House building targets have become advisory, not compulsory
Housing didn't play a huge role in Rishi Sunak's leadership campaign originally. But during an online hustings with ConservativeHome, he said he wanted to increase housebuilding by densifying inner-city areas, stopping developers 'hogging' land and helping smaller builders to deliver more homes through modular construction.
However, our new Prime Minister has since said he'll abandon compulsory house building targets, following a backbench rebellion. Up to 100 Tory MPs threatened to back an amendment that would force the government to abolish the target of building 300,000 homes a year in England. 
The target will now become 'advisory' and councils will be allowed to build fewer homes as long as they can show that hitting the target would significantly change the character of an area. This exemption is expected to apply to rural and suburban communities the most. 
Housing campaigners have described the change as 'extremely worrying'. We're already facing a situation where insufficient new housing is being built to support a growing population. This supply & demand issue keeps house prices high, and stops new buyers getting onto the property ladder.
Social housing appears to be less of a priority than private housing
When fighting for the spot of Conservative Party leader over the summer, Rishi Sunak talked very little about social housing. During the ITV leadership debate he said: "We're all Conservatives and we believe in homeownership."
A 'proud Thatcherite', he believes Margaret Thatcher was the best Conservative party leader in history. Thatcher introduced the Right To Buy scheme in 1980 to allow council housing tenants to buy their homes from local authorities at a discounted price. So it's unsurprising that Rishi Sunak is less committed to social housing than he is to helping first time buyers get onto the property ladder.
Sunak also praised Robert Jenrick for 'shifting' the affordable housing budget away from rental properties and focusing on private sale homes such as shared ownership properties instead. 
No new first time buyers schemes…yet
The Conservative government has introduced a number of initiatives to help first-time buyers since they came into power in 2010. These include the Help to Buy scheme in 2013, the Help to Buy ISA in 2015 and the Lifetime ISA in 2017. 
The Help to Buy scheme helped more than 355,000 first-time buyers to get onto the property ladder by offering them a government equity loan. Meanwhile, more than 50,000 people used the Lifetime ISA to buy their first home in the 2021/2022 tax year.
Unfortunately, the Help to Buy ISA has closed to new customers and the government hasn't announced any plans to introduce a replacement, but given Rishi Sunak's commitment to homeownership and wealth building, it's possible that more help lies ahead. 
In an interview with Sky News, Mr Sunak exclaimed that he wanted young renters and those living at home with their parents to be 'capitalists' through homeownership. He said: "We can't expect future generations to share our belief in capitalism if they can't get their hands on capital."
Want to increase what you can afford?
Tembo specialises in helping home buyers increase how much they can afford. Our smart tech and expert mortgage advisors will find you the best way to increase your buying budget from a range of specialist lending schemes. So you can get on the ladder sooner, and for less.
Get started
Stamp Duty cut has been extended
The Stamp Duty Land Tax (SDLT) cut announced by the government in September 2022 will remain in place until 31st March 2025. This cut temporarily increases the amount that a home buyer can pay for a residential property before they become liable to SDLT. It increases the nil-rate tax threshold from £125,000 to £250,000, meaning home movers won't pay Stamp Duty on the first £250,000 of their new home.
The nil-rate threshold for first-time buyers has also increased from £300,000 to £425,000, as long as the home is worth less than £625,000. If you're a first-time buyer purchasing a property for less than £425,000, you won't pay any Stamp Duty at all. 
It's hoped that the cut will support the housing market and protect those who work in the property industry by lowering the upfront costs of moving home and supporting those looking to get on the housing ladder.
More support needed for renters
While the Conservative government's housing policy can be promising for those in a position to save money, it may be less inspiring for renters — particularly those without family who can help them buy. 
The Conservative party's first-time buyer initiatives have been criticised in recent years for helping people who can already afford to save a deposit, while neglecting those who can't. 
In 2016, policy officer Pete Jefferys wrote for Shelter: "As house prices have risen above earnings, the range of people that these schemes can help is narrowing. Increasingly, all the ownership schemes are bunching towards helping roughly the same group of people – two earner couples on mid-high incomes with savings in the bank."
In another article he said: "Most renters can't save much at all, let alone enough to keep up with house prices or to access the government's Help to Buy ISA bonus once they've bought a home."
Use A Mortgage Broker To Find The Best Deal
If you're struggling to get a home of your own, work with a specialist mortgage broker like Tembo. They can work out ways to increase your mortgage affordability, so you can afford more.
How to get on the property ladder in 2023
If you'd like to buy your own home this year, you're probably wondering what support there is available. The Lifetime ISA may be worthwhile if you're looking for ways to boost your deposit with the government's help, but there are a number of options provided by mortgage lenders too. Here are just a few alternative ways to get on the ladder, whether you have family support or not:
Buying a house with help from family:
1. Income Boost
If you've managed to save a house deposit but you're struggling to pass lenders' mortgage affordability checks because your income isn't high enough, an Income Boost can help. An Income Boost is essentially a type of joint borrower sole proprietor mortgage, where you can add a family member's name to your mortgage application, without adding them to the property itself. As your mortgage application will be based on a higher collective salary by adding your parents, you can often boost your borrowing power.
To find out how much you could increase your mortgage affordability with our Income Boost Calculator.
How does an Income Boost work?
2. Deposit Boost 
If you're struggling to save a house deposit, a Deposit Boost can help. To be eligible, you'll need the help of a home-owning friend or family member who's willing to remortgage their property to free up equity in their home. This equity is then gifted to you so you can use it towards your house deposit. With a larger deposit, you can boost the amount you can afford to borrow, as well as often benefiting from lower interest rates.
How does a Deposit Boost work?
3. Family springboard mortgage
 A family springboard mortgage lets you use a family member's savings to get on the property ladder, without putting their cash down as a deposit. Your family member will place their savings in an account with your mortgage lender, where it'll be used as a security against your home. If you make all your mortgage payments on time, the money will be returned to your family member plus interest once the set time frame has ended.
4. Dynamic Home Ownership
If you don't have parents who are in a position to help you get on the ladder, another option is to buy with friends or siblings. This is usually called tenants in common, but we call it Dynamic Home Ownership, which allows you and up to five others to purchase a property together. You each will have individual equity in the home, and your contributions are tracked over time to keep note of everyone's share. Buying with others can boost your borrowing power as your application will be based on your combined earnings. You might also be able to afford a larger property, which you could treat as an alternative to renting.
Buying a house alone or with your partner:
1. Shared ownership 
The shared ownership scheme lets you buy a percentage of a property by taking out a small mortgage, while paying rent on the rest. This can be far more affordable than buying a house in the traditional way. And unlike renting, you'll be able to build equity in your home over time. Learn more with the help of our guide to shared ownership.
2. Equity loan
If you're struggling to save for a house, a private equity loan will boost your budget by topping up your deposit with a second charge mortgage secured against your home. It works in a similar way to the government's Help to Buy scheme, which has now closed to new applicants. The equity loan provider will lend you the capital you need so you can put down a deposit on your home.  In return, your lender will take a stake in your home, meaning they will have a share in any future profit or loss made on the property. 
3. Higher lending schemes
Although most standard mortgages allow you to borrow around 4 times your salary, there are some schemes which allow you to borrow up to 5.5 times your income. However, these higher lending schemes have stricter eligibility criteria, so it's harder to qualify for them. Often, you cannot be self-employed, and you have to earn over a certain amount as well as having a pristine credit score. Our award-winning team specialise in helping buyers discover their true buying budget by finding the best scheme for them. To see if you are eligible for a higher lending scheme, create a plan on our homebuyer platform today. You'll get a personalised recommendation of what you could afford using different schemes, as well as indicative monthly repayments and interest rates. 
4. Deposit Unlock
Deposit Unlock is a home buying scheme that allows you to buy a new-build property with only a 5% house deposit. Both first time buyers and home movers are eligible, but the new build must be from a participating builder to qualify. Our team of mortgage experts have access to all lenders that offer the Deposit Unlock scheme, so are perfectly placed to help you find the best deal.
If you're wondering which home buying option is right for you, talk to Tembo. We've helped thousands of first-time buyers and home movers from across the UK to buy their dream home. Thanks to an arsenal of guarantor mortgages, standard mortgages and other alternative ways to get on the ladder, we can help you overcome just about any home buying challenge. To get started, simply create a plan on our homebuyer platform today.
Create a Tembo plan to see how you could boost your buying budget
Our smart technology will find the best way to increase how much you could borrow from over 100 mortgage lenders, including family support and guarantor mortgages and specialist schemes. All you have to do is create a free Tembo plan to get started.
Create a Tembo plan