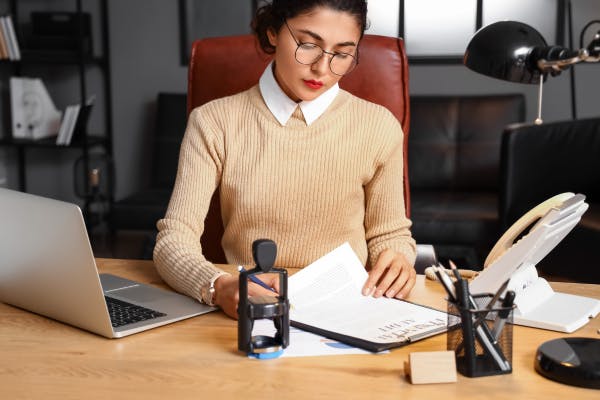 What is underwriting in mortgages?
Last Updated
27 October 2023
Mortgage underwriting is a crucial step in securing a home loan. It plays a pivotal role in determining your mortgage eligibility, and it involves careful assessment of your financial situation. Whether you're just starting your journey to homeownership or have questions about the underwriting process, keep reading to find out all you need to know to navigate the mortgage application process with confidence.
Need help securing a mortgage?
Whether you've applied for a mortgage and got rejected, or want help making sure you'll be approved first time round, we can help. Create a plan with us today to get started.
Get started
What is a mortgage underwriter?
Underwriting in mortgages is the process by which a lender evaluates your affordability to determine if you can qualify for a mortgage, and if so what deal they can offer you. A mortgage underwriter is therefore a professional who is responsible for this reviewing process. As part of their assessment, they look at your creditworthiness as well as your financial stability including your earnings and outgoings. However, there will be levels of automation in every lender's underwriting process as well.
How does mortgage underwriting work?
During underwriting, your mortgage application will be reviewed, and the information you've provided about your income, outgoings, credit rating etc. will be verified. You will need to provide documentation for this part, for example providing 2-3 years worth of accounts to prove your earnings if you're self-employed. Sole traders will also be asked for a Self Assessment Tax Calculation (SA302) form, as well as a tax year overview and the latest 3 months business and personal bank statements. If you are self-employed through a limited company, you will also be asked for these documents, too. The lender will use all this information to assess how risky you are as a borrower, and ultimately approve or deny you a loan.
You will need to provide proof of your income and expenses, normally through supplying payslips and bank statements. If you're self-employed, you may need to provide 2-3 years worth of accounts to prove your earnings, or your most recent profit figure if it's lower. Sole traders will be asked for a Self Assessment Tax Calculation (SA302) form, as well as a tax year overview and your latest 3 months' business and personal bank statements.
Find out more about mortgages for the self-employed here.
Lenders will also check your credit score, either using one of the three main credit referencing agencies - Experian, Equifax and Transunion - or they might use their own internal models based on the credit records of past applicants. This is to determine how likely you are able to repay a mortgage loan and how proficient you are at handling debt.
See your credit rating across all three agencies with a report from CheckMyFile.
They will also conduct fraud and money laundering checks, which includes verifying that your income and deposit are legitimate and legal. If you have a gifted deposit, for example from a loved one, they may ask for additional details about where this money has come from.
Lastly, they will ask for information about the property you want to buy. Some property types are deemed too high-risk by lenders to offer mortgages for. As well as checking the property's value, they may also check what type of property it is, the construction type, method and materials used, as well as if there are any defects.
Do all mortgage applications go to underwriters?
Most mortgage applications go through underwriting, but not all applications may be referred to underwriters. Some mortgage lenders may underwrite their own mortgages, or only use underwriters in applications that require specialist experience such as applicants with complex incomes or bad credit mortgages. However, for most lenders underwriting is a critical step in the mortgage process, as it ensures borrowers meet their criteria and that the loan is a sound investment.
What do mortgage underwriters look for on bank statements?
Mortgage underwriters will scrutinise your bank statements to assess your financial behaviour. They will check for consistent income, any large amounts of money moved in or out, and any red flags such as going into overdrafts, late payments or excessive spending. It's a good idea in the lead up to applying for a mortgage to be careful with your spending habits.
Can mortgage underwriters make exceptions?
Yes, in theory mortgage underwriters can make exceptions, but exceptions are not the norm. Their job is to assess risk accurately, while also helping qualify borrowers secure a mortgage loan.
How long does mortgage underwriting take?
The time it takes for mortgage underwriting to be completed can vary, it can take as little as a few days to a couple of weeks. Factors such as the number of applications being processed by the lender and the complexity of your application will impact the timeline.
Next up: What can I do if my mortgage application is declined?
You might also like: Buying a house timeline
Over 80% of our customers have previously been turned away by a broker or lender
We're experts at boosting mortgage affordability, including helping buyers and homeowners who have been rejected in the past. To see how we could help you, create a free pan today for a personalised recommendation. You can then book in a free appointment with one of our award-winning mortgage advisors.
Create my free plan