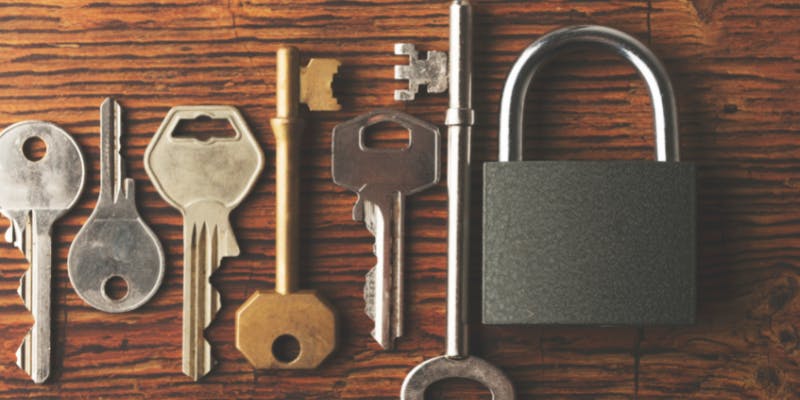 What Is Deposit Unlock & how does the Deposit Unlock scheme work?
Last Updated
27 July 2023
What is the Deposit Unlock scheme? How does it work? If you're a first-time buyer or home mover, Deposit Unlock lets you buy a new build with a 5% deposit
If you're hoping to buy a new build, but you don't have a huge deposit, you may be worried about what the end of the Help to Buy scheme means for you.
Thankfully, there's a new kid in town - Deposit Unlock. Designed to help people buy a new home with a 5% deposit, Deposit Unlock may sound like Help to Buy's replacement. The two schemes do share some similarities, but they have a number of differences too.
To help you decide if Deposit Unlock is right for you, let's take a look at how it works, who's eligible, and how easy it is to get started.
What is the Deposit Unlock scheme?
The new Deposit Unlock scheme lets first-time buyers and home movers buy a new build with just a 5% deposit. While the Help to Buy scheme was set up by the government, Deposit Unlock was created by the Home Builders Federation and reinsurance firm, Gallagher Re.
To use the scheme, you must buy a home from a participating house builder. The following developers have signed up to the scheme so far.
Barratt
Bellway
Bewley
Bloor Homes
Countryside Properties
Crest Nicholson
Croudace
Davidson Group
Fairview
Hill
Persimmon
Redrow
Taylor Wimpey
Vistry
You must take out a mortgage from a participating lender. At the time of writing, only Nationwide, Newcastle Building Society, and Accord have signed up to the scheme. 
How does Deposit Unlock work?
Mortgage lenders often approach new builds with caution. They won't necessarily reject the mortgage application completely, but they may limit the amount they're willing to lend. 
This can make it harder for buyers to purchase a new home without a large deposit. Lenders may expect buyers to have a deposit of 15% or even 20% — and this isn't doable for most people. 
Deposit Unlock was introduced to give lenders the confidence to approve mortgages on new build homes. If you buy a house through the Deposit Unlock scheme, the house builder will pay to insure your mortgage. This means that if you were unable to make your repayments, the lender would be protected.
Why do mortgage lenders need this protection?
So why are mortgage lenders so fussy when it comes to new builds? 
It's largely because of something known as the 'new build premium'. When you buy a new home, the kitchen has only just been fitted, the carpet is pristine, and you might have selected the bathroom tiles yourself. You'll usually pay a little more for this feeling of exclusivity than you would if you were to buy an older home. 
Unfortunately, once a new build has lost its je nais se quois (and by that we mean it's been lived in) it may experience a decrease in value for the first few years. 
This is risky for lenders. If a buyer stopped paying their mortgage and their new build was repossessed, the lender might have to sell it for less than the original loan amount. 
It's hoped that Deposit Unlock will inspire more lenders to approve 95% mortgages on new build homes.  
Deposit Unlock eligibility
Wondering if you're eligible for Deposit Unlock? Here are some key things you need to know:
You must be using it to buy a house or flat on selected developments, but you can't use it to buy a studio or one-bedroom flat

The most a person can borrow through the scheme is £750,000, but the exact amount you can borrow will depend on your chosen lender, your affordability, and your financial situation

Although you don't need to be a first-time buyer, you can't own another property on completion. This means you can't use Deposit Unlock for an investment property, buy-to-let or second home

Technically, self-employed borrowers are eligible for Deposit Unlock, but individual lenders within the scheme have their own criteria. Some lenders will not offer mortgages to self-employed borrowers, others have specific requirements that need to be met
What are the benefits of the Deposit Unlock scheme?
Buy a new build with a 5% deposit
The main benefit of Deposit Unlock is that it allows you to buy a new build with just a 5% deposit. If you can't afford to save a deposit because your rent is so high, but you could easily afford mortgage repayments, this could be your chance to finally get on the ladder.
Not just for first-time buyers 
First-time buyers need all the help they can get, but that doesn't mean that home movers can do it all by themselves. Unlike the Help to Buy ISA which was only suitable for first-time buyers, Deposit Unlock is also available to people wanting to take the next step on the ladder. 
So if you already own your home but you want to buy somewhere bigger, move to a nicer area, or have a garden to yourself, Deposit Unlock could help you get your forever home. 
No 'stress testing'
Also, while the lender will carry out some affordability checks before approving your application, you shouldn't have to go through as rigorous a process as you would under Help to Buy. 
With Help to Buy, not only did lenders assess the buyer's ability to pay their mortgage, they also assessed how their finances would change after 5 years when they'd need to start paying the government's equity loan back. This is often referred to as 'stress testing'.
What are the downsides of Deposit Unlock?
No landlords allowed
Deposit Unlock isn't suitable for people who own more than one property. So if you already have a home but you're thinking of buying another and renting one out, Deposit Unlock won't be right for you.
Self-employment struggles
If you're self-employed, you may find it harder to get a mortgage under the scheme. 
Nationwide won't lend to self-employed mortgage applicants using Deposit Unlock. Meanwhile, Newcastle Building Society says it "won't consider any business that has been closed or received government funding during the pandemic." 
Limited mortgage deals
Since there are only a few mortgage lenders to choose from, you might miss out on better mortgage deals and interest rates. If you'd struggle to buy a home without a 5% deposit, this might not bother you, but it's worth looking into other options before making the commitment.
New build premium
As we touched on earlier, in the first few years of owning a new build, your home may be worth less than you paid for it. This can leave you in negative equity and unable to remortgage your property. 
Thankfully, new build property prices tend to recover over time. So if you're planning on living there for 5, 10 or even 15 years, it will probably be worth more when you sell. 
What are the alternatives to Deposit Unlock?
If you want to buy a home with a small deposit, Deposit Unlock is worth considering. But it won't be right for everyone and some people may be better suited to a different home buying scheme. 
Here are a few alternative ways to get on the property ladder.
Deposit Boost
Tembo's Deposit Boost service could be a good alternative. You can use it on new builds and older homes. You don't have to choose from a small selection of developers and you should also have a much greater choice of lenders.
Here's how it works… Let's imagine you've spotted your dream house for £300,000 but you don't have a big enough deposit. And let's say your parents want to help you buy your own place but they don't have enough money in their bank accounts to give you a lump sum. 
Our team of mortgage specialists can assess your parents' eligibility and find a way to make it work. If they own their home, it may be possible to remortgage their property so that some of the equity can be put towards your deposit. 
If your parents have benefitted from rising house prices over the years, this could be one way of sharing their good fortune! 
If we were to take £30,000 out of their property, this would give you a 10% deposit on that beautiful house you want. 
Springboard Mortgage
If your parents have savings but they're unable to give you a deposit as a gift, a family springboard mortgage may be an option. 
This type of mortgage requires your family member to place their savings in a designated account with the lender. They won't be able to access the money for a set period of time, but it'll earn interest and be used to offset the mortgage. This means that if you were unable to make your mortgage payments at any point during the specified time frame, the lender would take money from the savings account to cover your missed payments. 
If you keep up with your mortgage payments, the savings will be returned to your parents after the specified period. If everything goes to plan, a springboard mortgage can be a great way of making the most of your parents' savings without affecting their long term goals. 
Shared ownership
Shared ownership is a government scheme designed to help first-time buyers get on the property ladder with a small deposit. At first, you won't own the property as a whole because you'll usually share it with a housing association or private developer.
If you buy a shared ownership property, you'll pay a mortgage on a percentage of it and pay rent on the rest. You'll have the option to 'staircase' your way to full property ownership by buying more shares of the property. The more shares you own, the less rent you pay.
Is Deposit Unlock right for me?
Hopefully this article has given you an idea whether Deposit Unlock is right for you, but it's a good idea to speak to a mortgage broker before making a decision. 
Here at Tembo, our team of mortgage specialists will do a deep dive into your financial situation until we find the best way to get you on the property ladder or help you move house.