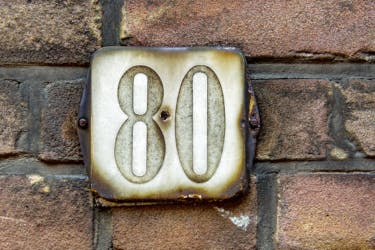 What are 80 mortgages and can I get one?
Last Updated
1 November 2023
What is an 80% mortgage?
A 80% mortgage, also known as a 80% LTV mortgage, is a home loan equivalent to 80% of the full price of a property you want to buy. To get a 80% mortgage, you'll need to put down at least 20% of the property price as your down payment. You'll then borrow the rest of the money to purchase the home from a mortgage lender. Collectively, the mortgage loan and your down payment will make up 100% of the full purchase price.
Are 80 mortgages available?
A wide range of mortgage lenders offer 80% mortgages, both for standard repayment mortgages and specialist buying schemes that help first-time buyers and other groups like NHS and key workers, teachers and lawyers increase what they can afford. However, whether you can get a 80% LTV mortgage from a lender depends on a couple of factors. These include whether you have a sufficient house deposit, and if you pass a lender's mortgage eligibility and affordability checks. If you have a low credit score, are self-employed or a sole trader, or have a high Debt-to-Income ratio you may struggle to get a 80% mortgage. 
By working with a mortgage broker that specialises in affordability, you can discover mortgage deals that you're more likely to be accepted for as well as ways you could boost your buying budget. At Tembo, our digital Fact Find will show you what you could be eligible for in under 10-minutes, scanning over 100 lenders and over 20,000 mortgage products. It's completely free, and there's no credit check involved! 
Find out more: What to do if my mortgage application is declined?
See today's best 80% LTV mortgage rates
Use our comparison tool below or create a free Tembo plan for a personalised recommendation.
Is 80% LTV high?
As a general rule, it's a good idea to aim to put down between 10-20% of a property's price as a down payment, which would mean getting a 90-80% LTV mortgage. The lower your LTV, the more likely you are to access lower mortgage rates, which will make your monthly costs more affordable. So it's always best to aim for as large a deposit as possible.
Most first-time buyers put down a 24% deposit, but this amount can be easier to save up for some more than others. There are plenty of buying schemes that can help you get on the ladder with a deposit smaller than this, as well as ways to boost your borrowing power through family support.
Find out more: Low deposit mortgages
Is an 80% mortgage a good idea?
An 80% mortgage is considered a good goal to aim for, as you will access better mortgage interest rates than higher LTV bands without needing a ridiculously large deposit. However, saving up 20% of a property's value can still be a hard feat to achieve.
The average house in the UK costs £291,000. This would mean saving a deposit of £58,200! At Tembo, we specialise in helping first-time buyers boost their borrowing power, so they can buy sooner. To discover how you could afford your dream home, create a free Tembo plan for a personalised recommendationcreate a free Tembo plan for a personalised recommendation.
Can you get a 80 mortgage?
You may be able to get a 80% mortgage, but this all depends on whether you'll be accepted by a lender or not. If you don't qualify for their specific mortgage products, or don't meet their affordability and credit score criteria, your mortgage application will be declined. It might be that you need to increase your affordability first to be accepted, which can mean using tactics like putting down a larger deposit or using a guarantor mortgage. For example, if you have a low credit score, you may have to put down a larger deposit as lenders may see you as a riskier borrower.
Specialists in mortgage affordability like Tembo can help you work out what 80% mortgage deals you could be eligible for, as well as how you could boost your affordability if you're struggling to get accepted. Get started today.
Am I eligible for a 80 mortgage?
There are thousands of mortgages on the market and it can be confusing to know which product you qualify for, or lender to apply for. Discover if you're eligible for a 80% mortgage and what you could be offered by creating a free Tembo plan today.
Get started