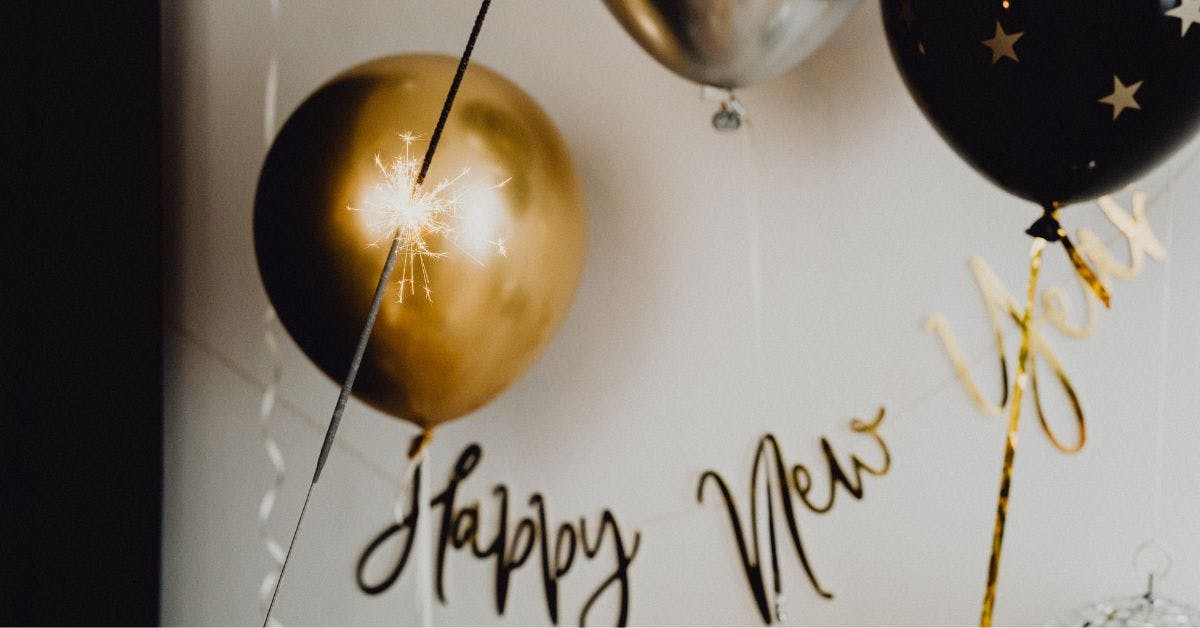 Mortgage Predictions 2023: What to look out for
Last Updated
21 April 2023
2022 has been a tumultuous year, to say the least. Prime ministers going in and out of Downing Street like swinging doors, an apocalyptic mini-Budget, inflation rates rising and a cost of living crisis. For many, the dream of homeownership is feeling increasingly impossible as each month's paycheck needs to stretch even more. But after such a volatile year, could there be some silver linings for first time buyers in 2023? 
Keep reading to see the Mortgage Predictions for 2023 from our team of mortgage advisors and experts.
What is the expected inflation rate for 2023?
It's widely expected that inflation will start to fall from the middle of 2023 onwards. This will be caused by the price of energy not rising as quickly, due to the Government introducing a scheme to cap energy bills for households and businesses. 
The price of imported goods is also expected to rise more slowly in 2023 as the issues in production faced by businesses begin to ease, and the volume of UK exports of goods and services increases. However, it's likely that for the whole of 2023 inflation rate will remain above 3%, and won't return to 2% until mid-2025.
All in all, this drop in inflation in 2023 could result in a slowdown in property prices rising. In fact, Zoopla predicts that a 5% reduction in house prices in 2023. This could make getting on the property ladder more achievable for a lot of first time home buyers.
For those looking to buy their first home in the next few years, a reduction in inflation will also mean prices for utilities, fuel and groceries will not rise as much as they have done in 2022. So you may have more disposable income to save towards a house deposit each month, getting you that bit closer to becoming a homeowner.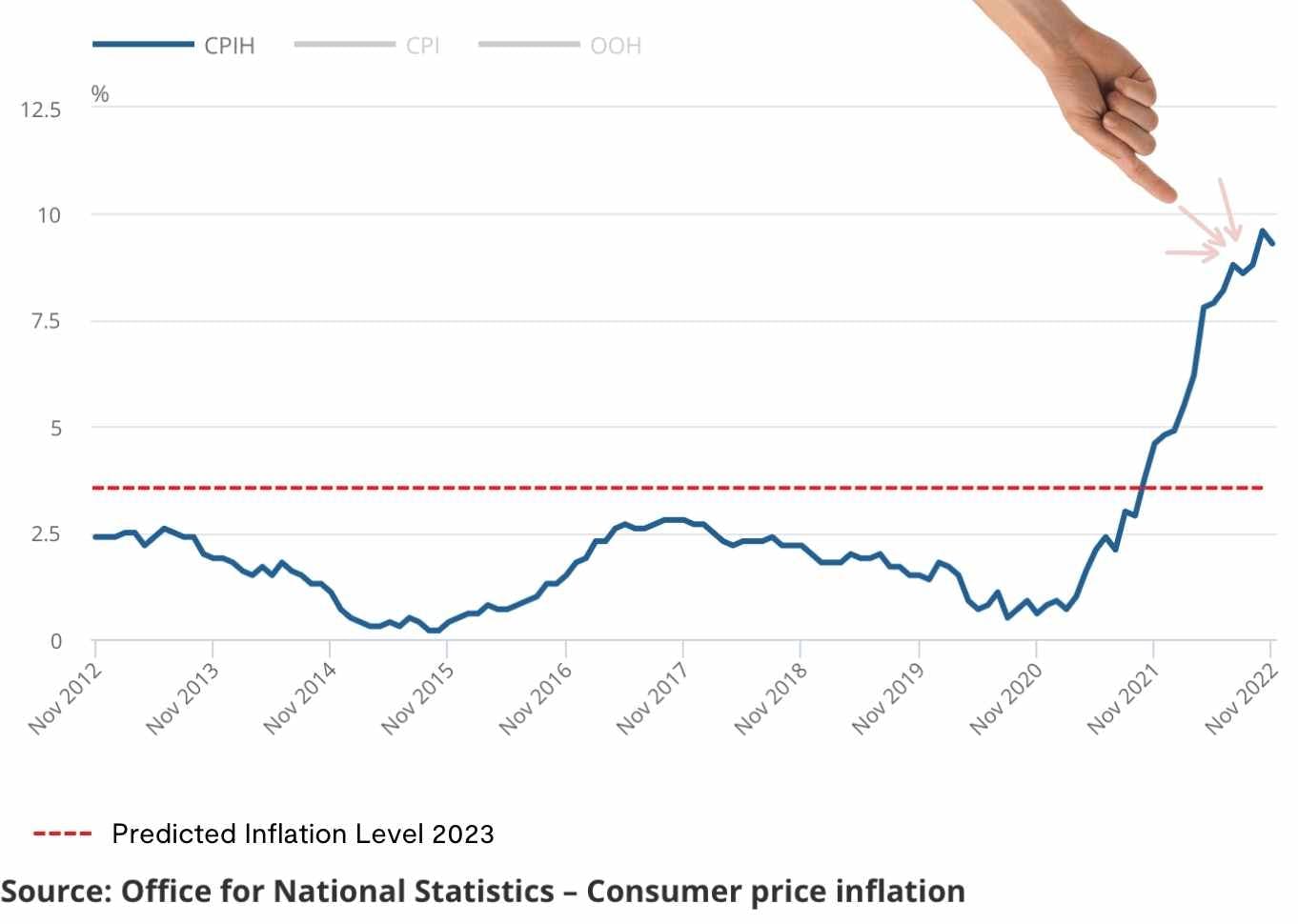 Graph showing the historic inflation rate in the UK, with the predicted inflation rate for 2023
Will mortgage rates go down in 2023?
In line with decreasing inflation, mortgage rates should continue to stabilise in 2023. Excluding the very low rates we saw during the pandemic, over the past four years, mortgage interest rates have typically stayed around the 4% - 4.5% mark. 
Despite the sudden increases to 5%+ we saw after the mini-Budget in 2022, 2023 could see rates returning to a more comfortable level for fixed rates and trackers alike. This should give first time buyers more confidence to borrow, as any potential monthly repayments would be more affordable with interest being lower. This would allow a lot of renters to move home and kickstart their homeownership dream.
Those moving from low fixed rate deals taken out in 2020 or 2021 will likely feel the pinch moving onto higher paying alternatives, but there are options out there to make your mortgage more affordable. Consider extending the length of your mortgage term, your type of mortgage (for example, switching temporarily to an interest only mortgage), holding out to switch to another fixed term deal until interest rates come down, as well as down-sizing. You can find out what the best mortgage interest rates are across the market today here.
Unsure whether to choose a fixed rate, variable rate or tracker rate mortgage deal? Read our guides on the different types of mortgage interest rate deals, or how long you should fix your mortgage for.
What will happen to house prices in 2023?
Property prices are likely to decline by around 5-10% in 2023, bringing them closer to pre-pandemic levels and ending the 13 year housing market boom. This will make many houses within reach for a lot of first time buyers, especially if they use one of the various schemes available to boost their borrowing power. For similar reasons, thousands of homeowners coming off cheaper residential fixed rate deals may find remortgaging options too expensive and consider down-sizing.
Buy to Let affordability stress testing is likely to also become stricter, which will result in many rented property owners unable to switch rates. This will subsequently cause withdrawals from the property market, which could create more opportunities for first time buyers to buy their first home.
See how much you could afford with Tembo
See how much you could afford to borrow with our mortgage calculator. At Tembo, we specialise in increasing home buyer's budgets to get you on the ladder sooner.
Mortgage Calculator
Will 2023 be difficult for renters?
We predict that life for renters will continue to be challenging in 2023. Over 2022, we've started to see a growing scandal around how certain landlords have been treating their tenants. In a market where many renters struggle to make the jump to owning a home due to high rents, some landlords have been using the favourable tax rules and higher interest rates to exploit their tenants. Over the coming year, it's likely that rental costs for tenants will continue to increase. 
With rental prices soaring, many first time buyers might decide 2023 is the year to launch into home ownership. If you are looking to buy your first home, and you need to boost your affordability, talk to Tembo. Working with over 100 lenders, and advising across a range of specialist mortgages, we are experts at helping you find the right option for you to buy your first home.
Will 2023 be a better year to buy a house?
The Government confirmed in November that the Stamp Duty cuts announced in the doomed mini-Budget would end in March 2025. This means that in the short term, home buyers will still only have to pay stamp duty on any portion of the property price over £250,000, while first time buyers will continue to pay no Stamp Duty on properties worth up to £425,000. So 2023 will be a window of opportunity for first time buyers looking to avoid paying hefty Stamp Duty charges. You can read more about Stamp Duty in our essential guide.
However, mortgage affordability will still continue to be a huge issue in 2023 for both home buyers and those looking to remortgage. If the average house price continues to be as much as seven times the average earnings, then there will still be a significant gap between what mortgage lenders will lend and what homes cost. 
This will also mean that the wealth gap between generations will remain; at the moment, almost 75% of those over 65 own their homes outright, which means there is a large amount of property owned by older generations. The silver lining here is that there are a lot of families in a financial position to help first time buyers get their first home, through initiatives such as our Income Boost, Deposit Boost and Guarantor Springboard mortgages. As many people's budgets get squeezed, family borrowing will become more important to help make homeownership happen for prospective home buyers. In fact, we predict that the Bank of Mum and Dad will continue to grow in significance, with half of house purchases in 2023 made with some form of family mortgage assistance. 
You might like our guides Should I buy a house? and Is now a good time to buy a house?
Interest rates for fixed rate mortgages are likely to reduce to be closer to 4% in 2023, as inflation is brought under control and the impact of the recession starts to impact demand. However, affordability will still continue to be a huge issue for both buyers and those looking to remortgage in 2023.

Many homeowners, especially people who have bought during the previous few years, will come under significant financial pressure as they look to remortgage onto higher rates with stricter affordability. This may mean that some will be forced to sell their homes and downsize, while others will look to their families for support. The good news is, there is a growing range of innovative family mortgage products out there provided by specialist lenders and building societies, which helps make homeownership more affordable.
These products will become an increasingly welcome option for many first time home buyers as 2023 brings us into a world without the Government's Help to Buy scheme, which comes to an end in March 2023. There are currently over 30 schemes available for homebuyers struggling with affordability, we expect this to be closer to 50 by the end of 2023. Shared Ownership in particular is likely to see significant growth, with more schemes opening in 2023 offering new home buyers more options to get on the ladder sooner. 
For many working professionals, they can also boost their affordability with specialist lending schemes. For those who work in professional services, like lawyers, solicitors, vets, doctors and nurses, some mortgage lenders offer up to 5 times your salary, which boosts the amount you can borrow significantly.
Although 2023 will likely not be a return to the sub-4% interest rates of previous years, overall we predict it will be a year of more stability in the mortgage market. There are also plenty of schemes available to help boost mortgage affordability, whether it's with family support or buying independently. 
Luckily, at Tembo we are in the business of helping first time buyers get on the ladder, even in a volatile market. If you were on the verge of buying your first home in 2022 but it didn't become a reality, or want 2023 to be your year to become a homeowner, talk to Tembo. Working with over 100 lenders, we can help you boost your affordability and find the right mortgage option for you.
See what mortgage you could afford
Create a plan on our homebuyer platform today to get a personalised recommendation of what you could borrow, including indicative monthly mortgage repayments, interest rates and a downloadable Mortgage in Principle.
Create a plan