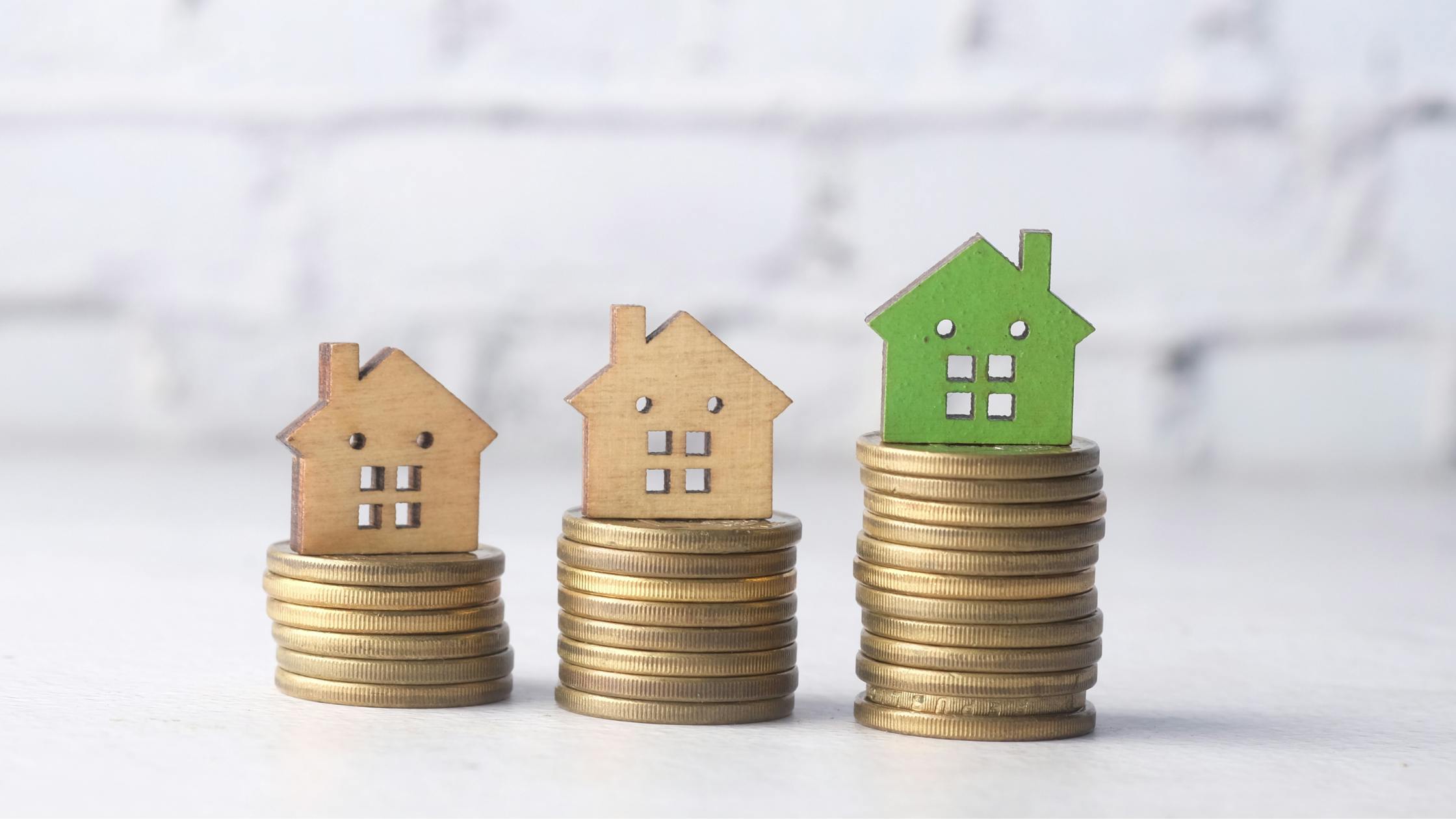 What is a green mortgage in the UK?
Last Updated
10 August 2023
If you'd like to buy an eco-friendly property or make your home more energy efficient, you could save money with the help of a green mortgage. The number of lenders offering this type of mortgage is on the rise, but how do green mortgages work and are they a cost–effective option?
What is a green mortgage?
Green mortgages work by rewarding you for having an energy efficient home or making sustainable home improvements. If eligible, you may be able to access a preferential interest rate, cashback or an interest-free home improvement loan. 
How do green mortgages work?
For the most part, green mortgages work in the same way that regular mortgages do. As with a standard repayment mortgage, you'll borrow money from a lender and pay it back in monthly installments. You'll also pay interest on the amount you borrow, just like you would with any other mortgage deal. 
Technically, there's nothing 'green' about the mortgage itself (or the lender). For example, your lender may be investing in fossil fuels and other unsustainable industries. 
Read more: What are mortgage interest rates?
You might also like: How much can I borrow for a mortgage?
Why are banks offering green mortgages?
Green mortgages were introduced to reward borrowers for purchasing an energy efficient home or making eco-friendly home improvements to an existing property. Banks that offer this type of incentive can attract eco-conscious customers and boost their green credentials. 
It's their way of showing that they care about the environment - even if, on the whole, their practices aren't that environmentally friendly. 
Which banks offer green mortgages?
In the early days of green mortgages, only specialist lenders were willing to offer green mortgages. In the last few years a growing number of high street banks have been embracing them. 
Here are just a few banks that offer green mortgages:
Nationwide offers £500 cashback to borrowers purchasing a property with an EPC rating of A or £250 if it's got a B rating.
Nationwide will also consider lending you money to fund green home improvements. You can borrow between £5,000 to £15,000 interest-free with a two-year or five-year fix.
Halifax offers £250 cashback to those purchasing or remortgaging a home with an EPC rating of A or B. You might also be eligible for up to £500 cashback on energy efficient home improvements. If you fit a heat pump, you could be eligible for cashback of up to £1,000.
If you're buying a new build property directly from a builder or developer, Barclays may offer you a preferential interest rate as long as the property has an EPC rating of A or B.
Barclays also offers a 'greener home reward' of up to £2,000 to existing Barclays mortgage holders who carry out green home improvements.
Kensington Mortgages offers £1,000 cashback to homebuyers and remortgagers who improve their property's energy efficiency within 12 months of taking out a mortgage.
Gatehouse Bank is a sharia-compliant lender offering a discounted rental rate on properties with an EPC rating of A or B. It'll also offset your property's carbon footprint for the length of your fixed term. 
If you want to see what green mortgages you could be eligible for, we can help. Our smart tech compares your eligibility to thousands of mortgage products, and over 100 mortgage lenders, including those who offer green mortgages. 
See what you could be eligible for today
Create a free Tembo plan today to see what mortgages you're eligible for and how much you could afford.
Get started
When did green mortgages start?
Green mortgages started over 15 years ago. The first green mortgage was created by Ecology Building Society in 2006 and offered discounted mortgage rates to homeowners building, converting or retrofitting sustainable homes. 
And yet, it's only in the last five years that this type of mortgage has really grown in popularity. With high street lenders such as Barclays, Nationwide and TSB finally embracing this type of mortgage, more eco-conscious borrowers are being rewarded for their commitment to the planet.
What are the requirements for a green mortgage?
The requirements for a green mortgage vary from one lender to another, but most lenders will use your home's energy performance certificate (EPC) rating to measure how energy-efficient the property is. 
Lenders usually offer green mortgages to homeowners with an EPC rating of 'A' or 'B'. So if your home already meets this criteria, you may be able to get cashback or a better interest rate on your next mortgage deal. 
If your home has an EPC rating between C and G, you aren't automatically exempt. This is particularly common among older homes that were built without sustainability in mind. Thankfully, it's often possible to 'retro-fit' older homes with solar panels, double glazing, energy-friendly heating systems and other green gadgets. 
Not only can these modifications save you money on your energy bills, they can improve your EPC rating in the process. This can make it easier to boost your eligibility for a green mortgage. 
If you can't afford to make eco-friendly changes to your property, your lender may be able to help. Some lenders (such as Nationwide and Barclays) will offer interest-free home improvement loans to help homeowners improve their property's green credentials.
What rates are green mortgages?
Green mortgage rates vary depending on the high street lender and your own circumstances. If you're passionate about the planet and you want to reduce your carbon footprint, green mortgage deals may be enticing. But even those offering cashback and preferential rates can often work out more expensive than non-green mortgage products. 
Take a look at the table below to see how green deals stack up to their non-green alternatives: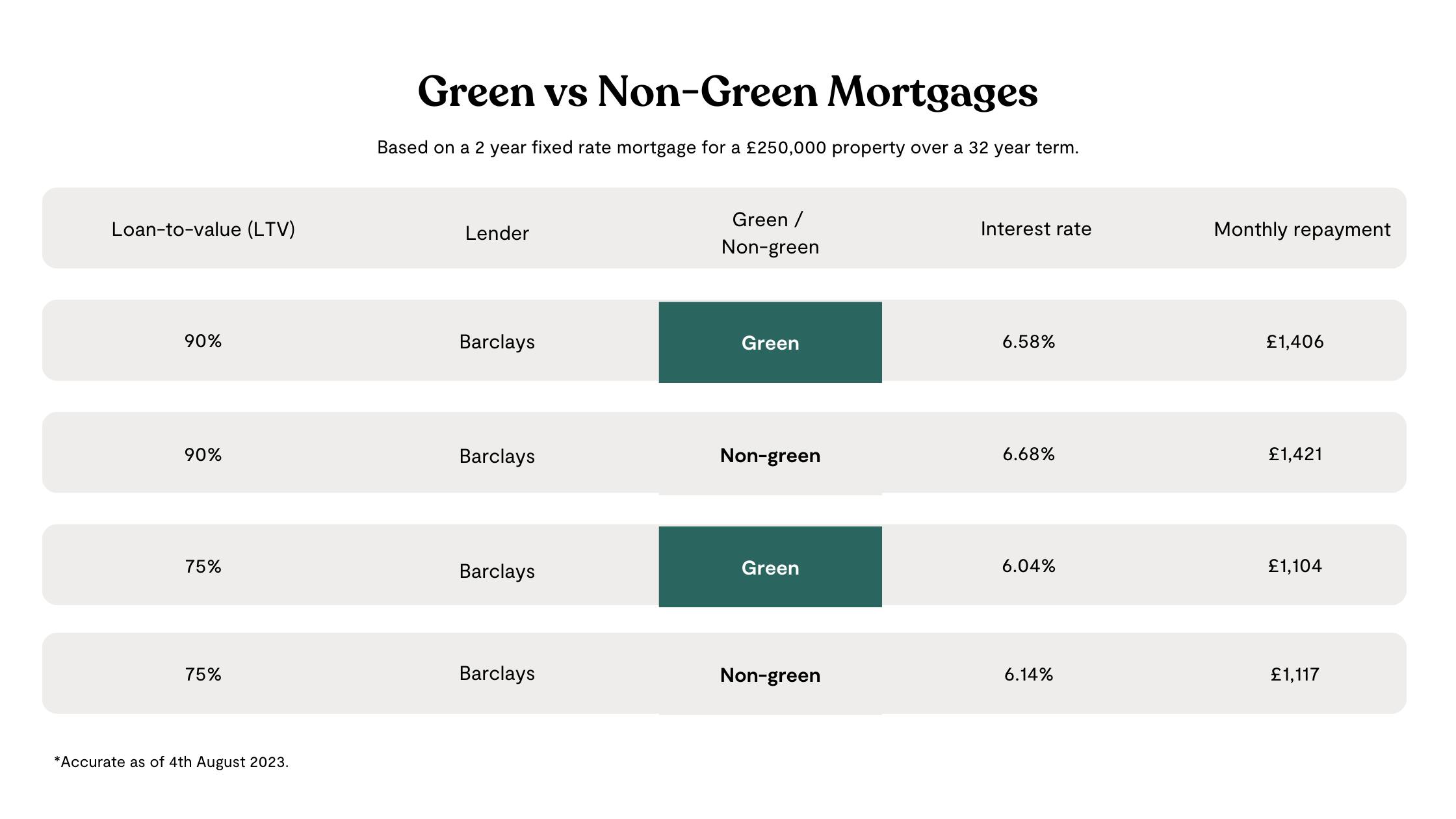 As you can see, even though some lenders offer preferential rates to green property owners, these rates are often not that much different from non-green alternatives.
This is why it's a good idea to speak to a mortgage broker before choosing a mortgage. 
Here at Tembo, we can compare thousands of mortgage deals across hundreds of lenders. The best mortgage for you might not be 'green', but with our help you can boost your affordability, and overcome some of the most common home buying obstacles faced by first-time buyers, home movers and remortgagers.
On average, our customers boost their budgets by £82,0000
See what rates you could be offered by creating a free Tembo plan. You can then book in a free, no-obligation call with one of our award-winning advisors to talk through your options. If you still want to go for a green mortgage, they can help you find the perfect one.
Create my plan