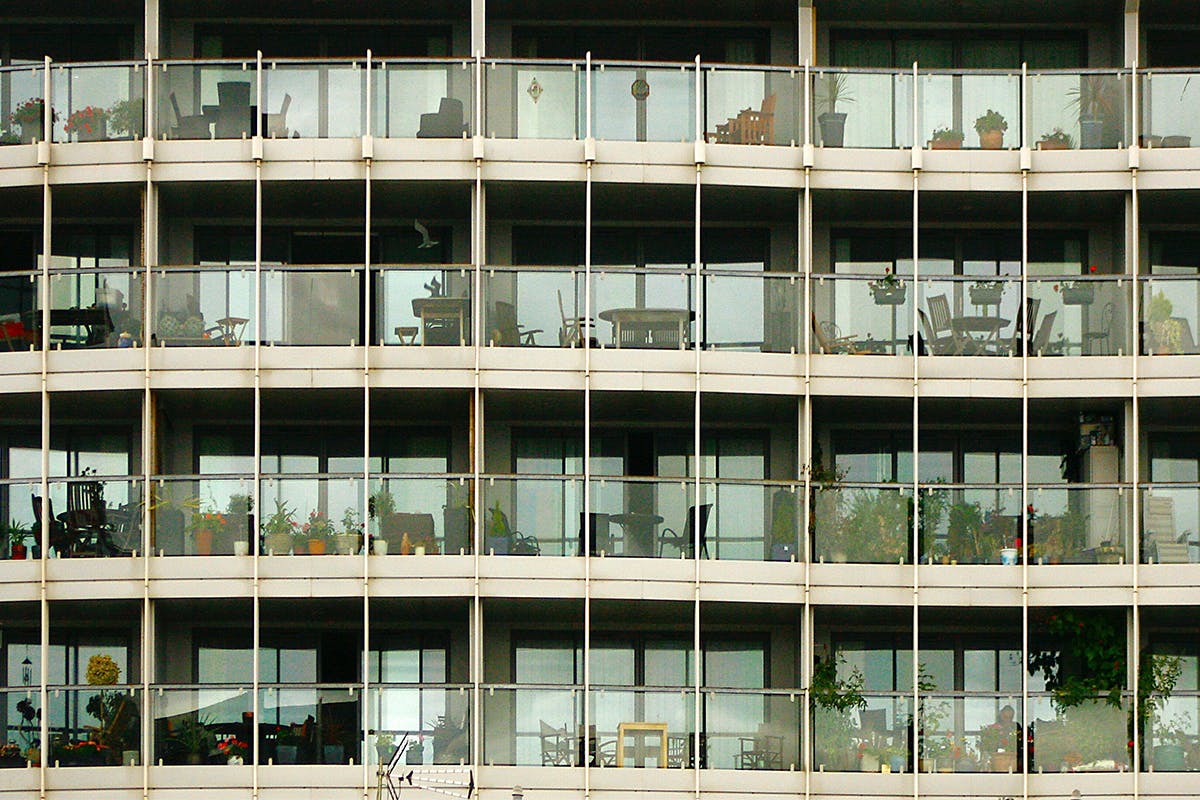 2021 Guide To Help To Buy
Last Updated
14 December 2022
Learn about how the Help to Buy scheme works.
Record numbers of people are buying homes through the government's Help to Buy scheme, but does anyone really understand what it is? Well, after reading this guide, you'll be an expert!
What is Help to Buy?
Basically, Help to Buy is how the government can give you financial assistance so you can afford to buy a home. By giving a loan of a % of the property value (which is interest free for the first five years), it is made for first time buyers that are struggling to save up for a deposit.  Here's everything you need to know…
There have been a few different Help to Buy schemes over the years (confusing, we know), so let's quickly clear that up:
The Help to Buy ISA was a savings scheme set-up by the government. It actually ended in November 2019, however if you already have a Help to Buy ISA account you can keep saving into it until November 2029.
You may have heard of Help to Buy before, but keep in mind that the scheme changed as of March 2021 (even more confusing!). There are a few key changes from the previous scheme, which we'll delve into below. 
Anyway, back to 2021 Help to Buy...
Who can use Help To Buy?
To be eligible for the 2021 Help to Buy scheme, you need to be a first time buyer. This means someone that has never owned a property at any point (this applies to the UK and abroad). If you're buying with a partner, they also have to be a first time buyer. So even if you sold up years ago, you won't be eligible for this scheme. 

Kirsty White
Mortgage lead
The Help to Buy scheme is only available if you want to buy a property in England, however there are similar schemes in Wales and Scotland.
How does Help to Buy work?
The Help to Buy scheme is a way for the government to offer first-time buyers an equity loan in order to buy a newly built home. 
The government will lend you up to 20% of the property's value (or 40% in London due to higher property prices). You'll then borrow the rest through a repayment mortgage. 
Basically, the equity loan can boost your existing house deposit, so you can access cheaper mortgage rates and get on the property ladder faster. 
Here's what you'll need to know:
You'll need a 5% deposit: In order to be eligible for the scheme, you'll need to have a deposit worth at least 5% of the property you're after (so, for a £300,000 property, you'll have to have a deposit of a least £15,000). You can put down more than 5% if you wish!
You'll still need to get a mortgage: While the equity loan pays for a significant portion of the house purchase, you will still have to apply for a mortgage. And be approved! One of the biggest blockers we see for first-time buyers in getting approved for a mortgage is bad credit, check out our handy guide to see how you can improve your credit score. 
You need to live in the property: The home you're buying must be your primary residence, so you can't use Help to Buy to purchase a second home or a buy-to-let.
There's a maximum purchase price: Depending on which area you are buying in, there's a price cap on Help to Buy property purchases. More on this below! 
There's a time limit!: The scheme is only open for applications until 31st March 2023.
How the equity loan works
The equity loan is interest free for the first 5 years of your mortgage. This means, if you pay back the loan within the first five years, you will not have paid any interest at all.
If you haven't managed to pay your equity loan back within the first five years, then you will be charged interest on the loan amount - this could potentially add thousands to your yearly costs. Interest payments will start on the fifth anniversary of your equity loan.
The initial rate of interest is 1.75%. This increases every April in line with the Consumer Prices Index (CPI)) plus 2%, until the loan is paid off. If mortgage acronyms terrify you, check out our jargon-busting guide.
So that's:
🥳 Years 1-5: no fees 
💰 Year 6: 1.75%
💰 Year 7 onward: 1.75% + CPI + 2% (or 1% if you took the equity loan out before December 2019)
Note that even if the value of your loan rises or falls, you'll only ever pay interest on the original amount you borrowed. 
How does the mortgage work on a Help to Buy?
This bit can feel a little confusing, so let's break it down. 
If you wanted to buy a property in London for £600,000, you need to have a minimum deposit of 5% (that's £30,000). With Help to Buy, the maximum you can borrow through the equity loan is 40%- so that's £240,000. This would give you a total deposit of £270,000.
If you wanted to buy a property in the North East worth £186,000, you need to have a minimum deposit of 5% (that's £9,300). With Help to Buy, the maximum you can borrow through the equity loan is 20%- so that's £37,500. This would give you a total deposit of £46,800.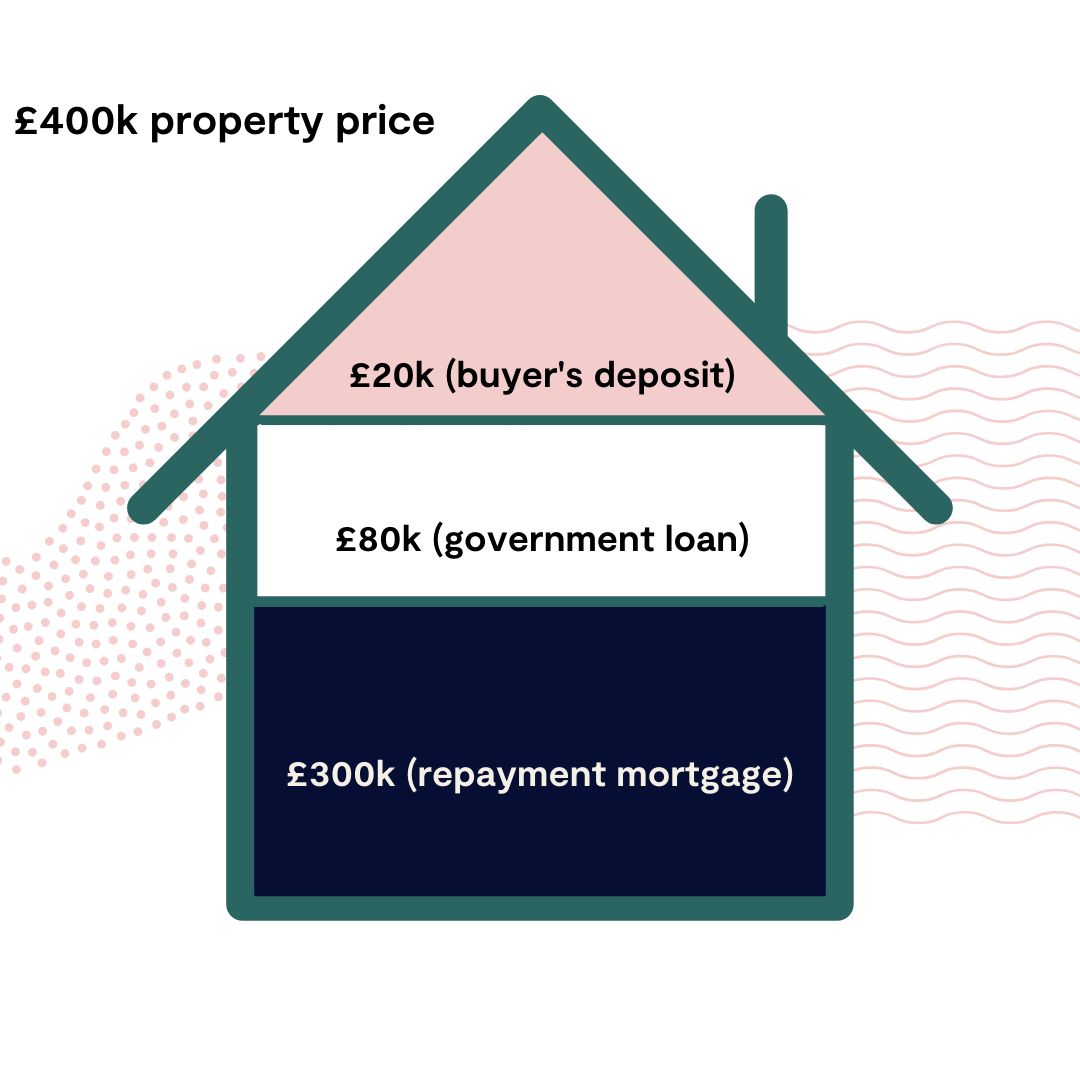 How does Help to Buy vary depending on location?
In March 2021 the government announced some key changes to Help to Buy, one of these changes was the introduction of regional price capping, (this means that the maximum property price depends on where in the UK you're buying).
Help to Buy have price caps dependent on which region of the UK you're looking to buy in. So, in London, you can buy a property with a max price of £600,000 with the scheme. This differs to the North East, where the max price of property you can purchase with the scheme is £186,000. See below for the complete list of regions and their property price cap:
London: £600,000
South East: £437,600
East of England: £407,400
South West: £349,000
East Midlands: £261,900
West Midlands: £255,600
Yorkshire and The Humber: £228,100
North West: £224,400
North East: £186,100
Paying back your equity loan 
You aren't legally obliged to pay back your equity loan until you sell your property or your mortgage term ends (this could be 25-35 years!). 
Basically, you can borrow more on your regular mortgage to pay off the equity loan. There are lots of factors to think about before considering this option (such as making sure the payments are manageable), so be sure to consult a financial advisor before making such a big decision. 
Pros and cons of Help to Buy
Pros
You can get on the property ladder faster - It takes a first-time buyer an average of 7 years to save a deposit. With a Help to Buy equity loan you can jump the queue.
Access lower interest rates - The whole point of a Help to Buy equity loan is that if you have a larger deposit, you can access lower interest rates on your repayment mortgage. 
You can pay off your equity loan whenever you want - Whether you want to pay it all off in the first year, or just want to stay put in your property for the full length of your mortgage term, the choice is yours! But keep in mind that the interest will rise after 5 years. 
It's a great deal in the short-term - Having breathing space earlier in your career can be a great thing, so when your salary might be slightly lower or you have a young family you'll enjoy the lower payments for the first five years. 
Cons
You can only buy new builds - Homes that can be bought under Help to Buy have to be new builds (you can't purchase a home that's already been lived in). So if you're eyeing up a Victorian terrace or a thatched-roof cottage, this won't work for you. 
Equity loans can get pretty expensive in the long-run - If you manage to pay off your equity loan in the first five years- amazing! However, if you are still paying off the Help to Buy equity loan beyond 10 years, it can start costing you more in interest than a standard mortgage. This cost can rise further if you do not pay back the equity loan until the end of your mortgage term. 
The amount you owe the government isn't fixed - So if property prices increase, you'll owe more when you pay the equity loan back. Until you pay off the equity loan, the Government literally owns a share of your home. The percentage amount that they own - let's say 15% - won't change, so if your property goes up or down in value, the amount you owe the government will rise and fall with it. 
Negative equity could strike - Negative equity sounds confusing, but it essentially means that the value of your home is worth less than the amount you still need to pay in mortgage repayments. Let's say you bought a property for £200,000, but the price of the property is now valued at £150,000. If your remaining mortgage balance is £160,000, this would mean that you are in negative equity. Being in negative equity can be a very stressful experience, so check out our guide to mortgage prisoners and why you should be wary of certain mortgage repayment loans.
You need permissions to make improvements - Obsessed with Homes Under The Hammer? Sadly, if you have bought a property through the Help to Buy scheme, you will not be able to make any renovations to the property without express permission. 
Tembo's team of first-time buyer specialists are well versed in Help to Buy - create a plan today to see how we can help.
Or if the cons outweigh the pros for you, take a look at our Deposit Boost - another way to increase your deposit size and access better mortgage deals, without the government's involvement! 
Make a plan