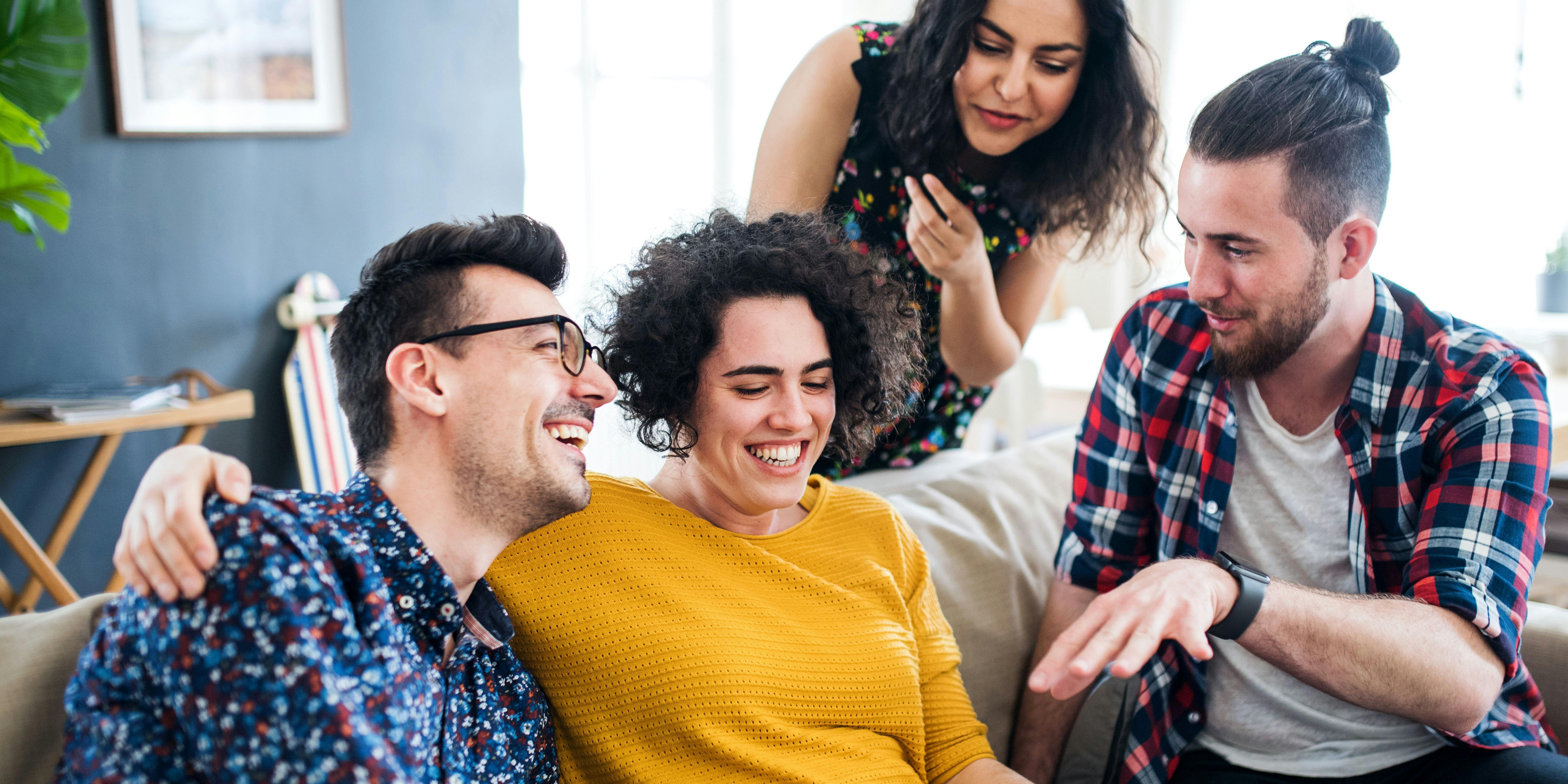 Can a group of friends or siblings buy a house together?
Last Updated
21 April 2023
Buying a house as a single person can be ridiculously expensive. Not only do you have to save a deposit by yourself, you'll also need to pay for solicitors, valuations, moving costs and in some cases, stamp duty. With house prices rising so quickly and the overall cost of living going up, you might be thinking of buying a house with siblings or friends instead. If this is you, here's what you need to know:
Can a group of friends or siblings buy a house together?
Yes, a group of friends or siblings can buy a house together as co-borrowers. Each applicant will be listed on the mortgage application, and how much you can borrow for a mortgage will be based on your combined income. 
How to buy a house with a friend or sibling
If you want to buy a house with one mate, a group of friends or your siblings, you have a few options on how you can do this:
1. Standard Joint Mortgage
You don't have to be in a relationship with someone to take out a joint mortgage with them. A standard joint mortgage could be ideal, particularly if you and the other buyers are putting down similar deposits. With this type of mortgage, you'll need to decide whether you are joint tenants or tenants in common - typically the latter is better for friends who are buying together.
Tenants in common is where each owner has an individual share of a property that's distinct from the other owners. The shares do not need to be equal, so one owner can own a bigger percentage of the property than the others. If one owner dies, their share is not automatically passed onto the other owners. Instead, it is passed to a named beneficiary, as designated in their will.
While joint tenants is where two or more owners of a property have equal rights to the property and equal shares. Joint tenants can be married or unmarried, friends or family members, but on the death of one party, their share is directly passed on to the surviving parties. 
2. Dynamic Ownership
Dynamic Ownership lets you buy a house with up to 5 others, making it ideal if you have a close group of friends or siblings. You'll own the home jointly, but you'll each have individual equity. This may come as a relief if your salaries vary dramatically and you're putting down different deposits. The best part is your ongoing financial contributions will be tracked too. If you pay £300 more each month than your friend, that will be tracked in a home agreement. As long as the property hasn't decreased in value when you eventually sell it, you should each get back what you put in — and hopefully more.
3. Family assisted mortgages
If you have a sibling who is able to help you buy a house, a family assisted mortgage could be an option. In this case, it's not necessary for them to live with you, but they'll need to use their income, savings or property as a security on your mortgage application. This will make you look more appealing to a mortgage lender, allowing you to get a better mortgage deal. If you were unable to make the mortgage payments yourself, your sibling's assets may be used by the lender to make up the shortfall. Here's our list of 10 family assist mortgages to help you buy a home.
How many people can own one property?
The exact number of people who can own one property depends on your chosen funding option. With a Dynamic Ownership mortgage, you and up to 5 other people can buy a home together as co-owners, whereas a traditional joint tenancy or tenancy in common mortgage tends to limit the number of owners to 4.
Thousands of homebuyers have used Tembo to discover how they could buy their dream home
We specialise in helping home buyers boost their mortgage affordability so they can get on the ladder sooner. Simply create a Tembo plan to get a personalised recommendation.
Create a plan
Can you do shared ownership with a friend?
It's possible to do shared ownership with a friend, but it's important to seek legal and mortgage advice first.
To quickly recap, the shared ownership scheme lets you part buy / part rent a property. You'll take out a mortgage for the share of the property that you own and pay rent to a housing association or developer on the rest.
A shared ownership mortgage tends to be more affordable than a standard mortgage, because you don't have to take out a huge loan to bridge the gap between your deposit and the property's price. It's also possible to 'staircase' your way to full ownership over time by buying more shares in the property.
If you're struggling to save a deposit for a shared ownership property or you can't afford to pay the mortgage and rent on your own, you may decide to get a joint mortgage on a shared ownership property with a friend. Unfortunately, it won't belong to just you two. You'll still share it with a housing association or developer.
What are the pros and cons of buying a house with friends?
Pros
Get access to better mortgage rates by putting down a bigger deposit
Increase your mortgage affordability to afford a more expensive property
Build up equity in a home instead of paying rent to a landlord
Choose from a wider selection of lenders
Share the financial responsibility of buying a home
Cons
Your credit score could be negatively affected if one or more of the other buyers has struggled with debt in the past
You may have to pay a higher interest rate if any credit issues exist 
If one buyer loses their job or is unwilling to pay their share, the other buyers will need to make up the shortfall
Entering such a big financial commitment with friends or siblings could cause arguments
If you or another a buyer decided to move out, it may take longer to leave the agreement than if you rented instead
Read more: What is a credit score and what is a good credit rating?
Should you buy a house with a friend or sibling?
So, while it's certainly possible to buy a house with a friend or sibling, should you? 
This type of arrangement might seem like a no-brainer if you're struggling to buy a home alone, but you need to be honest with yourself and the other buyers before making such a big commitment. 
You'll need to find a property that ticks everyone's boxes, taking into account the property's price, size, location, condition, and a number of other factors. Many couples struggle to find a house that they're both happy with. It's normal to have different expectations, priorities and standards. So imagine how much harder it can be to find a house that 3, 4 or even 5 friends are happy with!
However, buying a home together can be a great alternative to renting for years and years. You'll be able to build up individual equity in a home you co-own as opposed to paying your landlord's mortgage. Plus, your monthly mortgage payments could be cheaper than renting a similar house, meaning you have more disposable cash each month.
Whether you should buy a home with your friends or siblings depends on you and your individual circumstances. At Tembo, we can help you find the right solution for you. We have helped thousands of first time buyers and home movers boost their buying budgets through a range of specialist schemes. To find out what schemes you and your friends, or just you alone could be eligible for, create a free Tembo plan today.
Start your journey towards homeownership today
Create a free Tembo plan to see how much you could boost your buying budget through an innovative buying scheme. Then, you can book an appointment with one of our award-winning team to chat through your options.
Get started