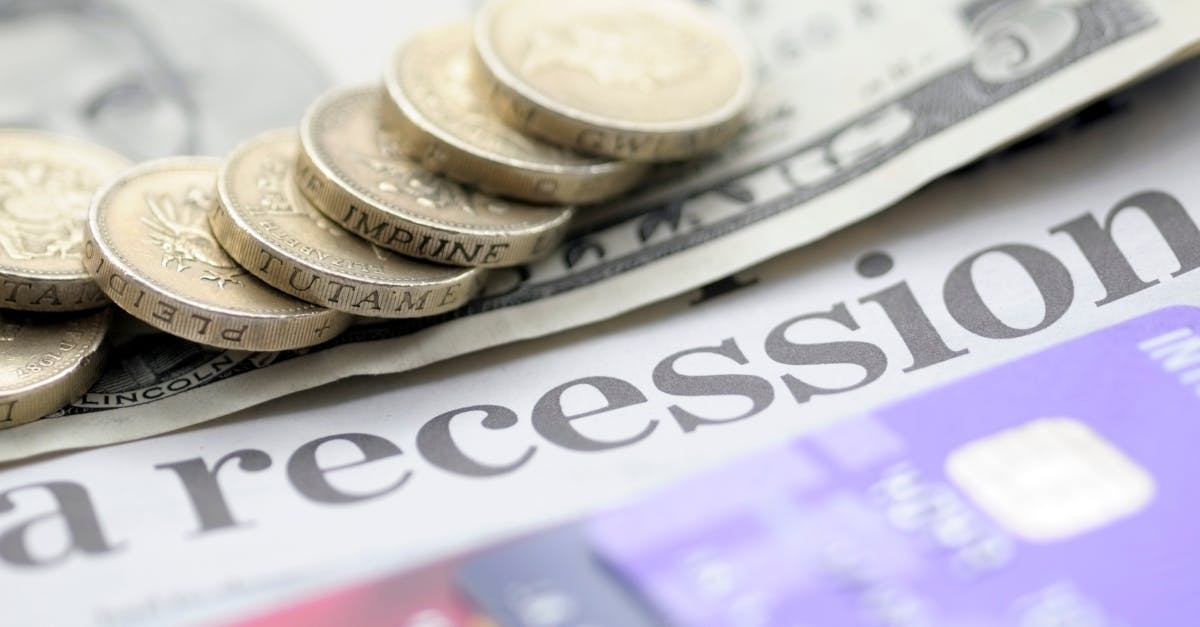 What happens to mortgage rates in a recession?
Last Updated
1 November 2023
When a recession hits, it can be a worrying time for homeowners and first time buyers, particularly those facing tightening budgets, pay cuts or even redundancies. Keep reading to find out what happens to mortgage rates in a recession, and what you should do.
What is a recession?
A recession is defined as a persistent and significant decline in economic activity. Usually, this is when a nation's economy has experienced negative gross domestic product (GDP) for two consecutive quarters of the year. Other signs that a country might be heading for a recession are rising levels of unemployment, as well as reduced levels of spending, manufacturing and income.
What causes a recession?
There are various causes for a recession, but usually it's anything which can stop the economy growing, or cause it to contract. The typical causes are things like sudden economic shock (like a pandemic such as Coronavirus), excessive debt levels, or investment decisions that create asset bubbles which crash the market. Any drastic change in prices can also be a trigger for recession, so both soaring inflation or deflation can lead to the economy contracting.
Read more: How to navigate a volatile mortgage market
What happens during a recession?
When a recession hits, the economy struggles and there is less money circulating. The economic output of a nation slows down as consumers spend less, which means businesses can struggle. The government may also issue tax cuts to help stimulate spending, which means they get less money from tax. This can reduce the government spending pot, impacting things like funding for benefits and public spending.
How often do recessions happen?
Recessions are pretty normal over the long-term, as a country's economy goes through cycles of growth and then contraction. You are likely to live through several recessions during your lifetime. 
In the UK, the last recession was during the COVID-19 pandemic, when in the first two quarters of 2020 GDP saw negative growth. The UK economy didn't return to pre-pandemic levels until late 2021.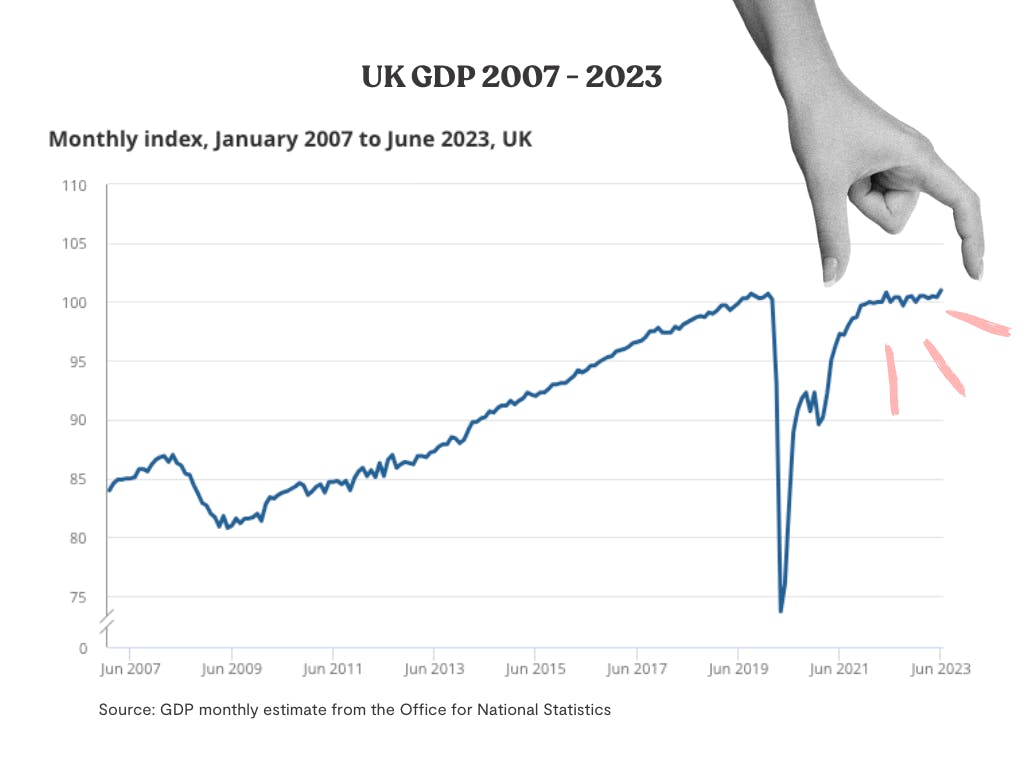 Before that, the UK experienced a recession in 2008-2009 when a high amount of subprime mortgage deals in the US created a housing bubble. When this bubble popped, the British banking sector and as a consequence the UK economy was significantly impacted, resulting in the worst recession in the UK since the Second World War.
Is the UK going to have a recession in 2024?
So far, experts are predicting that the UK will not have a recession in 2024. Latest GDP figures show that the UK economy grew by 0.2% in the second quarter of the year, outperforming expectations and narrowly avoiding recession. 
However, the UK is still not in safe waters. We are the only major advanced economy which hasn't yet returned to our pre-COVID levels of economic growth. And while inflation and mortgage rates are beginning to come down, the cost of living and affording a mortgage are still high for many.
Use our Mortgage Rates Comparison tool to see what's happening to live rates and compare today's best deals.
How long does a recession last?
A recession will last as long as economic activity is in decline, which can be as short as a couple of months or longer, sometimes lasting years. It's impossible to predict accurately when recessions will happen, or how long they will last when they do hit. 
What happens to mortgage rates in a recession?
During a recession, interest rates usually fall. This is because the Bank of England may lower its base rate - the rate of interest it charges other banks of building societies to borrow money. By lowering the base rate, the Bank is trying to stimulate the economy by making it easier to borrow money and access credit, which in turn should stimulate spending. 
As the cost of borrowing is reduced, banks and building societies may also lower their own interest rates, too. This means mortgage rates should go down in a recession, making getting a mortgage or remortgaging more affordable.
Use our Bank of England Base Rate Tracker to keep an eye on the latest figures.
See what you could be offered today
When you create a free Tembo plan, our unique smart decisioning technology will compare your eligibility to thousands of mortgage products in seconds. You'll then get a recommendation of the best way to get on the ladder, or remortgage, with personalised interest rates and indicative monthly repayments.
Is a recession good for mortgage rates?
If you are looking to buy your first home, or remortgage onto a new mortgage deal, a recession can be a good thing if it results in lower mortgage rates. Locking in a low interest rate during a recession can be a smart move. Not only will your monthly costs be more affordable during a time of stretched budgets, if you lock in for longer you could benefit from a lower rate even when interest rates begin to rise again once the economy starts recovering. Note that a recession can negatively affect people in many ways, and improved interest rates on mortgages won't be helpful for everyone.
Read more: How long should I fix my mortgage for?
How does a recession affect my mortgage?
If you are currently tied into a fixed rate deal, a recession should not impact your mortgage unless you decide to leave your current deal and switch to a new one. If you're on a variable rate deal, like a tracker mortgage, then any decline in mortgage rates caused by a recession will reduce your own interest rate, making your monthly costs lower.
If you've in the middle of a fixed rate term at the moment, it can sometimes work out cheaper to switch to a new deal if interest rates drop. However, this will depend on how much it will cost you to leave your current deal, as you'll typically have to pay fees such as an Early Repayment Charge (ERC). An experienced mortgage broker like Tembo can help you work out whether switching early is the right decision for you.
Obviously in previous recessions, such as the 2008 financial crisis, a recession did impact mortgages significantly. Lending criteria became tighter, and some mortgage lenders went under, selling their books on to private investors and funds. Market changes such as these can certainly occur when there are serious and long-lasting recessions. 
Next up: How to get lower mortgage interest rates
You might like: What happens when my fixed rate mortgage deal ends?
Should I pay off my mortgage in a recession?
Whether you should pay off your mortgage in a recession depends on a couple of factors. Firstly, you need to be careful about using all your available cash to pay off your mortgage loan. During tough economic times, having access to cash in case of emergencies such as going through a redundancy can be a lifesaver. So it's best to make sure you have enough savings to cover you for a good couple of months first, before considering paying off your mortgage.
If you have enough for this and more, then paying off your mortgage to reduce your loan can be a smart move, especially if you've locked in a low rate of interest. However, be aware that lenders usually only allow you to only pay off around 10% of your mortgage loan each year - otherwise you could be penalised by your lender. 
You might like: Should I pay off my mortgage early?
Do house prices fall in a recession?
It's not guaranteed that house prices will fall in a recession, it can happen if demand for new houses drastically falls. If house prices don't fall, they might slow down, meaning they won't increase as quickly as before. This can make recession a tough time to move for homeowners looking to upsize, but for first time buyers it can be a good time to negotiate a lower house price.
Can you get a mortgage in a recession?
Yes, it is possible to get a mortgage in a recession, but it can be more difficult. Mortgage lenders such as banks tend to tighten affordability criteria during a recession, which can make it harder to be approved for a loan. However, there are ways to boost your mortgage affordability to help you get on the ladder.
Plus, if interest rates and property prices fall, a recession can be a window of opportunity for those who can afford to get on the ladder. You could not only negotiate a reduced purchase price, but also lock in a low rate of interest which will make your monthly repayments more affordable.
However, it's important to not jump to a decision. Recessions can lead to redundancies and pay cuts. You don't want to find yourself in a brand new home that you can't afford to keep! It's crucial to get expert advice from specialists like mortgage brokers before deciding whether to buy a home during a recession or not.
Start your journey to homeownership today
At Tembo, we specialise in helping buyers and remortgagers boost their mortgage affordability. On average, our customers boost their buying budget by £82,000. See what you could afford today.
Get started