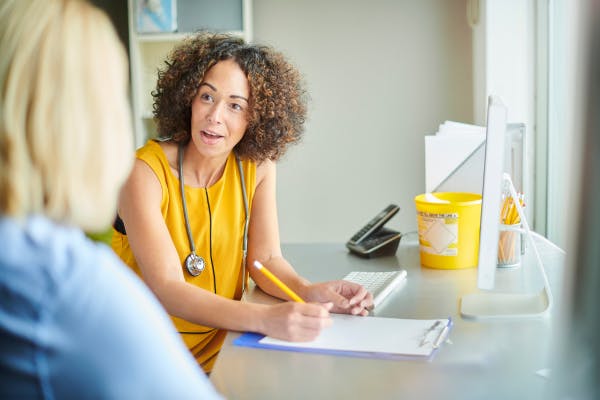 The essential guide to mortgages for doctors
Last Updated
24 August 2023
If you're a doctor, getting a mortgage could be easier than you think. You might even be eligible for a bigger loan and better mortgage rates than those in other professions. Wondering what your options are? Our essential guide to mortgages for doctors will tell you everything you need to know.
How much can doctors borrow for a mortgage?
As a doctor, the amount you can borrow for a mortgage will depend on a number of factors such as your income, credit rating, and deposit size. Your chosen lender and whether you use a home buying scheme or specialist mortgage product will also play a role. As a general rule, lenders will usually lend an applicant around 4.5x their salary for a mortgage. So if you earn £30,000 a year, for example, you could reasonably expect to borrow around £135,000. But as a doctor you may be able to borrow more than the typical 4-4.5 times.
With budget-boost schemes like a Professional mortgage, you could borrow up to 5.5 or even 6.5 times your income for a mortgage. It's worth noting that if you are buying with someone else who works in a different profession to you, they may only qualify for the typical 4-4.5 times income multiple.
There are other mortgage schemes that could help you borrow more for a mortgage too. One option is a 5.5x Income mortgage which is open to first-time buyers, not just key workers or NHS staff. You could also increase your borrowing potential with the help of a family member as a guarantor (we call them Boosters). 
Through a scheme like an Income Boost, your loved one can add their income to your application, helping you to boost your borrowing power by increasing your total income. You'll still be the sole owner as they will just act as a guarantor - this means that if you cannot make your monthly repayments, they will legally be required to step in.
Find out more about how guarantor mortgages work here.
If you don't have family who can help you buy, don't worry. There are plenty of other ways to increase your mortgage affordability without family support. For example, you could boost your borrowing power by buying with friends or siblings as co-owners through Dynamic Ownership. Or afford a property worth up to 10x your income through Shared Ownership.
You might also like: Essential guide to mortgages for NHS key workers
Uncover your true buying budget today
Create a free Tembo plan today to discover how much you could afford not just through a standard mortgage, but a range of budget-boosting schemes.
Do doctors get special mortgages?
No, technically doctors don't get special mortgages. The mortgage products available to you are often also available to other mortgage applicants. However, lenders do offer specialist mortgages for doctors and other "professionals", which allow you to increase the amount you can borrow if you work in a qualifying role. For example, NHS staff can apply for a Professional Mortgage which could allow them to borrow up to 6.5x their income. 
The main difference between doctors and other mortgage applicants is that lenders will consider your job security and future income potential when assessing your affordability. Great news if you're at the start of your career! If you have the potential to progress to more senior or better paid roles in future, your current circumstances don't need to hold you back. 
Read more: What is a professional mortgage?
Being a doctor has other benefits when applying for a mortgage, too. You might even be able to buy a home with a smaller deposit, particularly if you use one of the schemes listed below:
Best mortgages for doctors
Although there's no such thing as a doctor's mortgage, there are a number of mortgage products and first-time buyer schemes that suit medical professionals perfectly. To find out which of these schemes you're eligible for, create a free Tembo plan today.
1. Professional mortgage
As a doctor, you may be eligible for a Professional Mortgage. This is a type of mortgage product offered to those in professional lines of work. Exactly what counts as 'professional' varies from one lender to another, but most lenders will offer this type of mortgage to doctors, along with nurses, teachers and lawyers. 
The main advantage of a professional mortgage is that you'll be able to borrow up to 5.5 or even 6.5 times your income, making it easier to buy a home you really love. Some people use this type of mortgage to get on the ladder sooner, buy in a nicer area or purchase a larger property. 
You might even be able to buy your forever home, instead of settling for a smaller property and working your way up the ladder. Moving house can be stressful, time-consuming and expensive!  
The best thing about professional mortgages is that you might not need a huge deposit to be eligible - a deposit of just 5% might be enough!
To be eligible, you must:
Have qualified in the last 10 years
Be registered with the appropriate UK professional body and work in a field related to your profession
Have a good credit rating
2. 5.5x Income Mortgage
A 5.5x Income Mortgage does exactly what it says on the tin. It lets you borrow up to 5.5x your income, making it easier to buy a home you really love. As if that wasn't sweet enough, you only need a 5% deposit - perfect if you're struggling to save a big deposit! 
You do need to be a first-time buyer, though. So if you already own a property, you may be better suited to another scheme on this list.
To be eligible, you must:
Be a first-time buyer 
Earn at least £37,000 if you're buying solo
Have a joint income of £55,000 or more if you're buying with someone else
Be willing to fix your mortgage for 5 or 10 years
Be permanently employed with 12 months of employment history
Have a good credit rating
3. Guarantor mortgage - Family help needed 👪
If you have financially stable family members who want to help you buy a home, reduce the amount of interest you pay, or buy a beautiful house just down the road from them, a guarantor mortgage could be the answer. 
The best thing about guarantor mortgages is that they come in all shapes and sizes. So whether your loved ones want to use their cash, income, home equity or savings to help you on the ladder, there's something for everyone. 
Income Boost
Take an Income Boost, for example. This type of guarantor mortgage lets you increase your budget by adding a loved one's salary to your mortgage application, without adding them to the property itself. When you add an additional salary to your application, you give lenders more confidence to approve your application. They might even be willing to offer you a bigger mortgage.
An Income Boost can be particularly helpful if you're buying a house alone, but couples are also eligible. It's even possible to add two Boosters to your application, increasing your loan amount even further. 
Deposit Boost
If the main obstacle standing between you and homeownership is a small deposit or an inability to save anything at all, you may be better suited to a Deposit Boost. 
A Deposit Boost lets you increase your deposit size (or create one from scratch) with the help of a home owning friend or family member. This involves releasing equity from their property and using the cash as your deposit. Not only can a Deposit Boost help you get on the property ladder in the first place, it might even give you access to lower mortgage rates or even a better home. 
Deposit Loan
Next up we have the Deposit Loan. Like its cousin, the Deposit Boost, it involves a financial contribution from a family member. The key difference is that instead of the money being a gift, you'll share some of your property's equity with your Booster. 
Savings as Security
We often speak to parents who have a significant amount of money in savings but they're reluctant to give it to their children in case they need it themselves later. This is where a Savings as a Security mortgage can come in handy!
It's possible for your parents (or other generous family members) to help you buy a home without waving goodbye to their savings forever. Instead, they simply need to place their savings in a special interest-paying account held by the lender for a set period of time. 
As long as you keep up with your mortgage payments, your family member will get their money back (plus interest) at the end of the term. The exact amount of time the money will be locked away for will vary depending on the lender and terms, but it's usually between 3 to 5 years.
4. Shared ownership
If you're struggling to save a deposit big enough to buy a home in your area, a shared ownership scheme can offer you a more affordable way to get on the ladder. 
There's a lot of versatility in the shared ownership market, but most schemes involve buying a percentage of a property and paying rent on the rest. This means that instead of needing a deposit of, say, 5% of the full property's value, you'll only need a 5% deposit of the share that you own. 
If that's still a big ask, there are some shared ownership schemes which don't require any deposit at all. These are often called 'rent to own' schemes. 
Shared ownership can be particularly useful in London and the South East, where house prices have risen much faster than wages. It's possible to purchase a shared ownership property elsewhere in the UK, though, so whether you live in Manchester, Glasgow, Cardiff or Belfast, there are affordable options to build up your own home equity.
5. Sharia Compliant Mortgages
If you're looking for an Islamic mortgage, we have a number of home purchase plans that are sharia-compliant. Technically, they're not mortgages, as you don't need to take out a loan or pay interest. Instead, you'll purchase a share of a home and buy more of it over time. 
It can take a lot of work to find the right sharia-compliant purchase plan for you, so it's a good idea to speak to an expert before making a decision. Speak to our award-winning team for help or create a free Tembo plan.
Our customers boost their budget by £82,000 on average
At Tembo, we are specialists in affordability-boosting schemes, including those offered to professionals like doctors. Create your personalised Tembo plan to see how much you could boost your buying budget by, and what rates you could be offered.
Create my free plan